News
Retailers Voice Concerns About Stocking New Superman Comic
DC's recent history of spotlighting LGBT characters has been commendable, but the retailer backlash over Orson Scott Card's hiring is mounting...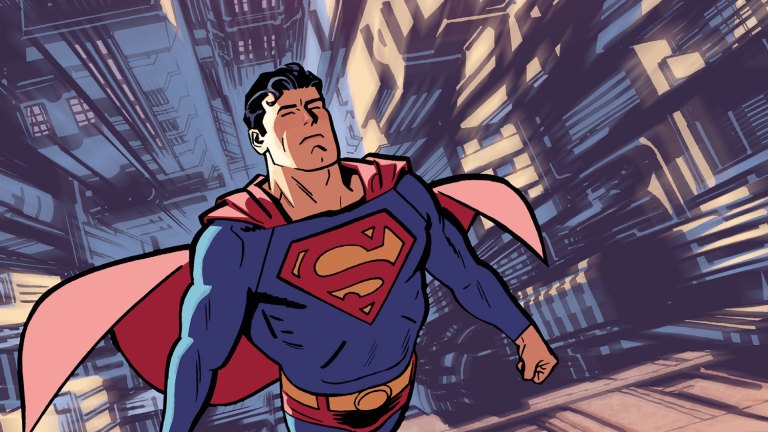 The list of retailers who refuse to carry the upcoming Adventures of Superman comic because of controversial sci-fi writer Orson Scott Card's involvement is growing. This time, it's Funny Business in Nyack, NY, whose owner, Chris Barchuk, cited Card's vocal opposition to homosexuality and marriage equality as the reason he won't carry the book.
When asked if this meant he'd carry Adventures of Superman once Card's commitment to the title was finished, Barchuk answered emphatically, "I'm not going to carry the book at all if I can't order the run from the start. People can get it online, or I'll special order it for them if they want, but I won't put it on my shelves."
Barchuk was quick to point out the ways DC Comics has tried in recent years to portray the LGBT community in a positive, prominent light, "Yet here [Card] is working for a company that has all of these prominent gay characters! And it wasn't that long ago that Earth 2 featured one of the main characters, one of the most important characters in that part of the DC Universe, proposing to his boyfriend! So Card says he's so against gay marriage but now he's working for DC. What kind of conviction is that on his part by taking a paycheck from a company that has actively endorsed a gay lifestyle? It's hilarious!"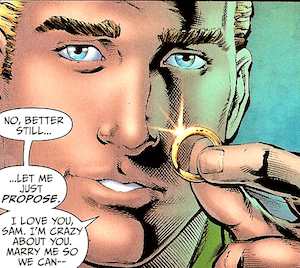 DC Comics has done an impressive job of foregrounding homosexual characters in recent years. They've taken lesser-known characters from the Wildstorm imprint, Apollo and Midnighter, who had long been involved in a romantic relationship with each other and put them in the main DC Universe on the high-profile New 52 Stormwatch title. In 2006, DC reinvented Batwoman as a lesbian with a romantic history with Renee Montoya (The Question). And that's only the start.
In a high profile move, Alan Scott, the original Green Lantern who made his first appearance all the way back in 1940's All-American Comics #16, was reinvented as a gay man at the start of 2012's Earth 2. By using one of DC's most recognizable names (Green Lantern) to portray a confident, successful man in a long term, committed homosexual relationship (he proposes to his boyfriend in Earth 2 #2), DC effectively cemented their position at the forefront of the movement to make superhero comics more inclusive. While it had been done in other comics with other characters, none had the strength of the Green Lantern brand name behind them and that's what made this move so important. What's more, Alan Scott is certainly the most powerful character who's been introduced in Earth 2 and is a natural choice for the leader of the superhero team that will surely be forming in that book in coming months. DC appears committed to putting LGBT characters in the spotlight, and this is what has made their decision to hire Card so confusing.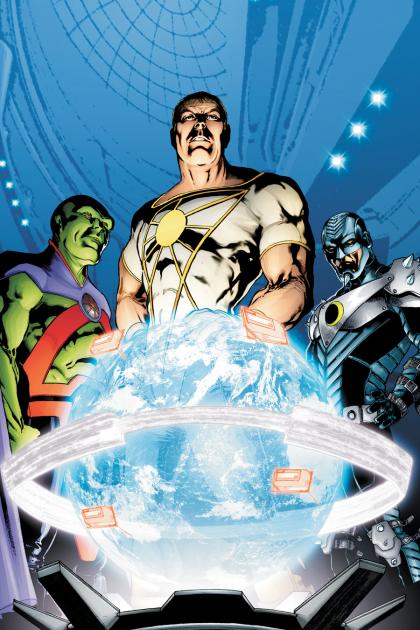 While it's dangerous and unrealistic to expect an employer to screen their employees' personal beliefs before hiring them, Card isn't known for keeping his beliefs to himself, having authored a bizarre online editorial referring to "dictator-judges" and homosexuality as a condition resulting from "tragic genetic mix-ups." In an even stranger passage, Card implies that if the government were to become an "enemy" of traditional marriage that "married people" should "act to destroy that government and bring it down, so that it can be replaced with a government that will respect and support marriage." 
These remarks (and others like them) are at the heart of the firestorm surrounding Card's hiring. In addition to the growing chorus of retailers who refuse to stock the title, LGBT equality organization All Out has created an online petition asking DC to drop Orson Scott Card from Adventures of Superman. As of this writing, the petition has nearly 13,000 signatures. How many of those signatories are actual comic buyers is unknown, but if there are 13,000 potential readers out there who won't buy Adventures of Superman based on Card's involvement, it could turn out to be significant. Based on the most recent sales data, Superman and Action Comics each sell between 50 and 60 thousand copies a month, so 13,000 fewer copies would make quite a difference.
However, comparing Adventures of Superman to those titles might be misleading, as they both provide new material with each issue. Adventures of Superman will be the Superman equivalent of Batman title, Legends of the Dark Knight, which is a print version of stories that appear digitally first. The print version of Legends of the Dark Knight sold 22,671 copies in January. If we assume that Superman's sales numbers will be similar, a difference of 13,000 copies suddenly has serious impact.
DC Comics has worked actively to present LGBT characters and their lifestyle in a positive light in recent years, so wouldn't that, by Card's own definition, make them an "enemy" of traditional marriage, and thereby an enemy of society? DC's recent statement vowing to stick by Orson Scott Card despite his personal beliefs is understandable. Maybe the best possible scenario is for Card to display the "courage of his convictions" and simply step down from writing Adventures of Superman. After all, by his own standards, doesn't DC's continuing support of equality and their commitment to representing LGBT characters make them an enemy of traditional marriage and, as a result, society itself?  
Regardless of whether or not Card steps down or DC decides not to run his story in Adventures of Superman, it all comes down to one thing: money. If fans disapprove of Card's outspoken views on homosexuality and equality, they can simply not buy the title, digitally or in print. However, if the lure of a new Superman title is too great or the spectre of completism rears its head, then expect business as usual. "I don't hate Orson Scott Card, and he's entitled to his opinion," said Barchuk, "but when you say some of the outrageous things that he's said in a public forum, it opens things up to this kind of debate."