News
Project 13 Will Be The CW's Next DC Comics Series
The CW is adapting Project 13 as its next comic book series, putting a paranormal spin on its DC Comics show lineup.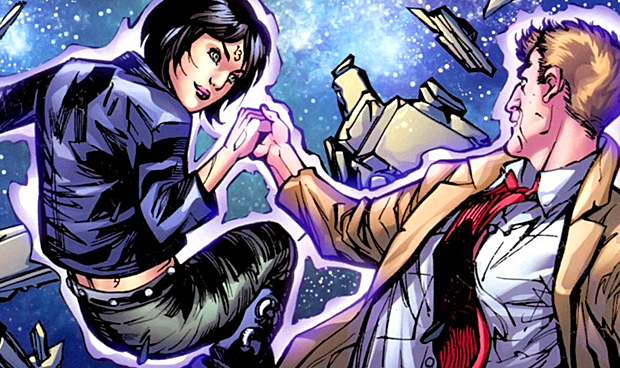 The CW's lineup of DC Comics television shows has just added another entry to its backlog. The network, which is dominated by DC-adapted mainstays Arrow, The Flash, Supergirl and Legends of Tomorrow – soon to be joined by Black Lightning – will later welcome Project 13, focusing on the story of paranormal-themed DC Comics characters, which will feature actress Elizabeth Banks as a key producer.  
The CW will adapt Project 13 as another DC Comics hour-long drama, reports Variety. The prospective series, which is to showcase extrasensory concepts, will focus on Traci Thirteen, a twenty-something woman, who is a forensic scientist by trade. When Traci's latent psychic abilities start to manifest, she seeks out her heretofore estranged father, Dr. Terrence Thirteen, a parapsychologist and renown skeptic of the supernatural, with whom she forms a partnership to investigate cases of purportedly paranormal nature. Thus, the series will not only see its primary duo deal with the baggage of their broken family, but Dr. Thirteen's recalcitrant skepticism, which will contrast with Traci's burgeoning magical-based psychic powers, which allow her to use auras to divine the location of people and objects – and, in some cases, the future. Additionally, she is able to conjure destructive magic blasts.
The character of Doctor Terrence Thirteen dates back to DC's Star Spangled Comics #122, dated November 1951 (in which he was introduced as "The Ghost-Breaker.") He has since been a tangential staple in the DC Universe, crossing paths with characters such as Batman and John Constantine and is a regular frenemy of the magical, mortal-coil-crossing hero Phantom Stranger. Traci, however, was a more recent canonical addition, introduced in Superman Vol. 2 #189, dated February 2003. She and her father have since been re-introduced in the New 52 Prime Earth continuity.
Project 13 will be run by Daegan Fryklind, who serves as writer and executive producer. Fryklind comes into the TV project after a run as executive producer of Syfy's 2014-2016 Laura Vandervoort-starring werewolf drama Bitten, previously serving as co-producer on series such as Motive, The Dark Corner, The Listener, Being Erica and jPod. She is joined by actress Elizabeth Banks, who serves as an executive producer alongside husband Max Handelman, via their Brownstone Productions company, producing in association with Warner Bros. Television. The Banks/Handelman producer team are also currently developing a Laverne Cox-starring series, called Spirited.
Project 13 certainly sounds like a unique comic-book-inspired flavor for a network that's dominated by comic book fare – even with teen drama Riverdale, which puts a darker spin on the classic comical Archie mythos. Yet, the idea that The CW is getting a paranormal-themed series may be a bitter pill to swallow for fans who still clamor to see NBC's Constantine resuscitated on the more-thematically-appropriate network. However, an animated series is set to arrive on streaming platform CW Seed and it does appear that star Matt Ryan is dusting off his trench coat, finalizing a return as John Constantine as a member of the Legends of Tomorrow team.
There's no word yet on when to expect Project 13 on The CW.
Read the full Den of Geek NYCC Special Edition Magazine right here!