News
Preacher Episode 6 Trailer, Episode Guide and More
We've got everything you need to know about AMC's Preacher TV show in one handy location.
Like the wrath of God, the Preacher TV series on AMC is coming for you. Based on the Vertigo comic by Garth Ennis and Steve Dillon, Preacher is a story about a hard drinking man of God who finds himself gifted with the power to make people do his bidding, his straight-shooting girlfriend, and their sinister best friend.
Preacher Episode 5 is called "South Will Rise Again." It airs on June 26.
Watch Preacher on Amazon Prime
Here's the official synopsis: 
"Jesse finally comes face to face with Deblanc and Fiore, and learns about the mysterious entity that has taken over his body."
Watch the trailer here…
You can read our review of the most recent episode, "South Will Rise Again" right here.
Preacher Episode Guide
Click the blue links to go to our full review!
Jesse struggles to escape a past that is slowly catching up to him. A mysterious entity comes to earth, leaving a wave of destruction in its wake.
air date: May 22nd and May 29th
Jesse tries to be a "good preacher," unaware that a mysterious duo is after him. Meanwhile we meet the enigmatic Cowboy.
air date: June 5th
Cassidy helps Jesse explore his newfound power; based on new information, Tulip tries to convince Jesse to seek revenge.
air date: June 12th
Jesse makes Quincannon a bet he can't refuse, Cassidy works to fend off the angels, and Tulip tries to bring justice to Annville.
air date: June 19
air date: June 26
Preacher Episode 6: Sundowner
air date: July 3
Preacher Trailer
Watch the first four minutes of AMC's Preacher right here!
okay, so this is by far the most promising footage we've seen so far from the show. It's got all of the off-kilter weirdness of the comics, without coming off like an homage. Watch it here…
Here's all the rest of the footage we have so far from Preacher. 
So, this is clearly not a panel for panel adaptation of the comic series by Garth Ennis and Steve Dillon, and you know what? That's a good thing. We get glimpses of Cassidy and Tulip, and there is a moment of perfectly Ennis-esque over-the-top violence.
But it's nice to see that they aren't beholden to a strictly "comic book" tone. There's also no indication of what Jesse Custer is capable of from a supernatural standpoint, which means that for the uninitiated, this is going to come as a hell of a shock when he unleashes the Word of God on folks.
We also got this teasing behind-the-scenes featurette…
Preacher TV Series Story
Here's the official synopsis, courtesy of AMC…
"Preacher" is a supernatural, twisted and darkly comedic drama that follows a West Texas preacher named Jesse Custer, who is inhabited by a mysterious entity that causes him to develop a highly unusual power. Jesse, his badass ex-girlfriend Tulip and an Irish vagabond named Cassidy come together and when they do, they are thrust into a crazy world populated by a cast of characters from Heaven, Hell and everywhere in between.
Preacher TV Series Cast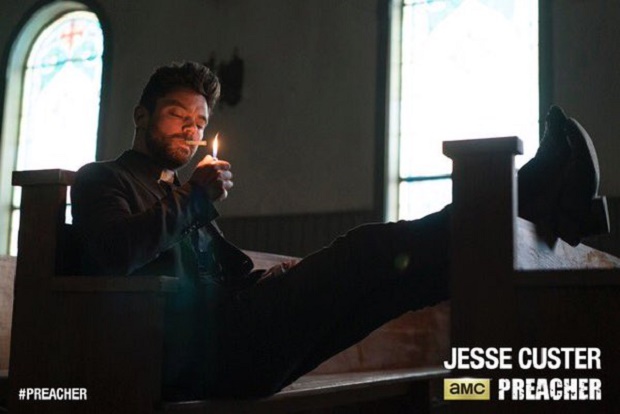 Dominic Cooper (Howard Stark in Captain America: The First Avenger and Agent Carter) is Jesse Custer, the titular preacher of AMC's Preacher TV series. The Wrap now confirmed that the deal was done. 
Cooper has done the fast-talking badass routine as Howard Stark in Agent Carter and Captain America: The First Avenger. Now he'll have to do the somewhat more forceful, occasionally tormented thing as Jesse Custer, a small town preacher who suddenly finds himself with the power of the Word of God. In other words, if he tells you to do something, you have no choice but to obey…often literally.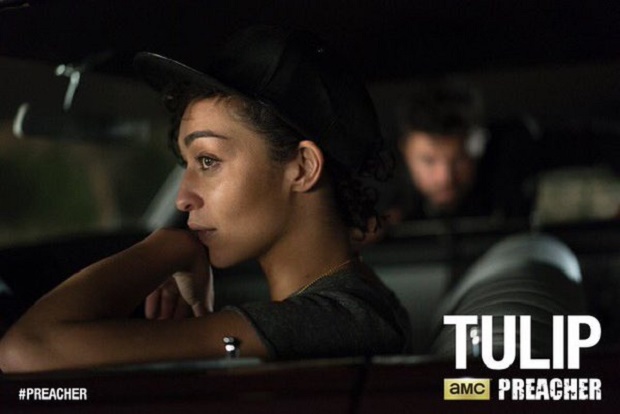 Ruth Negga is Tulip O'Hare, Jesse Custer's girlfriend, who can kick serious ass and who is a menace with a handgun when needed.  In fact, what I just wrote clearly doesn't do her justice. This appears to be from the official breakdown, which describes Tulip as:
"a volatile, action-packed, sexified force of nature, a capable, unrepentant criminal with a love of fashion and ability to construct helicopter-downing bazookas out of coffee cans and corn shine who's not afraid to steal, kill or corn cob-stab her way out of a bad situation."
Yes, that sounds about right. Comic fans certainly know Ms. Negga from her role on Agents of SHIELD, although Preacher will certainly be less "safe" than that show. It's interesting that they've (at least officially) found Tulip before Jesse Custer, but make no mistake, Tulip is far, far more than just "the hero's girlfriend" in this story.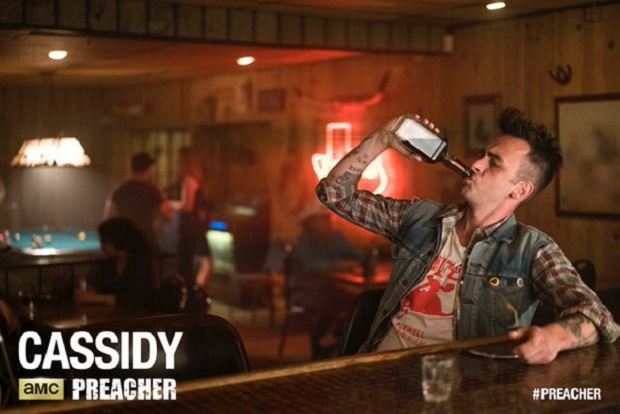 Joseph Gilgun is Cassidy, the hard partying vampire who hooks up with Jesse and Tulip on their cross-country odyssey.
Cassidy is described as "the most wild-ass, bestest "bro" you'd ever want to meet. He may be 100 years dead but no one's more boisterously alive than Proinsias Cassidy. An incorrigible mischief-maker, Cassidy's up for anything — joyriding, bungee-jumping, bank robbing, peyote dropping. He's also a relentless conversationalist with opinions on everything from religion to politics to pop culture to theories on why people are better able to tolerate the odor of their own flatulence."
Arseface is going to show up in the first episode of Preacher. He will be played by Ian Colletti. AMC revealed the first official look at him: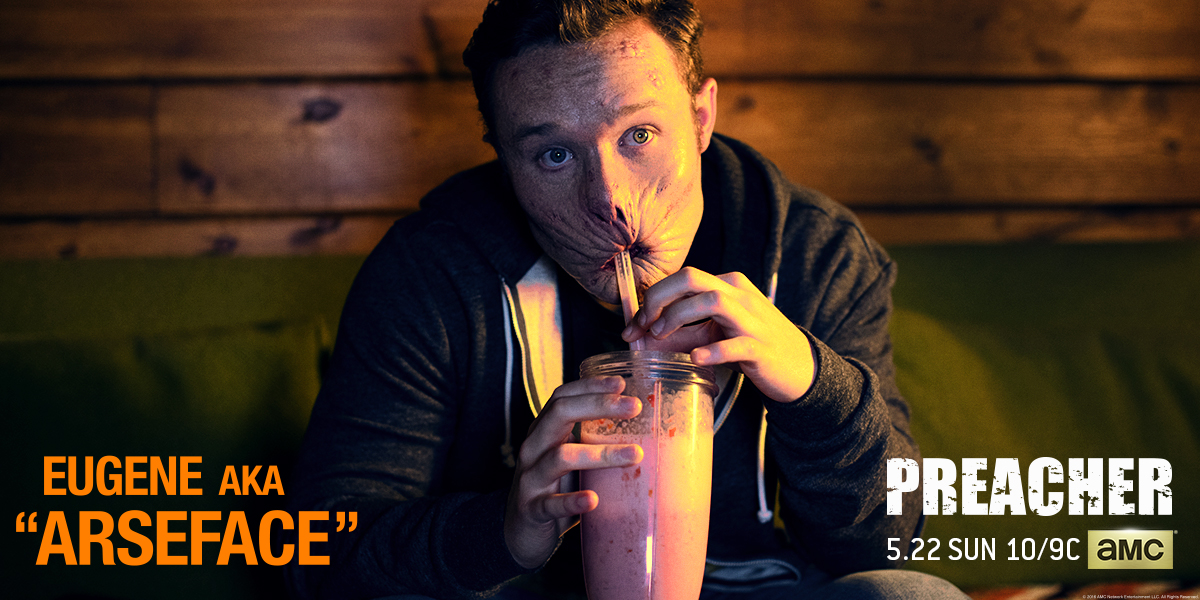 Who is Arseface? He's a guy who has a face like an arse, of course. But more than that, he's Eugene Root, the troubled son of a dickhead sheriff who botched a suicide attempt with a shotgun leaving him with the aforementioned face like an arse. Here's the official casting breakdown (via Deadline):
"Even with his horribly disfigured face and severe speech impediment, Eugene's still the nicest kid you'll ever meet and really looks up to Jesse. Stomach-churningly difficult to look at, Eugene's the town's reviled Frankenstein's monster, but that won't change his earnest, sweet and pure outlook on life. However, he is troubled by something terrible he's done in the past — something he fears might have turned God himself against him."
Folks, if you were wondering whether or not the Preacher TV series would be willing to push the envelope the way the comic did, I'd just like to state one more time for the record: Arseface is in the first episode.
Arseface is, of course, going to be a challenge to realize properly on screen. Seth Rogen spoke to Collider about what kind of approach they're going for. 
"There had been something online that existed of some test that someone had done that looked exactly like how it looked in the comic, and as soon as I saw that, I knew we should not try to make it look exactly how it looked in the comic, and we should take some license and try to make it something maybe a little more … palatable, I guess might be the word. And we wanted the character to being sympathetic and ultimately, like, some one you really rooted for."
Arseface, for the record, is a young man who attempted suicide by shotgun, failed, and is left with horrible scars. He's a sweet natured teenager, despite the unfortunate nickname, and he's right, this is a character you should want to root for.
Here's an earlier look at him from a set photo: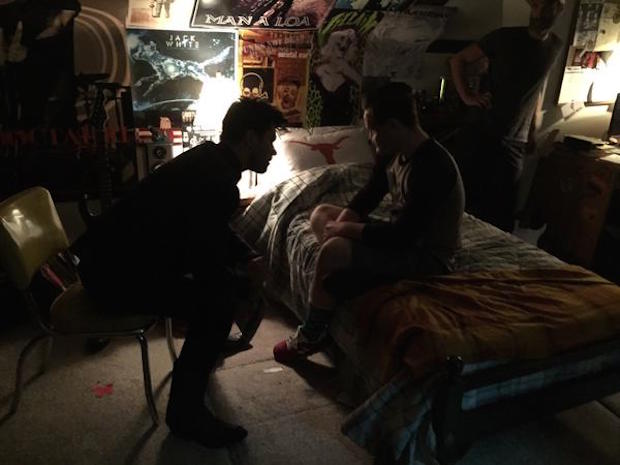 Lucy Griffiths (True Blood) will play a character created for the show. Emily Woodrow is "a no-nonsense single mother of three. Emily's a waitress, the church organist, a bookkeeper and Jesse's loyal right hand. Stoic and strong, wise beyond her years, she can't help but have a little thing for Preacher Jesse." (via The Hollywood Reporter)
Ummmm…if she's a member of Jesse's parish, that can't be good.
TV vets Jamie Anne Allman and Derek Wilson are also on board. Ms. Allman will play Betsy Schenck, "a meek wife who appears to suffer beatings by the hand of her husband, Donny. When the Preacher checks up on her, though, she tells a different story."
Mr. Wilson is Donny Schenck, "a Civil War re-enactor and abusive thug who gets into altercations with Jesse Custer (the Preacher) but nevertheless shows up to church on Sundays."
Those descriptions come courtesy of Deadline, and they describe these roles as "recurring." That sounds a little suspect to me considering the "road trip" nature of the comics, but we'll find out soon enough.
The Preacher TV series has some angels in its cast. Tom Brooke (Lothar Frey on Game of Thrones season 3, as well as a host of British TV series) will play Fiore. Fiore is one of the two angels dispatched from heaven to catch up to the Genesis entity that gives Jesse Custer his "word of god" power. 
Brooke's Fiore is a "series regular," so it's likely that a major part of the show's ongoing story will be the pursuit of Jesse and friends by the angels. That is, of course, assuming it makes it to series. As of right now, AMC has only ordered a Preacher pilot. We'll let you know as soon as that changes, though.
Jackie Earle Haley will play Odin Quincannon described by THR as "a small, decrepit man with the unscrupulous iron will necessary to be the most powerful man in Annville County, Texas. The chief employer in town, Odin runs Quincannon Meat & Power, a 125-year-old family run cattle slaughterhouse business."
The character of Quincannon from the comics is an irredeemable horror of a human being, and is responsible for what might be the most gratuitously shocking sequence in a comic that loved pushing the envelope.
Elizabeth Perkins (Weeds) is playing Vyla Quincannon, "a genteel but formidable businesswoman who owns the local slaughterhouse in Annville. Ambitious, strong-willed and terrifying, Vyla shares a past with Jesse's father which gives her a singular hold over Jesse."
In the comics, we didn't meet the Quincannon family until much later in the run, so expect some liberties to be taken with the structure of the story. That's fine. Comics are comics. TV is TV.
Preacher also has another Breaking Bad connection. Dave Porter, who provided the music for AMC's greatest dramatic effort, will compose the music for the show. Thanks to The Hollywood Reporter for the news.
We'll keep updating this as new castmembers are announced!