News
Peter Parker Returns in April with The Amazing Spider-Man #1
Peter Parker will return as Spider-Man this April with the all-new The Amazing Spider-Man #1
We all knew it would happen eventually, but Peter Parker WILL return as Spider-Man this spring with The Amazing Spider-Man #1 by Dan Slott and Humberto Ramos. The timing, of course, is no accident, as a fresh first issue and the return of the one true Spider-Man will happen just in time for the hype machine for the new Spider-Man movie, The Amazing Spider-Man 2, to kick into full gear.
"We've gone over 30 issues without Peter Parker, so when we let him out of that box and he gets to put on that costume again and he gets to swing through the sky, it's going to be the greatest feeling," Dan Slott told The Daily News, "But there's a twist. There's always a twist."
Mr. Slott is known for twists. After all, nobody would have expected him to "kill" Peter Parker in the first place, let alone replace his consciousness with that of Doctor Octopus. While initially raising serious fan outcry, Superior Spider-Man has been an incredibly fun ride over the last year, simultaneously elevating Doctor Octopus even further in the pantheon of great villains while shaking up some of the occasionally stale, formulaic aspects of Spider-Man stories.
Spidey's new costumes were kinda cool, too…but you can't top the classic, and as you can see from the cover of The Amazing Spider-Man #1, Peter is back in his red & blues!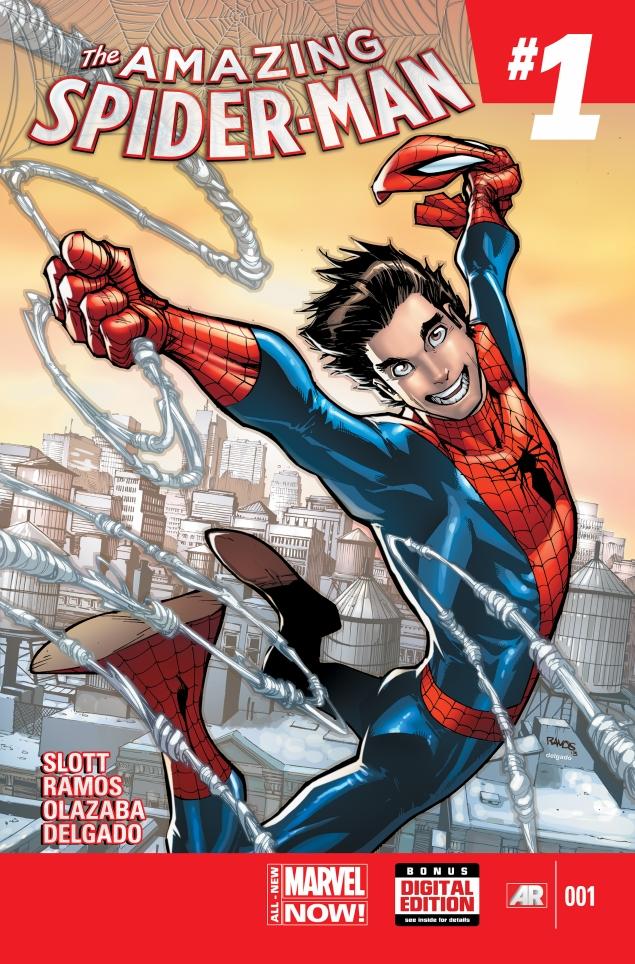 UPDATED! Marvel has sent over a press release and a couple of variant covers by Marcos Martin and Jerome Opena!
Marvel Entertainment is excited to announce the triumphant return of Peter Parker as everyone's friendly neighborhood Spider-Man this April in an all-new The Amazing Spider-Man #1. In 2012, the comic book world was shocked to find that Doctor Otto Octavius, aka Doctor Octopus, had switched bodies with Peter Parker and, in the process, left Peter Parker to die in Octavius' cancer-ridden shell. Since then,Octavius has been fighting crime by his own dark methods in the pages of The Superior Spider-Man.
Teased throughout the entire run of The Superior Spider-Man, written by Dan Slott (The Mighty Avengers, She-Hulk), Peter's presence never quite left his body and is now set to regain control and show the world who Spider-Man is – and no one could be more excited than Dan Slott himself. "I've been a Spider-Man fan since I was eight years old. Of COURSE I want to see Peter back! He is the one, true Spider-Man," says Slott.
With Peter Parker swinging back into action in Amazing Spider-Man #1, Slott, including fan-favorite artist Humberto Ramos (The Spectacular Spider-Man, Pete Parker: Spider-Man), are returning readers to intense and highly kinetic web-slinging action. Senior Editor, Stephen Wacker says, "The entire creative team is incredibly excited to bring readers the next stage in Spider-Man's life. And I can promise you that the plans for Amazing Spider-Man, over the next year, will be the biggest Spidey epic yet!"
However, the question on everyone's mind has not been the "when", but the "how" Peter Parker returns from the dead and Slott is quick to tease just that. "In a strange and terrifying way. And… possibly… at a very great cost. Remember, nothing is ever easy for Peter Parker. It's one of the reasons he's a true hero," says Slott.