News
Perfect Copy of Action Comics #1, First Appearance of Superman for Sale
What is likely the most perfect copy of Action Comics #1, the first appearance of Superman, is currently for sale on eBay.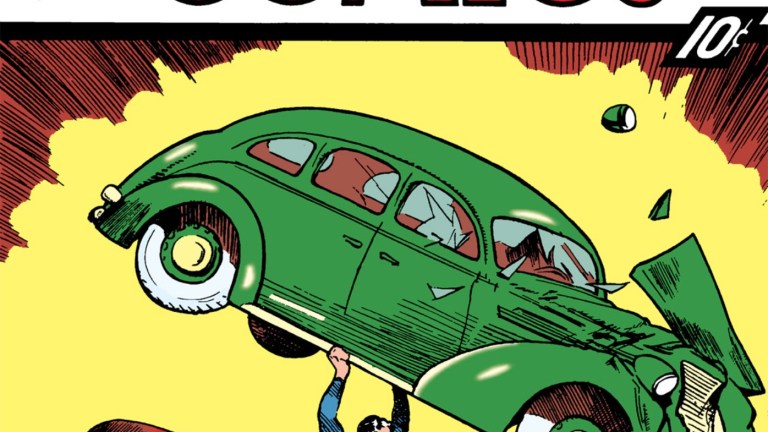 If there is one single item that you can point to as ground zero for all of geek culture, it's Action Comics #1. The 1938 comic with a cover price of one thin dime boasts the distinction of being the first appearance of Superman. Fewer than 100 copies of Action Comics #1 still exist, and it's hard to imagine what any of them would have looked like had you pulled one off the newstand over 75 years ago. But now, one copy is for sale that is about as close as you're going to get.
What is being described as a "pristine copy" of Action Comics #1 (it's a CGC 9.0) is currently for sale on eBay, and as of this writing, mere hours after the auction began, it's already been bid up to 1.6 million dollars. They kicked it off with an opening, non-reserve bid of less than a buck. That's power, but it's not surprising, Action Comics #1 is almost as much of a holy relic as it is a "collector's item." Action Comics #1 not only gave the world Superman, but it invented the concept of the superhero, and he birthed countless imitators and competitors, many of whom are now raking in hundreds of millions of dollars at the box-office every summer.
A comparable 9.0 copy of Action Comics #1 (owned by would-be Superman actor Nicolas Cage, no less) went for $2.1 million back in 2011. This one, at least according to the hype on the eBay auction page, is actually superior, and it should fetch considerably more. After all, we just went from zero to a million plus in less than 24 hours, with ten days to go.
The biggest selling point on this copy's condition seems to be the white pages. Comic book pages tend to be fairly acidic, and the white page borders yellow relatively quickly, even when stored with a reasonable amount of care. The pages of this copy of Action Comics #1 are as white as can be, which makes the rest of the colors really stand out. You can get a look at them up close on the auction page, and I have to admit…it's impressive.
One other nice thing to consider here is that one percent of the sale will go to the Christopher & Dana Reeve Foundation, an organization "dedicated to curing spinal cord injury by funding innovative research, and improving the quality of life of people living with paralysis through grants, information, and advocacy." So, if there are any multi-millionaires among Den of Geek's readers, adding the most important comic book of all time to your collection will also help fund a good cause.
You can follow all the high-stakes bidding action, and get a closer look at the remarkable quality of the book at this link.
Like us on Facebook and follow us on Twitter for all news updates related to the world of geek. And Google+, if that's your thing!