News
Night of Owls claims Batman
Batman ziplines this month into his first crossover since the start of New 52. Jennie discusses the latest DC event…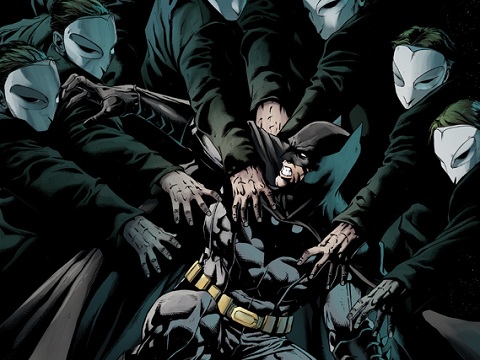 April belongs firmly to Marvel, with the Avengers vs. X-Men event and the release of Avengers Assemble in cinemas. DC has a tough act to follow.
However, May brings the Night of Owls – the first crossover of the New 52 and the conclusion of the ever-looming Court of Owls arc among the books of the Batman comics family.
The entire Night of Owls crossover will span twelve books: All-Star Western #9, Batman #9, Batman: The Dark Knight #9, Batwing #9, Batman and Robin #9, Birds of Prey #9, Batgirl #9, Catwoman #9, Detective Comics #9, Nightwing #9, Red Hood and the Outlaws #9.
A tall order for any single month, but it seems that although the stories will tie together they can probably be read on their own, as long as there is at least some understanding of the prelude stories in Scott Snyder's Batman.
For those reading Batman, the Court of Owls is nothing new. The bat-books have quickly escalated to show that the Owls and their human weapons, the Talons, are more than just shadowy threats. They are an organisation driving a current through Gotham's development to-date – as Bruce Wayne says, 'it's not my Gotham, it's theirs'.
The Night of Owls crossover's prelude doesn't just come from the Batman stories though. Former Robin Dick Grayson, now Nightwing, has his past marred by the events leading up to the crossover, leading us to believe that Haley's Circus may not be the happy place we all thought.
If you're looking for a more historical angle on Gotham's history, All Star Western has shown readers events from over one hundred years ago that are still affecting the 21st century DC universe.
Batman, Nightwing and All Star Western give the feeling that this crossover is going to be a big one. The areas of Gotham's mythology, the history of the Wayne family and even our heroes' origin stories are all influenced by the Court of Owls somehow.
There is a definite Morrison-esque feel to the type of storytelling across the bat-books right now: the multiple threads of plot weaving together at just the right moments. It is a real art form, especially when so many creative teams are working on the story simultaneously!
April sees the final prelude arcs in Batman and Nightwing, and after the revelations at the end of Batman #7 there will be little time for Bruce and Dick to talk about their feelings before they'll need to respond to an attack on Wayne Manor at the deadly hands of the Talon army.
Batman #8 will also debut a new back-up story featuring the Court of Owls and their ambitions to take over Gotham. Snyder revealed that, starting in #9, there will be a three-part story called The Fall of the House of Wayne that will show how the history of the Court is tied in with Batman's parents, Thomas and Martha Wayne.
This is not the first time writers have implied there was more to Thomas and Martha's death than a robbery, or that there has been misbehaviour on the part of the Wayne's, as seen in Morrison's Batman R.I.P.. What Snyder has in mind for Bruce's parents remains to be seen. It's always a bit tricky to make major revisions in a character's familial history – check out Untold Tales of Spider-Man #Minus 1 for another example.
An oversized Batman Annual #1 is also due for release in May, and will help reintroduce Mr. Freeze into the New 52. The annual will take place after the events of Night of Owls and co-writer James Tynion IV hints, 'Reading it will help add depth to the whole owly affair, but it's definitely a story that stands on its own legs'. So if you're looking for a Batman story in May but wouldn't mind avoiding a whole crossover then perhaps Batman Annual is the one for you?
As for the Court, whether they will be finally vanquished remains to be seen. I'll be waiting with bated breath to find out. As a fan of Nightwing, I'm pleased to see a little more of the Bruce/Dick relationship being explored more now that Dick is an adult and has successfully managed to act as Batman while Bruce was… erm… dead.
Hopefully, Night of Owls will shake up the bat-world just enough to keep readers satisfied, but not so much that it destroys the foundation of over 70 years of storytelling.