News
New Young Justice Series Coming From DC
DC's Wonder Comics imprint will return Young Justice to continuity.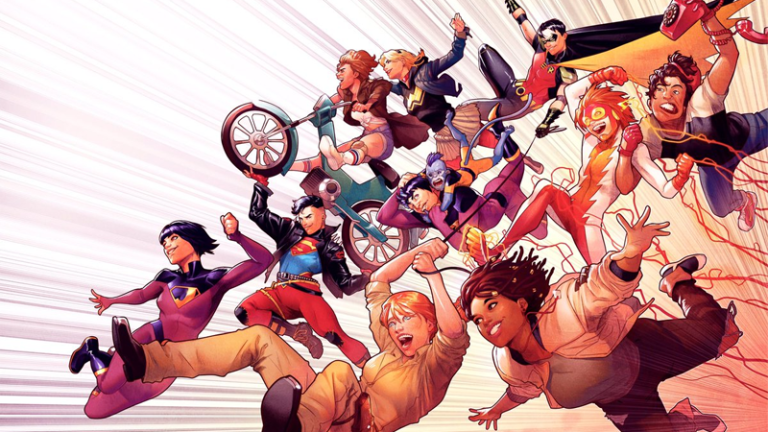 Young Justice Season 3 is coming to the DC Universe streaming service in early 2019, and DC has tapped writer Brian Michael Bendis and artist Patrick Gleason (Action Comics) to bring the team back to comics, as well. As part of Bendis' new Wonder Comics imprint, Young Justice will get a new series in 2019. The Tim Drake version of Robin, the newly-returned Impulse, and the long-awaited return to official continuity of the  Conner Kent Superboy will all form the heart of the team. But joining these classic youthful DC heroes will be a bevy of fresh DC faces.
Brian Michael Bendis revealed the other members of Young Justice team at New York Comic Con. First there is Jenny Hex, a descendant of the classic DC gunfighter Jonah Hex. Jenny will be introduced in the fourth issue of the Wal-Mart Batman series by Bendis and Nick Derington and the writer revealed that, "Jenny has inherited a chest of DC artifacts and is drawn into the world of Young Justice."
Joining Jenny will be Teen Lantern, who, according to Bendis, "…hacks into a Green Lantern power battery." Bendis revealed that the new Lantern character will be of Bolivian descent, a fact that has made front page news in Bolivia. Bendis described the character as a Bolivian Tony Stark and will have skills and motivations similar to Bendis' Marvel creation Riri Williams.
Another fan favorite DC concept will also play a part in Young Justice. "We're bringing back Amethyst and Gem World," Bendis told the New York DC faithful.  "We will be adding an Amethyst book in the next wave of Wonder Comics, but this is where we bring back Gem World."
Bendis promised that the return of Conner Kent will be set up in his Superman books which leads to the fully in continuity Young Justice. 
Other titles in the teen-focused Wonder Comics line include Naomi, which will be written by Brian Michael Bendis and David Walker, with art by Jamal Campbell, Wonder Twins by Mark Russell and Stephen Byrne, and Dial H For Hero by Sam Humphries and Joe Quinones.
We'll have more updates on the new Young Justice series soon!
Read and download the Den of Geek NYCC 2018 Special Edition Magazine right here!