News
New Warriors TV Series Needs a New Network
The New Warriors will be a Marvel TV series, and the roster will feature fan favorite, Squirrel Girl.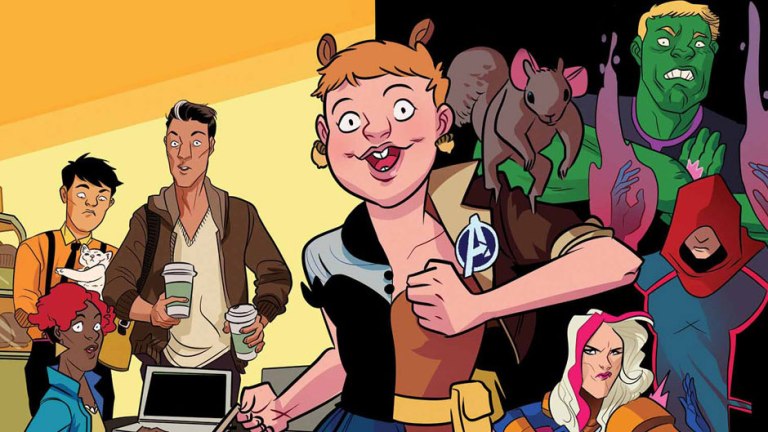 Are you ready for a half-hour comedy series set in the Marvel Universe? One that features younger heroes with offbeat codenames and superpowers? Well, you'd better be, because Marvel and ABC are developing New Warriors as a 10 episode series. The show was being developed for Freeform, who ordered the project straight to series, but now The Wrap reports that the show will need a new home. It's not clear yet where it will end up. 
The New Warriors first appeared in Marvel Comics in the late '80s/early '90s, and featured young heroes with unfortunate names like Night Thrasher and Speedball. Kevin Biegel will write the first episode and serve as showrunner.
Here's the official synopsis from Marvel:
"Marvel's New Warriors" is about six young people with powers living and working together.  With powers and abilities on the opposite end of the spectrum of The Avengers, the New Warriors want to make a difference in the world… Even if the world isn't ready.  Not quite super, not yet heroes, "Marvel's New Warriors" is about that time in your life when you first enter adulthood and feel like you can do everything and nothing at once — except in this world, bad guys can be as terrifying as bad dates.
New Warriors Cast
The full cast list (via THR) with descriptions (courtesy of TV Line) follow…
Squirrel Girl – Milana Vayntrub

Superpower: "The powers of a squirrel, the powers of a girl" (i.e. she is acrobatic, strong, can fight… and can talk to squirrels)

A natural leader, Doreen is confident and tough, but not innocent. Her greatest quality is her optimism. She also takes her pet squirrel, Tippy Toe, everywhere.

Mister Immortal – Derek Theler

Superpower: Cannot die. Ever. Maybe. So he says.

The team troublemaker and lothario, Craig is kind of like "The Most Interesting Man Alive," except he's more cocky than confident and, at times, charmingly grumpy. Although Craig's superpower seems amazing, he hasn't made use of it at all. (He's lazy and figures if he has all the time in the world to learn how to fight, what's the rush?)

Night Thrasher –  Jeremy Tardy

Superpower: None

A local "hero" with his very own YouTube channel, Dwayne is brilliant, strong, noble and maybe a bit full of himself. But he also deeply believes in justice – at least his version of it. Dwayne hides the fact that he comes from a really rich family because he's afraid he'll lose his street cred.

Speedball – Calum Worthy

Superpower: Can launch kinetic balls of energy

Having grown up watching Quinjets take off from Avengers Tower, Robbie loves the idea of being a hero. Alas, while you would think that throwing kinetic balls of energy would be awesome and effective, his are completely out of control.

Microbe – Matthew Moy

Superpower: Can talk to germs

Zack is a shy hypochondriac whose ability nearly makes him a telepath – the germs tell him where you've been, what you ate and who you hung out with. As such, it's impossible to keep secrets around him.

Debrii – Kate Comer

Superpower: Low level telekinetic; trickster

Confidently out as a lesbian, funny and quick-witted Deborah has experienced deep loss in her personal life as a direct result of super "heroics." She's the one who calls people on their BS and has no fear of putting her opinions out there.
"Marvel's New Warriors have always been fan favorites and now particularly with the addition of Squirrel Girl, they are Marvel Television favorites as well," Marvel TV head Jeph Loeb said in a statement. "After the amazing experience we've had with Freeform on Marvel's Cloak & Dagger we can't think of a better place for our young heroes."
The series has just added Keith David as Ernest Vigman, described by THR as "a caustic municipal employee who butts up against the hopeful energy of the New Warriors." Vigman appears to be an original creation, not a character from the comics.
New Warriors Release Date
New Warriors will probably land somewhere in 2018. We'll update this with more information as it becomes available.
Read the full Den of Geek NYCC Special Edition Magazine right here!