News
New Spider-Man Series Coming From Marvel
Tom Taylor and Juan Cabal will bring you tales of the Friendly Neighborhood Spider-Man.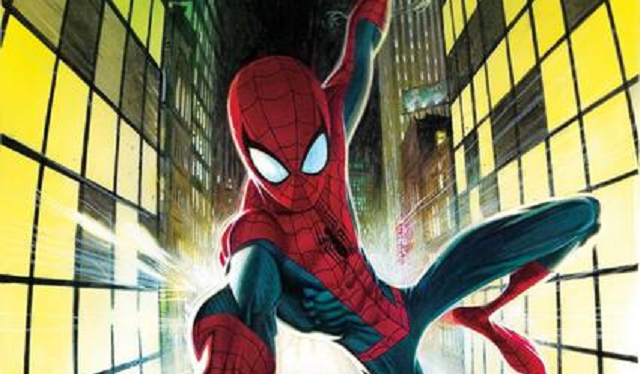 Big changes are in store for the world of Spider-Man thanks to the Spider-Geddon event. One such change will occur when Spectacular Spider-Man comes to a close in December and is replaced by a brand spanking new Spidey title in January 2019.
Friendly Neighborhood Spider-Man is a brand new series from writer Tom Taylor (X-Men: Red, All-New Wolverine) and artist Juan Cabal will focus on, as the title suggests, Spidey and his neighborhood.
At New York Comic Con, Spider-Man group editor Nick Lowe announced the title to a group of Spidey-philes. "Nick Lowe contacted me in a period where I was weighing up a lot of exciting writing offers, but as soon as I saw Spider-Man in the email, there was nothing else in my mind," Taylor said in a statement. "Spidey was my first Marvel hero and a character I've always wanted an opportunity to write. As a fan, this is a bit of a dream come true. I was already writing X-Men and Star Wars comics for Marvel, and to add Spider-Man to that is, frankly, a little ridiculous."
As for the series itself, Taylor said, that Peter Parker is, "… a guy who saves the world, but he's still struggling to pay his bills with his housemates. That's the heart of this series. We're going to tell some big stories here, and introduce an all-new hero, but it's all about the micro. This is Peter finding adventure in his apartment building, a few doors down."
It sounds like this new Friendly Neighborhood Spider-Man series will serve as a contrast to the multiverse spanning Spider-Geddon event, but even the small scale Spidey tales have a huge heart.
Here's the official synopsis:
"The new series tells the tale of the power and responsibility that the wallcrawler bears as both a Super Hero and as the guy who lives next door!

And guess what? Spider-Man is the worst neighbor ever!

There's always crazy villains and property damage and drama and he catches the villains and he tries to fix the damage and he helps carry your groceries and actually that property damage helps keep the rent down? You know what? Spider-Man is the best neighbor ever and this book will give you a closer look at Spider-Man's neighborhood than any book ever before."
The Friendly Neighborhood Spider-Man title should sound rather familiar to Spidey fans as it is a relaunch of a Peter David penned series that ran from 2005-2007. Taylor has been doing some great work on the X-Men titles as of late so his addition should be very welcome to Spidey fans in 2019.
Read and download the Den of Geek NYCC 2018 Special Edition Magazine right here!