News
New Spider-Man Comic Coming from Christopher Priest
The legendary Christopher Priest returns to Marvel for a new Spider-Man comic.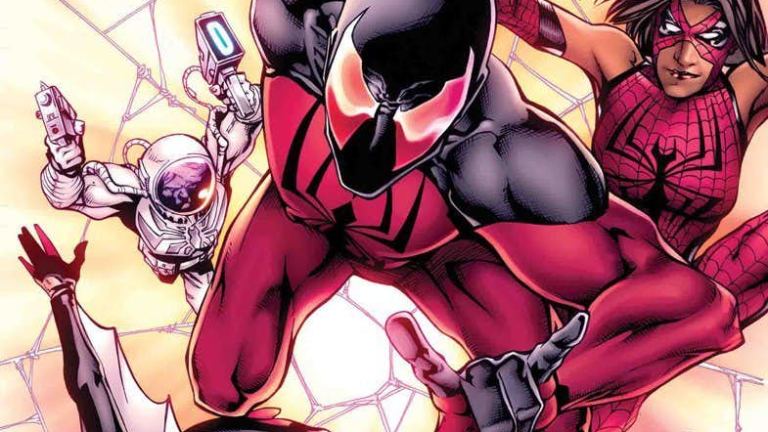 Christopher Priest, the man responsible for the most important Black Panther run of all time and the writer of arguably the best super hero comic on the stands, Deathstroke,is returning to the Spider-Man universe again. Spider-Force, announced at San Diego Comic-Con, is a miniseries that ties into the next big event Spider-Geddon, and looks like a follow up to 2014's Spider-Verse.
The book teams Kaine (a non-Ben Reilly clone of Peter Parker) with Spider-Woman and Ashley Barton (Hawkeye's daughter from the Old Man Logan timeline), along with two new alternate Spider people – Astro Spider, apparently a space adventurer with spider powers, and Spider-Boy, who appears to be a cross between a young Peter Parker and Nightwing. The group is assembled for what Kaine believes to be a 3-issue suicide mission. Paolo Siquiera is handling art duties with Priest.
This is not Priest's first time in the Spider-Man family of books. Before he adopted his pen name, Jim Owsley was the youngest editor working for Marvel as he shepherded the Amazing, Spectacular and Web of Spider-Man along. He also wrote a few issues of each book. Priest has a fascinating history in the industry, stories that are as worthwhile to read as the work that appears on the page.
For more on Spider-Verse, Spider-Geddon, Spider-Priest, Spider-Paolo, or Spider-Con, stick with Den of Geek!
Read the Den of Geek SDCC 2018 Special Edition Magazine Here!