News
New Shazam Details Revealed by DC
Geoff Johns is working on a new Shazam series for DC. Here's everything we know...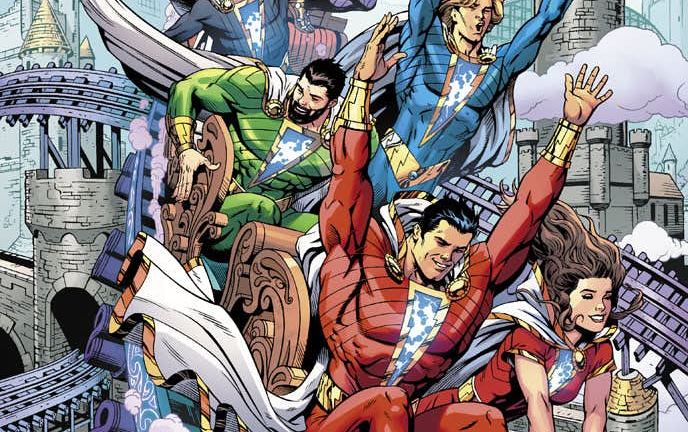 Over the last two years, DC Comics has found its soul again. Kicking off with the Rebirth one shot in spring 2016, DC combined a kind of back-to-basics approach to its heroes with a knack for matching the right creative teams to their characters. We've had some potentially all-time great creative runs on Green Arrow, Batman, and The Flash, potentially all-time great comic series such as Mister Miracle, and recent all-star launches like the Brian Michael Bendis Superman books and Scott Snyder's Justice League.
But where has Shazam been in all of this? Well, the right creative team is finally in place. 
Coming this November is a new Shazamseries from Geoff Johns and Dale Eaglesham (Fantastic Four, Detective Comics). The new book spins out of backups that ran through early arcs of Johns' Justice League,the book that launched the New 52 in 2011. The stories reset Billy Batson and his world, recasting Batson as a mouthy ass with a heart of gold who eventually realizes that his foster siblings are the most important thing to him. He then shares his power with them, creating the new Shazam Family and imbuing each with a piece of his power. The artist on those backups was Johns' art partner on Doomsday Clock,Gary Frank. Likely due to the intricateness of the art on that Watchmen sequel, though, Frank is unavailable for this new Shazam book, so the art duties will be handled by Eaglesham.
Eaglesham is an industry vet, having drawn some of the best issues in "No Man's Land," the year-long 1999 event in the Batman comics that saw Gotham isolated and removed from America because of an earthquake and a feckless, incompetent government; some of the best issues of Jonathan Hickman's epic Fantastic Fourrun; and some of the best issues of Johns' run on Justice Society of America. 
The cover of the first issue is pretty perfect…
"The cover kind of tells you the tone of the book," Johns said at New York Comic Con. "It's going to be a continuation of the first era of the book, and there'll be a retelling of the origin, with the Rock of Eternity… I always try to make my books new-reader-friendly…We're going to  lean more into the magic, the powers of Shazam. When Billy starts exploring the Rock of Eternity, he'll find doorways to other places. We're going to feature Mr. Mind and Dr. Sivana."
And check out a bunch of the preview art revealed at NYCC!
And here's the official synopsis:
Teenager turned super-hero Billy Batson struggles to balance school and superheroics! (Guess which one is more fun?) But when Shazam unlocks a shocking secret deep within the Rock of Eternity, it challenges everything he knows about the worlds of magic and his family's future as its champions! Also, witness the bizarre team-up of Dr. Sivana and Mr. Mind as they set off to build a society all their own! Don't miss the start of an epic run in the making as "Shazam and the Seven Realms" begins!
Johns recently freed up from his executive duties to focus more on writing and was the writer of the New 52 Shazam reboot, which is the basis for the 2019 movie starring Zachary Levi in the title role. Usually, when there's a movie about to drop, DC puts together a big launch for a character, so we're likely to see something special when this new Shazam series hits on November 21.
Mike Cecchini is the Editor in Chief of Den of Geek. You can read more of his work here. Follow him on Twitter @wayoutstuff.
Read the Den of Geek SDCC 2018 Special Edition Magazine Here!