News
New Hellboy Universe Stories Coming From Mike Mignola
Mike Mignola's getting the Hellboy band back together for new, bad-guy focused stories.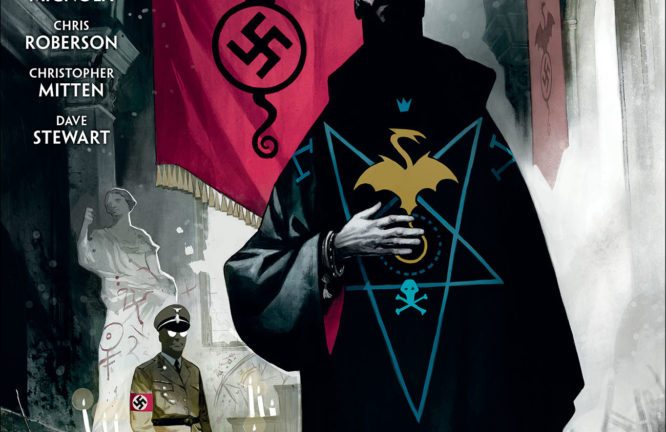 Ahead of this year's San Diego Comic Con, Mike Mignola and Dark Horse announced his return to the Hellboy universe with three looks at classic Hellboy villains, and one big new addition to the team.
Mignola will be joined by long time Hellboy teammates Dave Stewart, Chris Roberson, Christopher Mitten and Ben Stenbeck, and on a one shot in December, by new collaborator Adam Hughes, for stories looking at Rasputin, the Krampus, and Koshchei the Deathless.
Rasputin: Voice of the Dragonkicks things off at the end of November. It's a five issue miniseries looking back at Rasputin's time in Hitler's inner circle, before the Earthly appearance of Hellboy himself. Rasputinis co-written by Mignola and Roberson, with art from Mitten and Stewart
That's followed in December by Hellboy: Krampusnacht. There aren't any details on the story yet, but it's Mignola and Hughes, so don't pretend you're not already buying it.
Then in January, Koshchei the Deathlessbegins a six-issue run. Mignola, Stenbeck and Stewart bring us the tale of Koshchei in hell, reliving everything terrible he did under the watchful eye of Hellboy himself.
"We didn't set out to publish three stories about bad guys for the holidays, it just worked out that way—and, really, at least one of these guys isn't ALL bad," said Mignola.
Rasputin: Voice of the Dragon#1 goes on sale on November 29, 2017. Hellboy: Krampusnachtgoes on sale on December 20, 2017. And Koshchei the Deathlesslaunches on January 10, 2018. Stick with Den of Geek for more information on these and all of Hellboy's villains.