News
New Harley Quinn and the Birds of Prey Series Announced
Harley Quinn and the Birds of Prey sees the return of Amanda Conner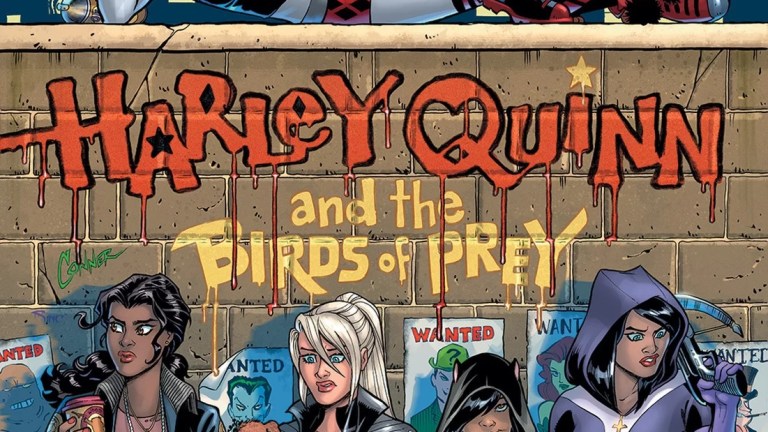 Amanda Conner, the gifted artist who along with husband Jimmy Palmiotti turned Harley Quinn into the comedic comics force she is today, were announced as the creative team on a new Harley book for DC's Black Label mature imprint. Harley Quinn and the Birds of Preyis slated to land in February of 2020.
Conner has been a DC Comics mainstay for years, and she and Palmiotti co-wrote the Harley Quinnbook that was part of wave two of the New 52. That book took Harley away from her role as lead henchperson for the Joker and instead had her highlight the absurdity around her in a superhero universe. They moved Harley to Coney Island and surrounded her with a new supporting cast who eventually turned into a gang of her own, the aptly named Gang of Harleys. The book was very funny and very smart, but it was always drawn by someone else. Conner's last batch of interior pencils for DC came on the bachelorette party issue of Batman.
This new book has Harley swearing off the Joker for good, and him responding by putting a $10,000,000 bounty on her head. It causes all of Gotham's villains to start hunting her down, and she reaches out to the Birds of Prey for help – Black Canary, Huntress, Renee Montoya, and Cassandra Cain's Batgirl. Cain is more commonly known in the current continuity as Orphan, despite being canonically the best Batgirl the comics have ever had.
"Jimmy and I are so looking forward to this project," said Conner. "I'm excited to be co-writing it, but it's been some time since I've been able to draw interiors, so I'm doubly excited. Harley is a blast to write and draw; throw the Birds of Prey into the mix and it's even more fun. And since this will be a mature readers title, we'll do our best to get away with as many shenanigans as possible!"
The series coincides with the release of the new movie, Birds of Prey, which features a number of the same characters. And while the trailer certainly seems like there will be humor, it should be nowhere near what Conner and Palmiotti put on the page. Conner is a master of body language, but particularly the body language of comedy. She can time and sell jokes well in a tough medium for that. That skill is a big part of what made their first go around with the character so successful, and really what's made all of her DC projects – from Power Girlto the Wednesday ComicsSupergirl story with Krypto and Streaky to the aforementioned Batmanissue – so beloved.
"Amanda and I are super excited to be creating this new series for DC," said Palmiotti. "We've been waiting for the right opportunity to let loose on a project with a no-holds-barred Harley story where we revisit Harley's supporting cast and take her on an adventure back to Gotham. Teaming up with the Birds of Prey, Harley will turn all their worlds upside down—exactly how she likes it. Working with Amanda on the art and storytelling has been a blast so far and this book will be like nothing we have ever done before."
The first issue of Harley Quinn and the Birds of Preyarrives in comic shops in Feb. 2020, just in time for Harley to return to the screen in the Birds of Prey movie!
For more on Harley Quinn in any of her iterations, or for more from the New York Comic Con 2019 show floor, stick with Den of Geek!