News
New Guardians of the Galaxy Series Coming
Al Ewing will take over a new Guardians of the Galaxy series for Marvel.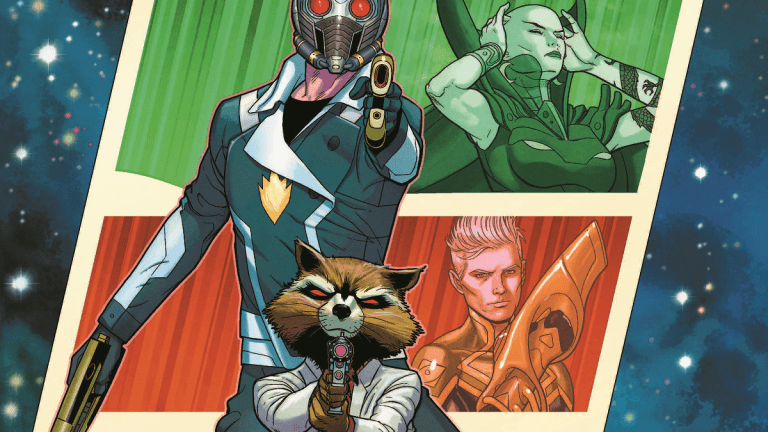 With Donny Cates taking over the writing duties on Thor, there was room for a new writer to pick up Guardians of the Galaxy. And at Marvel's Next Big Thing panel at New York Comic Con, the new team was announced: Juan Cabal (Friendly Neighborhood Spider-Man) on art, and Al Ewing (Immortal Hulk) writing. 
Ewing is currently lighting the world on fire with Joe Bennett on Immortal Hulk. The book is the first to go full monster movie with Bruce Banner's alter-ego in some time, and it's by far the most successful because there are enormous helpings of body and psychological horror added in. It is weird and discomforting and gorgeous and easily one of the best things Marvel has published this decade.
His work on Guardians looks like it's going to go in a completely different direction, though. "Guardians of the Galaxy is a high-octane spy-fi action-adventure set against an evolving backdrop of interstellar politics, intrigue and suspense," said Ewing. "War is coming – and if the Guardians can't stop it, they're going to be right in the middle…"
Cabal has most recently been seen on Friendly Neighborhood Spider-Man with Tom Taylor and X-23 with Mariko Tamaki. His work is terrific, full of character and personality with a gift for smooth action and facial expressions. He should fit right in with the spy theme.
While the new Guardians of the Galaxy book will have the team trying to stop an intergalactic war, it'll also seemingly be part of a broader movement within Marvel to put the various pantheons firmly within Marvel's cosmic line of books. The press release for this book mentions that the Dark Olympians will be one of the Guardians' foes.
This isn't Ewing's first time going to space in the Marvel Universe. He also wrote the criminally underrated Ultimates and Ultimates 2. Those books had unbelievable art from Travel Foreman, Kenneth Rocafort and Christian Ward, and ended up with all of the universal constants and abstract entities – Eternity, Chaos, Logos, Galactus Lifebringer, the Living Tribunal – at war with each other. It was nothing short of magnificent.
Here's the solicitation text for the first issue, due out in January.
GUARDIANS OF THE GALAXY #1 Written by AL EWINGPenciled by JUANN CABALCover by JUANN CABAL(A) & DEAN WHITE(C)

Once, they were a team of misfits. Now they're a family, and they've earned their peace. But the universe is not a peaceful place — and it's only getting worse. The Great Empires are in turmoil. The rule of law is dead. And amidst the chaos, the Gods of Olympus have returned — harbingers of a new age of war, reborn to burn their mark on the stars themselves. Someone has to guard the galaxy – but who will accept the mission? And will they survive it? Al Ewing (IMMORTAL HULK) and Juann Cabal (FRIENDLY NEIGHBORHOOD SPIDER-MAN) bring you in on the ground floor of a whole Marvel Universe of action and suspense!
For more on Chaos or Order or the rest of the NYCC show floor, stick with Den of Geek!