News
New Domino Series Coming From Marvel
Deadpool's oft-co-conspirator gets her own series from one of Deadpool's architects.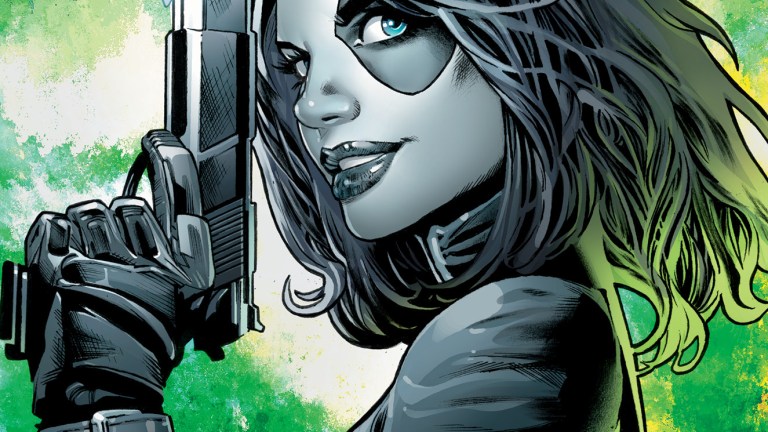 Marvel announced the return of Gail Simone to their characters with Domino,a new series due out in April. Simone, who has been working mostly at DC for the better part of the last decade, was one of the writers to make Deadpool fertile ground for his popularity explosion in the last few years. So with Domino playing a featured role in the upcoming Deadpool 2, it seems she's getting back to Marvel and getting in on the action.
The new series sees Neena find herself on the wrong side of the entire rest of the Marvel mercenary community. "My favorite characters are always the unpredictable ones, and with Domino, you literally never know which way the dice are going to roll," said Simone. "I love her, and I can't wait to show her best bad side!" In a completely unexpected development, writing this paragraph has made me simultaneously nostalgic for GW Bridge, Risque, Grizzly, and Six Pack, and also excited for the new book.
Joining Simone on art is David Baldeon (Monsters Unleashed, Nova). "I am a fan of Gail's work, and I've been wanting to work with her for a long time now. The fact that it is with a character like Domino is the icing on the cake!" said Baldeon. The book promises "risque, hardcore action." I believe they mean "slightly indecent or liable to shock, especially by being sexually suggestive" and not "Warpath's resurrected ex-girlfriend who can implode matter," but who knows? Baldeon also said he redesigned her look to be in line with her character traits, and, from the image below, current X-Book branding.
Simone's most recent comics work has been on Wonder Woman/Conan at DC, the spooky as hell Clean Room with Vertigo, and Crosswindswith Image, and she is most commonly known as the author of one of the greatest runs on Wonder Woman of all time. She hasn't had a story published at Marvel since 2013, a backup in Deadpool#27. Her first big-2 series was a run on Deadpooland its spin off, Agent X, starting back in 2002, where she cranked up the series's trademark slapstick and infused the book with surprising heart.
Simone's new series, Domino, is out on April 11th. For more on this series, Weapon X, Deadpool 2,why I ship Colossus and Domino, or any updates that involve a swimming pool full of pancakes, stick with Den of Geek!