News
New Dick Tracy Comic Canceled Before Publication
Because of some kind of licensing mix-up, Archie Comics can't publish their new Dick Tracy comic.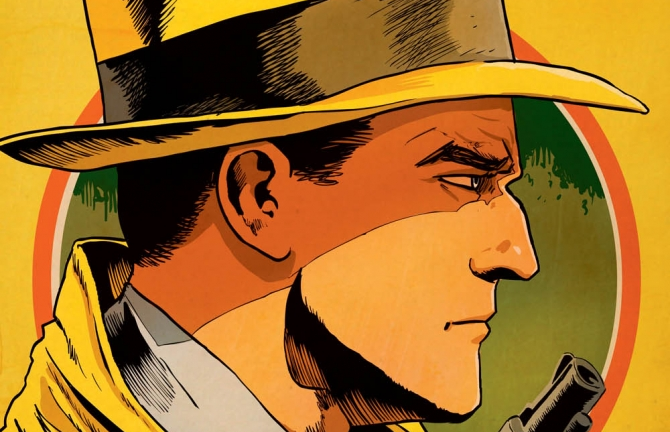 He's not on his way, after all.
You might remember about a month ago, I got perhaps inordinately excited over the news that Archie Comics was going to publish a brand new Dick Tracy comic book series, the first original Dick Tracy material outside the newspaper strips in nearly 30 years. The project, by Michael Moreci, Alex Segura and Thomas Pitilli was to be a reboot of sorts, telling of Dick Tracy's early career in the post World War II era.
Unfortunately, at least for the moment, it appears that the project has been fitted with cement shoes and tossed off the end of a pier. Co-writer Alex Segura broke the unfortunate news via Twitter. "So, this is not-great news… [we] were very much looking forward to creating this comic for you guys. But due to a mistake on the licensor's part, we won't be able to make that happen. To say we're bummed is a huge, huge understatement."
I know how bummed I am over this news, so I can only imagine how the creative team on the book must feel. Part of my excitement over the Dick Tracy announcement wasn't just because I'm hungry for new takes on comics' most celebrated detective, or because the creative team seemed like a great fit (although both of those are true), but it was the first ray of hope that whatever weirdness always seems to hang over the Tracy rights was going to be untangled.
There appears to be stuff going on with the Dick Tracy rights that would probably give a lawyer pause (and I'm no lawyer…I'm barely even a writer). It's not clear what caused the Archie Comics project to hit a snag with the licensor. It's worth noting that we haven't seen Dick Tracy appear outside of newspaper comic strips since the 1990 movie starring Warren Beatty. I wrote more about why Dick Tracy 2 never happened here. While this doesn't appear to be the same problem, something always seems to stop Tracy-related projects, whether it was a proposed comic from Brian Michael Bendis and Michael Avon Oeming or a TV series starring Bruce Campbell.
In any case, I hope that whatever this is it's just a temporary roadblock. Archie seems like a great home for Dick Tracy, and the take that Moreci, Segura, and Pitilli were working on sounded like a lot of fun.