News
New Batman: Three Jokers Details Revealed
Get ready for a new Batmobile and a bonkers take on Batman mythology in Batman: Three Jokers.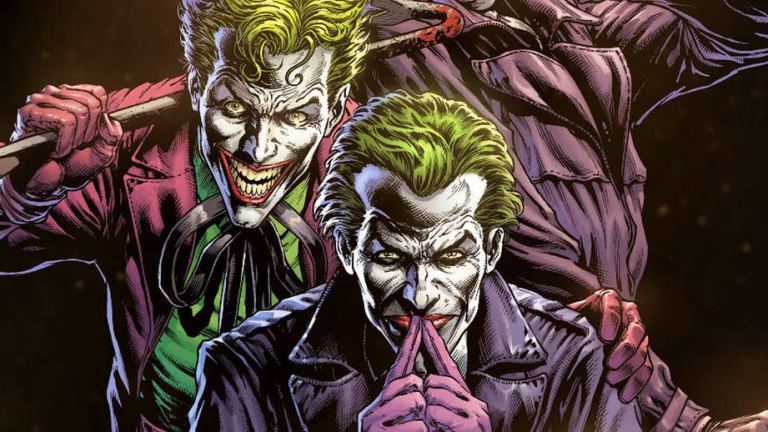 Geoff Johns revealed a few more secrets behind the upcoming Batman: Three Jokers project, coming to DC's Black Label imprint. The salient details on the upcoming book arrived at New York Comic Con.
"The coolest thing about this story is no one knows anything about it," Johns said at NYCC. "It's a pretty mature take. I've never gotten to write a Batman and Joker story, and Jay's never gotten to draw one. We wanted to tell the best Batman story, the best Joker story possible."
Johns said that he always set out to fix DC characters that needed a boost like Aquaman, Green Lantern, Booster Gold, and Hawkman. But to Johns, Batman was always a perfect character. While Johns and his Doomsday Clock collaborator Gary Frank worked together on a pair of Batman: Earth One graphic novels,  he has never worked on a Bat-focused book in the main DC Universe until now.
As for Fabok, he's thrilled to be working on the project, "I'm so excited to get up and work, and every time I hand in a page, I'm really proud of it," Fabok says. "I feel there's a magic to this story. I had chills, I really feel like Geoff has come up with the ultimate Batman/Joker story."
Batman: Three Jokers deals with the three heroes that the Joker has hurt the most: Batman, Batgirl, and Jason Todd. Johns and Fabok then revealed the three eras of the Joker they will use in the coming epic. First, there is the "first appearance" Joker from 1940, then the classic Silver Age "Clown Prince of Crime" Joker, and finally, the Brian Bolland-inspired Killing Joke Joker (the book's cover is something of an homage to that title). During the panel, the creative team also unveiled their take on the Batmobile, which looks something like an amalgamation of the 1989 cinematic Batmobile and the 1966 Adam West version of the famed car.
While there's still plenty of mystery surrounding the book, now DC fans have an idea of the focus and aesthetic of this highly anticipated project. There's still no release date set for Batman: Three Jokers, but it should arrive in 2019.
Read and download the Den of Geek NYCC 2018 Special Edition Magazine right here!