News
Mighty Morphin Power Rangers Comics Coming From BOOM! Studios
We have an exclusive look at the Blue Ranger cover from BOOM! Studios' Mighty Morphin Power Rangers comic series.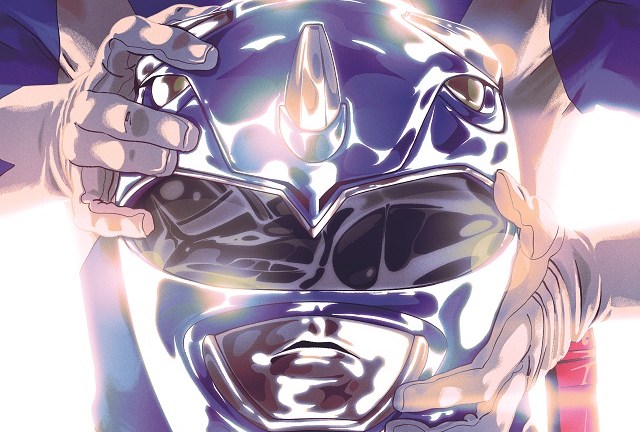 Update: The Power Rangers comics will be dropping in January with Issue #0 written by ongoing writer Kyle Higgins, best known for his work on Batman Eternal and Nightwing. It was also include the Comic Con exclusive story penned by Mairghread Scott. An artist for the ongoing series will be announced at a later date.
Our original story from July follows…
Hot on the heels of the big budget Power Rangers feature film to be released in 2017, Saban Brands has teamed up with Boom! Studios to produce brand new Mighty Morphin Power Rangers comics! They'll kick off the partnership with six exclusive, one-page comics that will debut at San Diego Comic-Con. These comics will be based on the classic Mighty Morphin Power Rangers team from season 1, including Tommy. They will be written by Mairghread Scott of Transformers: Windblade fame and illustrated by Daniel Bayliss. 
"At least half of the team here at BOOM! grew up with Power Rangers, so having the opportunity to expand the legacy of this pop-culture icon is a dream come true," said BOOM! Studios Editor-in-Chief Matt Gagnon in a statement. "We have big, big plans that will build on the core universe of Mighty Morphin Power Rangers. We can't give too much away just yet, but the story we're kicking off with is vast in scope. Fans of BOOM! know we treat the existing properties we collaborate on with a focus on authenticity and quality. That's the same sensibility we're applying here. The Mighty Morphin Power Rangers have an awesome fan base and we can't wait to show them how much fun we're having."
"BOOM! Studios has developed an awesome new collection of Power Rangers comics," said Mary Rafferty, Senior Vice President of U.S. Consumer Products for Saban Brands. "Mighty Morphin Power Rangers, which launched as a global sensation more than two decades ago, is such a special part of the Power Rangers franchise. We are excited to share the classic story of these original Power Rangers in a brand-new way."
BOOM! Studios comics fill a void in the Power Rangers comics world after Papercutz lost the license earlier this year. While those comics were liked by some fans, the overall reaction was mostly indifference. The history of Power Rangers comics has mostly been your standard license comic faire, nothing too exciting and stories that never seemed to delve deep into the rich mythology Power Rangers has built up over twenty years.
While the announcement makes it clear the new comics from BOOM! will focus on Mighty Morphin Power Rangers exclusively, one can only hope they'll do well so more seasons can be featured. While MMPR is a favorite amongst older fans, more hardcore fans are waiting for other seasons to featured. MMPR fatigue has hit the fandom with wave after wave of MMPR themed toys with little representation for other series. Hey, BOOM! Back in the 90's there was a Power Rangers Zeo comic that was well liked by fans but only had one issue before it was cancelled with a giant cliffhanger. If you really want to appeal to "super fans" resolve that cliffhanger!
Check out an exclusive look at the Blue Ranger variant cover!