News
Michael Keaton Talks Which He Prefers Playing: Hero or Villain
During the Spider-Man: Homecoming press conference, Michael Keaton talks which is more fun to play, Batman or the Vulture.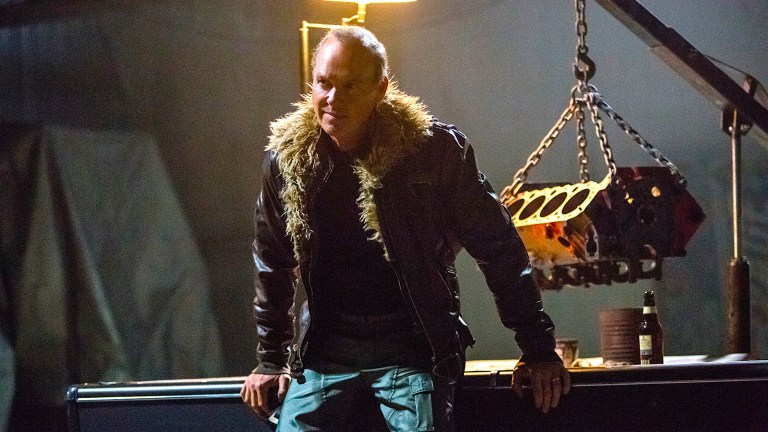 During the Sunday morning press conference for Spider-Man: Homecoming, it was lost on absolutely no one that at the center of a long table was Michael Keaton, Tom Holland, and Robert Downey Jr.: Batman, Spider-Man, and Iron Man.
With that kind of heroic team-up, there were more than a few questions for Keaton and Downey about bequeathing to Holland some advice for becoming a superhero legend. But Keaton specifically has the most complicated history in the genre, starring in one of its earliest bastions of success, Batman (1989), and then eventually playing the lead in its most vicious (and hilarious) deconstruction, Birdman (2014). Now here he is playing another winged character, however this time with a villainous turn He plays the Vulture opposite Tom Holland's giddy web-slinger.
So perhaps the most interesting thing that Keaton had to say was which does he prefer: heroes or villains? Batman or Vulture?
Upon being distinguished by a journalist for playing one of the most iconic heroes of all-time, Keaton quips, "And don't you forget it!" But then when considering which type of role he prefers, Keaton more earnestly says:
"They're both fun. I think actors tend to be drawn toward, not necessarily villainous, but [yeah] probably villainous characters. It kind of tends to be often true when you delve into the dark side, it gets interesting. Because the reality is the lead or hero sometimes by the nature of the piece has to be, not one-dimensional, but has to represent a thing, a very strongly.

"Whereas supporting actors or character actors often—they're more dimensional. You know without going into this and some sort of bullshit actor talk, but it tends to be true. A lot of times, I think everyone, or most of us, had some experience where you're playing one role and you're looking at some of the minor roles, and you're thinking, 'Oh man, I'd like to have a bite of that! It's just so much fun.'

"And I've been fortunate where I get to play a lot of different things: real tiny parts and big parts. They're both fun, they're both different. It's more iconic and you make a hell of a lot more dough being the lead guy."
On the last line, the room laughs and perhaps unconsciously turns toward Robert Downey Jr. who looked (as he did all morning) quite comfortable in his role of superhero movie rock star. Indeed, he and Keaton had some other playful banter throughout the conference. The highlight of which might have been when Keaton alluded to the idea that he and Downey enjoyed a supposedly shared apartment in Queens back in the early 2000s.
When asked why Spider-Man movies don't shoot more action in Queens, Keaton deadpans, "Robert, I think you and I have gotten some action in Queens."
Amused by the setup, Downey corroborates this by saying, "We had a flight down there: Dirty Deeds Done Dirt Cheap."
Holland, the young new superhero sandwiched between the two interrupts the laughter to tell (likely to the producers' relief), "What role models."
When it comes to being onscreen superhero legends, they really are.