News
Marvel's Jessica Jones News: New Clips, Trailers, Premiere Date, and Details
Here's everything you need to know about Marvel's Jessica Jones Netflix series, including trailers, premiere date, casting, and more!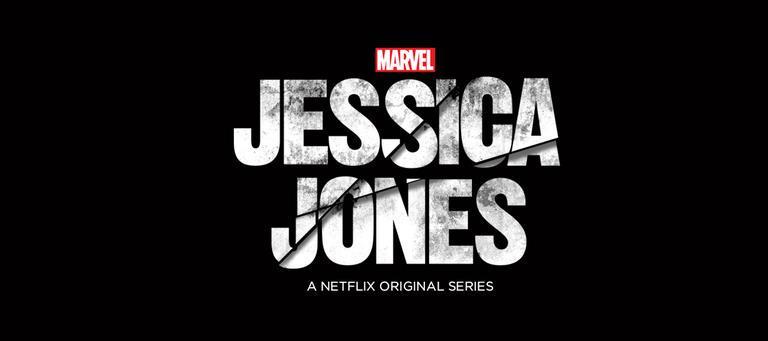 The second Jessica Jones trailer is pretty much all new footage. There's not a heck of a lot that we didn't already learn in the first one, but there's a greater focus on David Tennant as the Purple Man.
Here are some creepy clips focusing on the Purple Man.
Here are the earlier teasers and motion posters…
What would happen to a woman with superpowers after a long night of drinking? What would the hangover be like? The alarm clock in this teaser definitely found out.

Jessica Jones Review
We've posted a spoiler free review of the first seven episodes of Marvel's Jessica Jones Netflix series. Here's an excerpt for you:
"Jessica Jones is a legitimate thriller, trading martial arts or explosions for the kind of heart-pounding tension nobody ever expected from something with the Marvel brand name."
Read the rest by clicking right here. 
Jessica Jones Story
If you've read Marvel's Alias series (if you haven't, do yourself a favor and do so immediately) which first introduced future Netflix star Jessica Jones to the world, you know that series takes her to some pretty dark places. Speaking at TCA, Jessica Jones showrunner Melissa Rosenberg has promised that the show isn't going to shy away from the source material.
"It all starts with Brian Michael Bendis's Alias series," she said (via SlashFilm). "He created this incredibly flawed, damaged interesting character. Regardless of gender, it was the character that drew me. He wasn't afraid to go there and we went even further. We've gone further in all of our storytelling." 
Ms. Rosenberg also told Entertainment Tonight that we might even get a glimpse of Jessica's goofy, short-lived costumed alter egos, like Knightress and Jewel, and that "I think I'm allowed to say: Rosario Dawson will be dropping in." There will be others, as well, promising that "smaller characters that populated that world will be popping in."
One of Jessica's previous costumed alter egos is referenced in an episode title (full list of these down below), "AKA Jewel and the Power Man." Jewel was one of Jessica's failed superhero identities, and "Power Man" is one of Luke Cage's nicknames.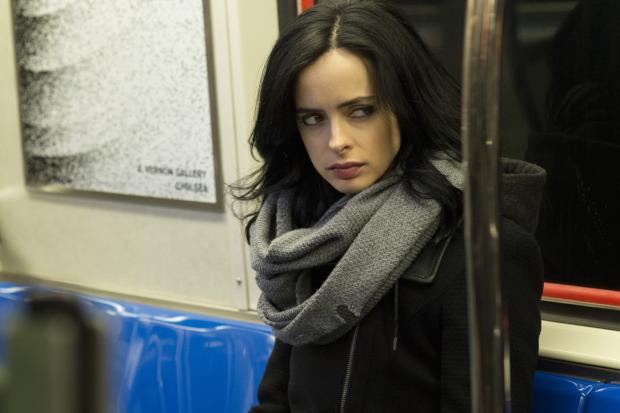 Jessica Jones Cast
Krysten Ritter plays Jessica Jones. Who's that? Well, we'll let the official synopsis tell you more…
After a tragic ending to her short-lived super hero stint, Jessica Jones is rebuilding her personal life and career as a detective who gets pulled into cases involving people with extraordinary abilities in New York City.
Mike Colter will play Luke Cage, who's also getting his own Netflix series.
Here's an official look at Colter as Luke Cage: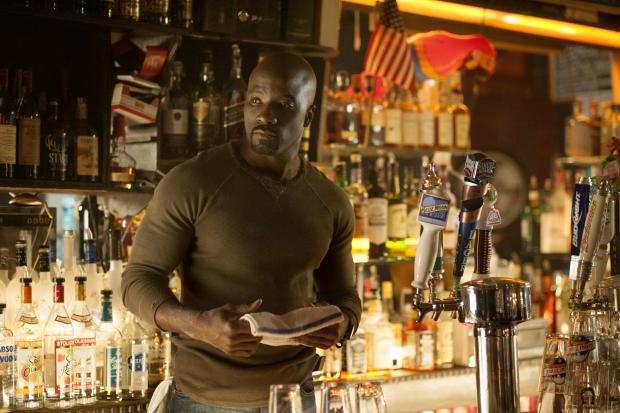 Expect the Luke Cage series to premiere in 2016, some time after Daredevil season 2 drops in the spring.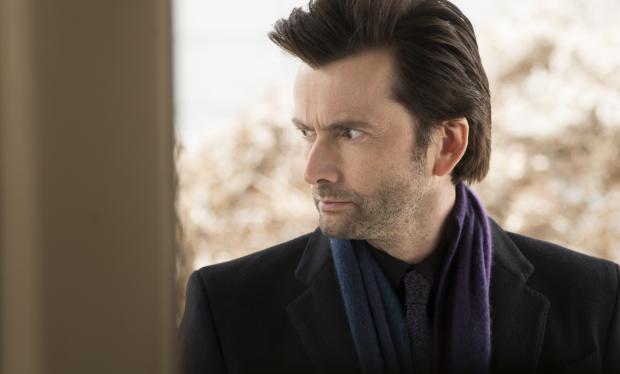 David Tennant is the villainous Kilgrave. In the comics, Killgrave is known as "the Purple Man" (for obvious reasons) and boasts the slightly less on-the-nose surname of "Killgrave." He's described as "An enigmatic figure from Jessica's past, Kilgrave's reappearance will send shockwaves through the former super hero's world."
Get your best look yet at David Tennant as the Purple Man in this new motion poster and…ummm…regular poster.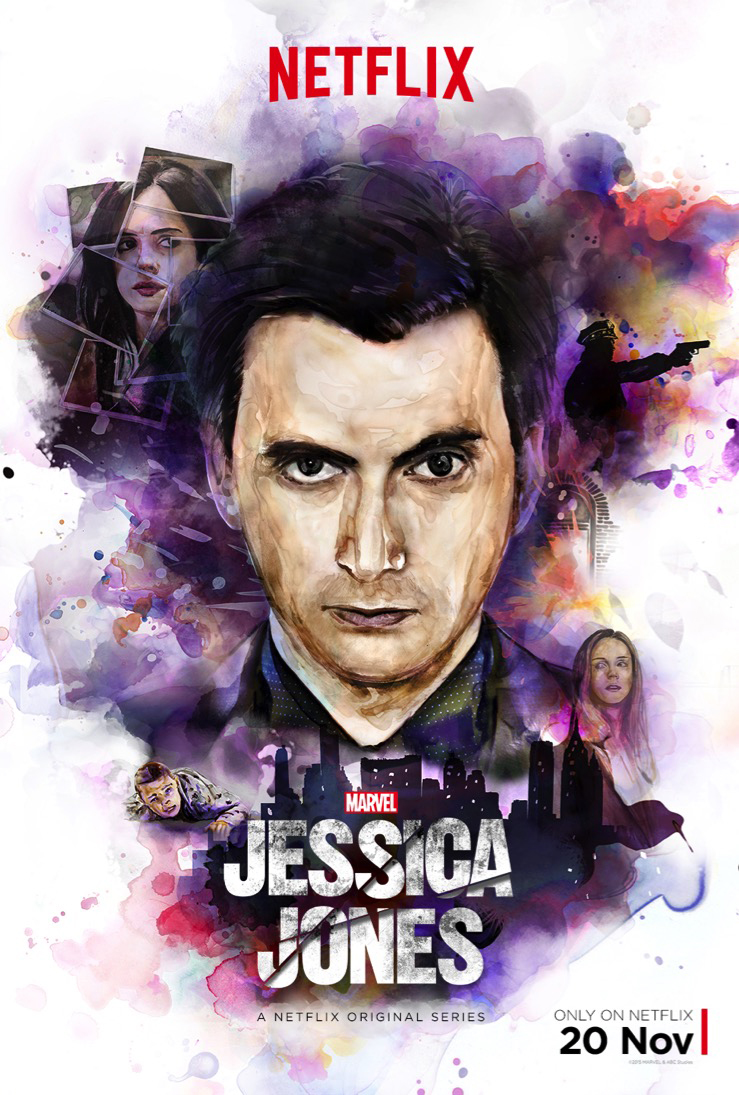 Without getting too spoiler-y, if you've read the (excellent) Alias comics that Jessica Jones is based on, Kilgrave is a major factor in why Jessica Jones does what she does these days, and this should make for some harrowing television. He utilizes a particularly gross form of mind control to his advantage. You'll see.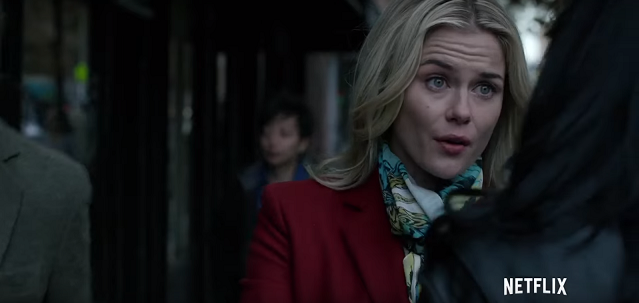 Rachael Taylor (Grey's Anatomy,Transformers) is Patricia "Trish" Walker, who sometimes goes by the superhero code name Hellcat. Here are the official character details, courtesy of Marvel:
Trish is a syndicated radio talk show host, former model and child TV star known to her adoring fans as "Patsy" Walker. As Jessica Jones' closest friend, Trish helps her embark on the most dangerous case of Jessica's career.
But c'mon, guys…Hellcat, right?
"Rachael's ability to embody a character that must balance both the darker and lighter elements of our series will provide a perfect emotional anchor for Jessica Jones," said Jeph Loeb, Executive Producer/Marvel's Head of Television in a statement. "Rachael blew us away with her grounded, humanizing take on Trish, adding yet another layer to the complex, emotional story we're telling with this series."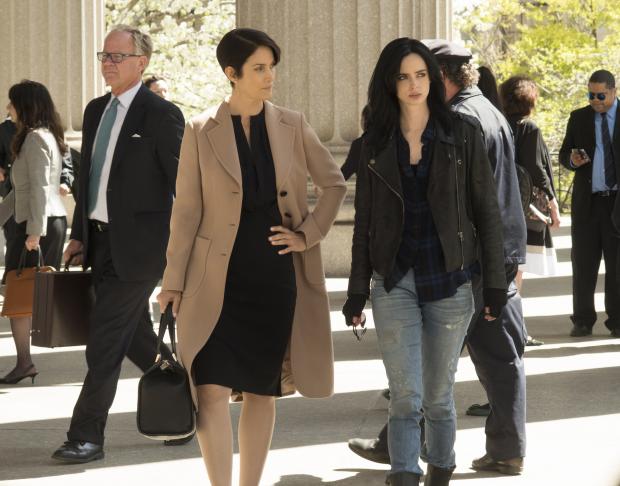 Carrie-Anne Moss is Harper, "a no-nonsense woman who could prove a powerful ally to Jessica…if Jessica doesn't completely alienate her first."
There are some other minor characters around, too…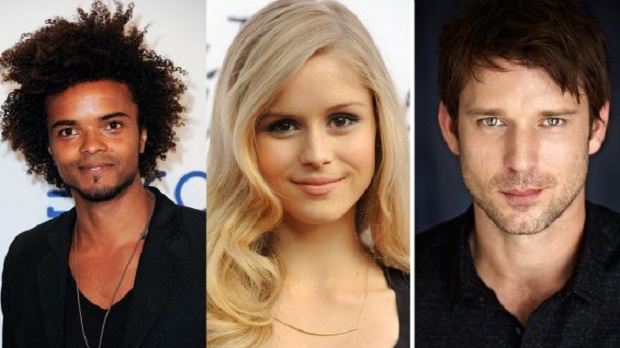 Eka Darville is Malcolm, "a neighbor of Jessica's whose life will cross with the private detective's in a surprising way."
Erin Moriarty is Hope, one of the clients of Jessica's PI business, Alias Investigations.
Wil Traval is a "by the book NYPD officer."
Not a lot to go on, is it?
Casting info and image courtesy of The Hollywood Reporter.
Jessica Jones Episodes
The list of Jessica Jones episodes is a pretty amusing play on the former title of the series, which was AKA Jessica Jones, which was itself a necessity since they couldn't use the title of the comic that it was based on, Alias, which was another female-fronted TV action series.
Jessica Jones Episode 1: AKA Ladies Night
Jessica Jones Episode 2: AKA Crush Syndrome
Jessica Jones Episode 3: AKA It's Called Whiskey
Jessica Jones Episode 4: AKA 99 Friends
Jessica Jones Episode 5: AKA The Sandwich Saved Me
Jessica Jones Episode 6: AKA You're a Winner
Jessica Jones Episode 7: AKA Top Shelf Perverts
Jessica Jones Episode 8: AKA WWJD?
Jessica Jones Episode 9: AKA Sin Bin
Jessica Jones Episode 10: AKA The Kumbaya Circle Jerk
Jessica Jones Episode 11: AKA I've Got the Blues
Jessica Jones Episode 12: AKA Jewel and the Power Man
Jessica Jones Episode 13: AKA Smile
Jessica Jones Netflix Release Date
Marvel's Jessica Jones Netflix series will premiere on Nov. 20.