News
Marvel's Fantastic Four to Feature the Wedding of Ben Grimm
The Thing and Alicia Masters will finally get hitched in Fantastic Four!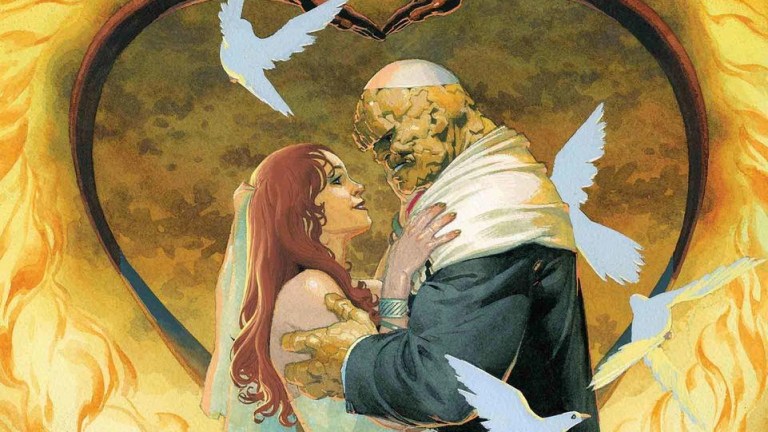 When Reed Richards and Sue Storm got married, all the way back in Fantastic Four Annual #3, it was a huge deal. It was this massive crossover with the whole Marvel Universe as it existed back in the mid-60s. Despite all the deaths, divorces, and Devil retcon contracts to happen over the decades, Reed and Sue have always remained a married couple. Now that the Fantastic Four is back as a team, it's time for the next long-running couple to tie the knot.
In the pages of Fantastic Four #1 by Dan Slott and Sara Pichelli, Ben Grimm finally popped the question to longtime love interest Alicia Masters. All things considered, it sure took him long enough.
There's some stuff with Reed and Sue returning that really needs to get wrapped up in the next couple of issues, but on December 26, Fantastic Four #5 will be released and we'll be seeing that wedding in action. How fitting that the guy who went a couple rounds with the Champion of the Universe would get married on Boxing Day.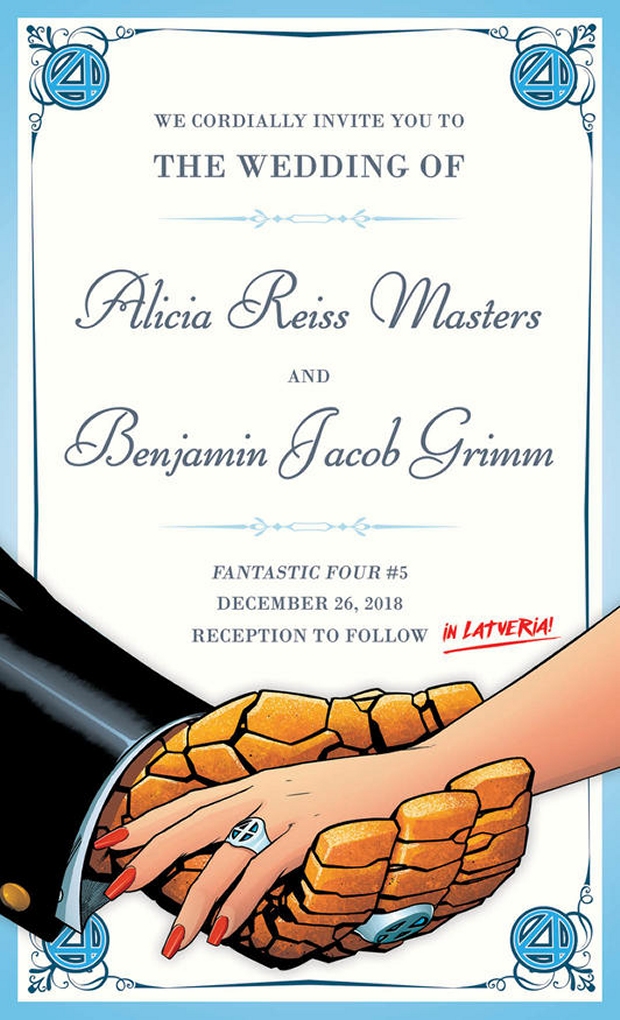 The issue is a big milestone for the characters as it will be the 650th issue of Fantastic Four. To celebrate the issue, not only will Aaron Kuder be drawing the main story, but we'll also some assistance from big names Adam Hughes and Michael Allred.
Further reading: Why the Fantastic Four Will Thrive in the Marvel Cinematic Universe
Ben Grimm and Alicia Masters have been an item since Fantastic Four #8 back in 1962. The daughter of reformed villain the Puppet Master, Alicia's blindness has been played up as a complement to Thing's monstrous appearance and his lack of self-confidence. There was a point where Alicia married Johnny Storm, but that turned out to be a Skrull imposter and the real Alicia returned shortly after.
In the alternate future Earth X, Thing and Alicia are married and have two rocky sons known as The Brothers Grimm. It's enough to make you happy for her, but also feel really, really bad for her. God, I hope they weren't twins.
Check out the wedding this December.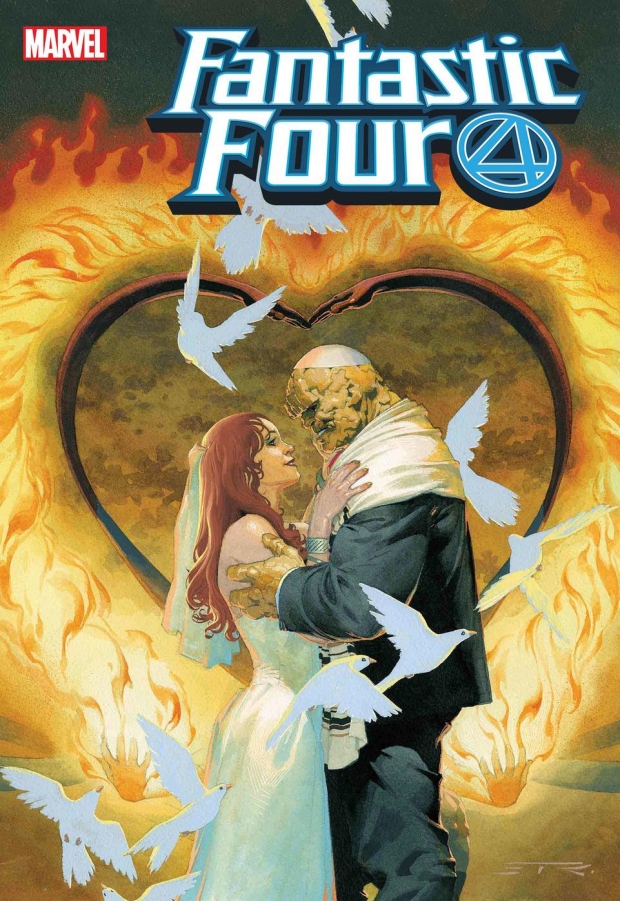 "There are a handful of comic titles that demand respect due to their history. Titles that have influenced generations of fans and creators alike…Fantastic Four is definitely one of the biggest," Aaron Kuder said in a statement. "It is truly an honor on that basis alone. Throw in the fact that I'm working with legendary creators like Dan, Mike, Adam, and Marte, and that just sets my inner fanboy a-spinning. I'll be giving this ALL I've got."
further reading: The Roger Corman Fantastic Four Movie is Actually Great
"It's been a long time in coming—more than 55 years!—but Ben and Alicia are finally tying the knot!" added SVP and Executive Editor Tom Brevoort. "And we've gone all-out to make this an extra-special event for fans, with the inclusion of not only the terrific Aaron Kuder (who'll be illustrating the next storyline as well) but also Adam Hughes and Mike Allred for an all-star spectacular bash!"
Gavin Jasper writes for Den of Geek and can't wait for the 666th issue of Fantastic Four, where Mephisto annuls the marriage. Follow him on Twitter @Gavin4L