News
Marvel's Exiles Return to Our Reality in April!
Blink will be teaming up with a cartoony Wolverine and other multiversal warriors as Marvel's take on Sliders makes a long-needed comeback.
Superhero stories lend themselves well to alternate universes. That's why we have over 200 issues of What If. That's why the idea of adapting Sliders into a Marvel thing worked out like gangbusters. Even though it's been about eight years since the concept ran out of gas, Marvel's Exiles will be making a comeback this April with Saladin Ahmed writing and Javier Rodriguez on art.
Exiles started out in 2001, created by Judd Winick and Mike McKone. With a handful of mainstays (notably Blink and Morph), the roster has changed constantly over the years, featuring the likes of Age of Apocalypse Sabretooth, Spider-Man 2099, the daughter of Nightcrawler and Scarlet Witch, regular Psylocke, and many others. Once Chris Claremont took over late in its run, the book took a huge hit. Jeff Parker tried to relaunch it and give it some new life, but it was canceled after six issues.
Since then, the closest thing we've had to fill that hole is Contest of Champions. That, sadly, did not last long enough either. Oh, and there's that Spider-Verse thing and the Venom knockoff. And that book where Wolverine was a gay cowboy. I suppose Deadpool Kills Deadpool counts—ANYWAY.
Now OG Nick Fury (the white one on the moon) is bringing the Exiles concept back. In order to save the multiverse, he's taking Blink and teaming her up with a grizzled and old version of Ms. Marvel, some incarnation of Iron Lad from Young Avengers, the Mini-Marvels take of Wolverine, and someone shrouded in secrecy.
Exiles #1 will hit stands on April 11.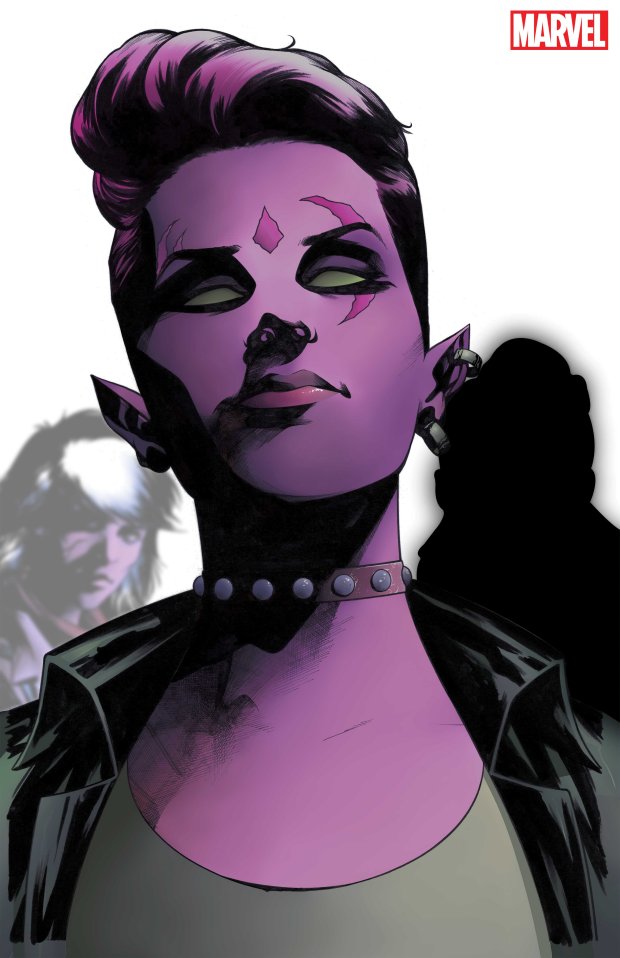 Don't Blink – The Exiles are Back in a New Series by Saladin Ahmed & Javier Rodriguez! The adventure begins this April!

New York, NY—January 3, 2018—A fan-favorite teleporting X-Man will make her return to the multiverse in 2018, along with a brand-new team!

Writer Saladin Ahmed topped several "Best of 2017" lists with Marvel's Black Bolt, with EW calling the book "a delightfully fresh take on the superhero genre." Now, Ahmed takes his talent for fresh storytelling to an old but beloved tale, joined by the art team of Javier Rodriguez (Spider-Woman), Alvaro Lopez, and Jordie Bellaire and Joe Caramagna.

The man once known as Nick Fury is now simply the Unseen, who can only observe Earth from the moon. When a mysterious threat casts its shadow on the multiverse, his job is to recruit champions who can save it. Blink's goal was once to save the world with the original EXILES, and now, she'll need the help of Khan, Iron Lad, Wolvie and a mysterious to-be-revealed team member to help her fight an even more sinister evil.

"EXILES is a two-fisted, big-hearted wild ride of a book about a diverse team of alternate universe Marvel heroes banding together to stop a dire threat to the multiverse. Sort of WHAT IF? meets classic X-Men," teases Ahmed. "Grizzled old Kamala Khan! Disgustingly cute cartoon Wolverine! It's a dream of a book to be working on for a Marvel fanboy such as myself, full of deep-cut guest stars and mind-blowing easter eggs. But it's also new-reader friendly — a self-contained story of a group of misfits coming together, learning to trust each other, and, if they're lucky, saving the !@$# universe."

Get ready for a wild ride of misfit fun and new adventures when EXILES returns to comic shops with a brand-new story this April!

EXILES #1 Written by SALADIN AHMEDArt by JAVIER RODRIGUEZCover by DAVID MARQUEZVariant Cover MIKE MCKONEOn-Sale 4/11/18
Gavin Jasper wishes we'd get more appearances from Snikt the Clown. Follow Gavin on Twitter!