News
Marvel Reboot Coming in May
Just in time for Avengers: Infinity War, Marvel is giving its line a "fresh start."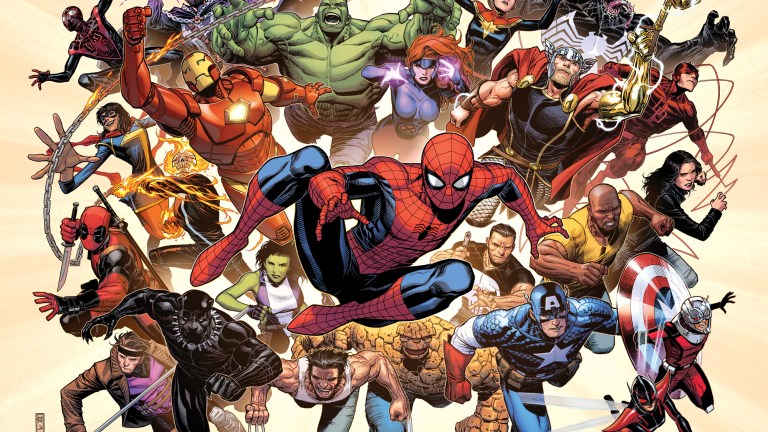 Marvel Comics hasn't exactly had the kind of sustained creative success that we've seen from Marvel Studios over the last few years. Yes, there are good books, even great books (notably Ta-Nehisi Coates and Brian Stelfreeze's Black Panther, Mark Waid and Chris Samnee's Captain America, Gerry Duggan and Aaron Kuder's Guardians of the Galaxy, and Jason Aaron and Russell Dauterman's The Mighty Thor), but sales have been dragging and events have struggled to excite fans. Civil War II was met with derision, Secret Empire with controversy, while Legacy, which was intended to be an attempt to return the line to greatness, was largely met with indifference.
One of the key "features" of Legacy turned out to be a bug. For years, Marvel has relaunched books with new first issues and then relaunched them again with new first issues, usually when a new creative team would come on board. In some respects, it's a handy way to let fans who might only be making their way into comic shops for the first time (or the first time in ages) because of Marvel's movies or TV shows know where they can jump on. But there's also a school of thought that saw the constant parade of first issues (Guardians of the Galaxy has had three different #1s since 2013, with something like five for Captain America) as a marketing gimmick intended to drive up sales via the perceived "collectibility" factor.
So Legacy reverted books to their "original" numberings, rather than relaunch with new #1s…which makes sense for something like Captain America, which needed a new creative team and is approaching its 700th issue. But in some cases, as in Coates' Black Panther, a relatively stable creative team/ongoing book jumped from #18 to #166. And how they arrived at that #166 was by totaling up all the different Black Panther series, and adding in some fuzzy math, and, well…even as a seasoned comic book fan, I find this all confusing. You can imagine how it all looks to someone who's trying to either discover comics or get back into them after a long hiatus.
So less than a year after the Legacy initiative, Marvel is switching gears yet again, embracing a linewide relaunch that will begin in May, and that they're touting with "new creative teams, new series, new directions [and] new beginnings." Honestly, Marvel needs it. And with Avengers: Infinity War opening on May 4, the publisher is going to want to make it as easy as possible for all those ticket buyers who want to pick up a comic book.
This back to basics approach has worked well for Marvel's chief competition, DC Comics, who in 2016, in the face of increasing fan indifference, "fixed" its line with a relaunch called Rebirth. Rebirth restored some characters to their original costumes, brought back legacy characters who had been lost to a compressed timeline after a 2011 reboot, and generally made things feel like DC Comics again. If Marvel can replicate the goodwill DC found with Rebirth, then it can have all the first issues it wants.
To kind of lay things out for how this is going to go, Marvel has released a teaser…
There aren't many details about "Fresh Start" just yet. But considering that Free Comic Book Day is May 5, the day after Infinity War opens, that seems like the most likely place for Marvel to release its preview title. This isn't a "back to the beginning" reboot, but rather just a creative relaunch with new first issues and easy jumping on points for new readers.
Some books and creative teams have started to be announced, including a brand new Avengers series from Jason Aaron and Ed McGuinness. We'll update this with more info as it becomes available.
All cynicism aside, it looks like May will be an easy way to get into Marvel Comics. Hopefully, Marvel will get it right this time.