News
Marvel Expands Conan the Barbarian Universe
More characters from Robert E. Howard will join Conan the Barbarian in the Marvel Universe.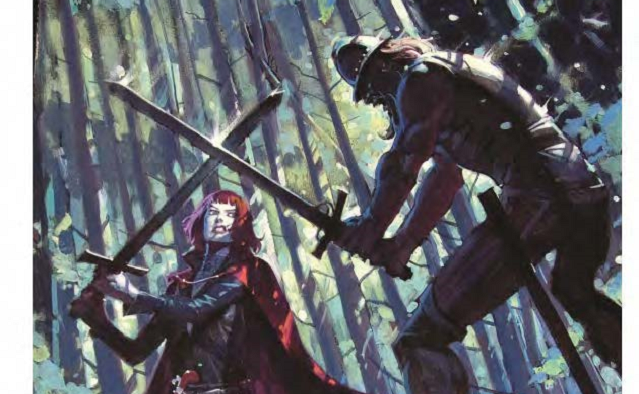 Marvel Comics has signed a deal to bring more of Conan the Barbarian creator Robert E. Howard's works to Marvel. Since Conan arrived back at Marvel earlier this year, the company has had great success with the most savage hero of all. Marvel has delighted fans' bloodlust with both Conan the Barbarian by Jason Aaron and Savage Sword of Conan by a rotating group of bloodthirsty creators. Marvel has also featured Conan leading ladies Belit and Valeria in the Age of Conan series as well as bringing Conan into the Marvel Universe in the pages of Savage Avengers. Conan and Punisher is a thing I never knew I wanted until I got it. 
But now the bloody bond between Marvel and Robert E. Howard's greatest creation is about to get a whole lot bigger. You see, Howard, the literary father of Conan, created a huge passel of warriors back in the 1920s, some of which have been explored by Marvel in the past, and now they will once again.
"Our readers cannot get enough of Conan, and luckily, we have plenty more to give them," editor Mark Basso said in a statement. "We're very excited for readers and the heroes of the Marvel Universe to meet or reunite with more characters from the legendary Robert E. Howard mythos!"
"With their world-building and storytelling expertise, we're happy that Marvel now will go deeper into the Howardverse to explore more of all his fantastic characters, and spinning new, exciting yarns," added executive VP Joakim Zetterberg. 
As to which Howard legends are coming to Marvel, Solomon Kane and Dark Agnes were mentioned specifically. Solomon Kane has a history at Marvel. The Puritan monster hunter appeared throughout Marvel's black-and-white magazines of the '70s and '80s and was also featured in his own intense, full color mini-series in 1985. Meanwhile, Dark Agnes is new to the world of Marvel Comics…sort of.
You see, Dark Agnes de Chastillon (also known as Agnes de Chastillon, Dark Agnes, Agnes de la Fere, and The Sword Woman) was the protagonist of three Robert E. Howard short stories. In the 1970s, Marvel wanted to add to the world of Conan and bring more female characters to the proceedings. Marvel legend Roy Thomas looked to Dark Agnes for inspiration. Thomas combined the idea of the red-haired, wick-tempered swordswoman Dark Agnes with another Howard female protagonist, Red Sonya of Rogatino, to create the modern Red Sonja. It's safe to say that in upcoming projects Dark Agnes will be a stand in for Red Sonja, a character that Marvel no longer has the rights to. 
Conan fans should also begin speculating what other Howard warriors could join the fray. There's always King Kull, if the rights are available, plus other barbarian characters Marvel has never exploited before in comic form. Howard characters like the warrior king Bran Mak Morn and the pirate Cormac Mac Art have yet to really make their bloody marks on the world of comics, but maybe this will change soon, too.