News
Martian Manhunter Becomes a Telepathic CSI
J'onn J'onzz goes into the thoughtscape in this preview of Martian Manhunter #9 from DC.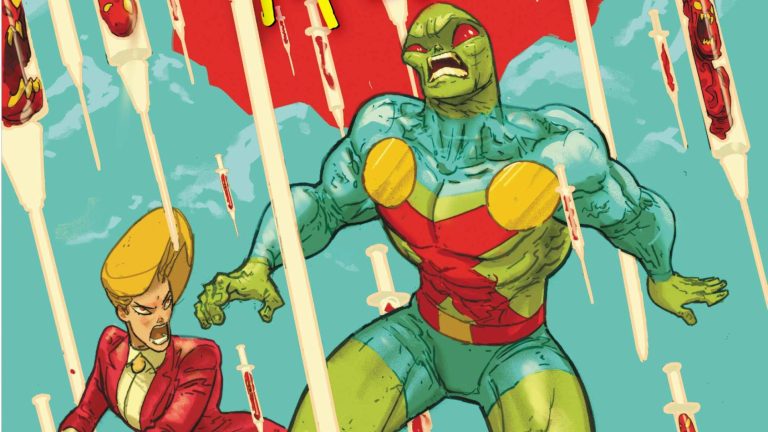 Steve Orlando must be incredible to work with, because he lands artistic talent like he's already a comics legend.
This isn't meant to be a backhanded complement to Orlando. His writing is superb, and it has been since almost the moment he burst onto the scene – Virgil was one of the best comics when it came out, and that's a pretty steep departure from the work he's been nailing at DC. But once he started getting a ton of work at DC, it was one ridiculous artist after another – ACO and Hugo Petrus on Midnighter, Fernando Blanco on Midnighter and Apollo, Andy MacDonald and Ivan Reis on Justice League of America, Travel Foreman on Electric Warriors, and Riley Rossmo on Batman/The Shadow and now in Martian Manhunter, a book that if we're being honest with each other, really shouldn't work.
I will admit that I harbored some doubts when I first heard the pitch for this book. A prestige-like redefinition of J'onn J'onzz's origin story that turns him into a dirty Martian cop with regrets…had it not been this creative team, I probably would have ignored it. My J'onn J'onzz is the one who cries over Christmas kindness, not Martian Harvey Keitel (Ha'arvey Ke'itel?). And yet, this creative team has made this story work out of sheer talent and style.
Their J'onn isn't all that different from my preferred version. He's still got the heart and the loneliness of the cartoon J'onn, but at the point in his story where the book takes place, it hasn't quite settled into that background throb of melancholy that defines him later in his tenure on Earth. It's still pretty raw here, something he's regularly dealing with.
Dealing with it gives Rossmo an excuse to shine. We spend a ton of time on Mars, and in this issue, we spend much of it in a thoughtscape interrogation of a dead body. Rossmo's storytelling is clear and sharp, but what makes this issue really crush is how he uses his panels to jerk the pacing around, and disorient you the same way that J'onn probably is in his interrogation. It's masterful technical craft.
Orlando and Rossmo's revamping of J'onn's history is the best kind: additive, with depth and panache that makes Martian Manhunter absolutely worth checking out. Here's what DC has to say about the book.
MARTIAN MANHUNTER #9 written by STEVE ORLANDOart and cover by RILEY ROSSMOvariant cover by JOSHUA MIDDLETONIn order for J'onn and Diane to uncover all of Charnn's deadly secrets, J'onn will have to perform a Martian thoughtopsy, an extreme telepathic procedure that he might not come back from! What secrets, traps and deadly obstacles exist in Charnn's head and his past? And is it too late to save Ashley Addams?
And here are the preview pages. Pay attention to how the panel orientation changes with the story. It's really great.