News
Major Superman Changes Teased Ahead of The Man of Steel
A new era of Superman is about to begin, and it won't be an easy one for Clark Kent.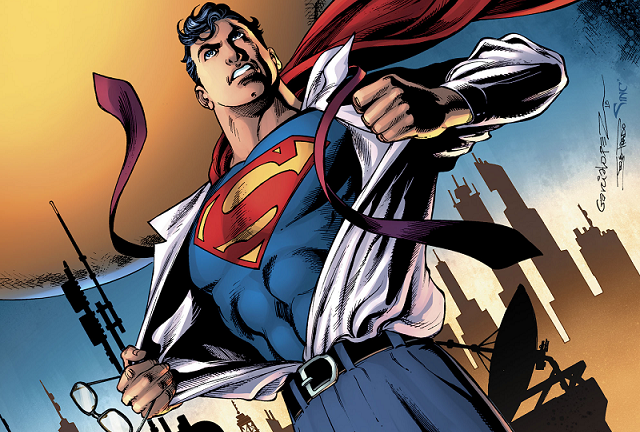 This article contains spoilers for DC Nation #0.
The Brian Michael Bendis era of Superman is almost upon us. The famed Marvel writer is taking on the most high-profile assignment imaginable in his first work for DC Comics, as the steward of multiple Superman titles. DC is, perhaps wisely, rolling this out slowly at first, offering a brief story (with Jim Lee art) in last month's Action Comics #1000, and now a new tale (with the legendary Jose Luis Garcia-Lopez on art) in DC Nation #0, a one-shot intended to set up the big DC events of the summer.
The story, "Office Space," couldn't be more different than Bendis' Action Comics #1000 outing. That tale, "The Truth," was blockbuster action, focusing on Superman having his red and blue ass handed to him by a brand new alien supervillain, one who hints that the destruction of Krypton came at his hand. Readers were promised that we'd get the answers in The Man of Steel, the June mini-series by Bendis and an absolute murderer's row of artists. "The Truth," while necessary and an effective tease, felt out of place in the rest of Action Comics #1000, which mostly focused on the meaning of the character and his greater significance, rather than his power levels. 
But "Office Space" is very much the other side of the coin, and puts the bombastic action of "The Truth" in a little more context. Bendis has teased us with his sci-fi alien fight scene chops, and with "Office Space" he shows his ability to write Clark Kent and his supporting cast at The Daily Planet. Bendis writes a particularly Christopher Reeve-esque Clark, and he's particularly well suited to putting words in Perry White's mouth. It's good to see that White has a distinct voice from the work Bendis did on a surprisingly sympathetic J. Jonah Jameson back in his Ultimate Spider-Man days.
Despite this, there might be cause for concern with Superman fans about some of the hints laid out in this story. The last two years of Superman comics have been defined primarily by the strong family dynamic, with Clark and Lois long married and raising a super powered son named Jon. Dan Jurgens, Peter Tomasi, and Patrick Gleason delivered years of fan favorite stories, which called back to and built upon the last truly great creative era of Superman from the late 1980s through the 1990s. Lois Lane and Jon Kent have been noticeably absent from most of the discussion of the post Man of Steel Superman plans, and the solicitations for the individual issues weren't exactly comforting in that regard, hinting that some mysterious fate had befallen the pair.
In "Office Space" it's revealed that Lois Lane has left The Daily Planet staff, apparently to work on a novel. The thing is, given the way Clark reacts at every mention of her name, there are plenty of indications this isn't the entire truth. What's more, there's not so much as a mention of their son, Jon. It's not clear if Lois' novel is just a cover story or if there's something more sinister at work. In any case, fans of Superman's marriage might have some reason for concern, while Clark might have some more immediate problems, as a mysterious new character is also introduced.
DC Nation #0 is on sale in comic shops today, and it's only 25 cents. We'll start getting the answers to the questions posed in "The Truth" and "Office Space" when The Man of Steel #1 by Brian Michael Bendis, Ivan Reis, and Joe Prado arrives on May 30.