News
London Super Comic Convention 2012: weekend round up
A fresh kind of comic convention hit the UK over the weekend. Jennie and CJ marvel at the first London Super Comic Convention...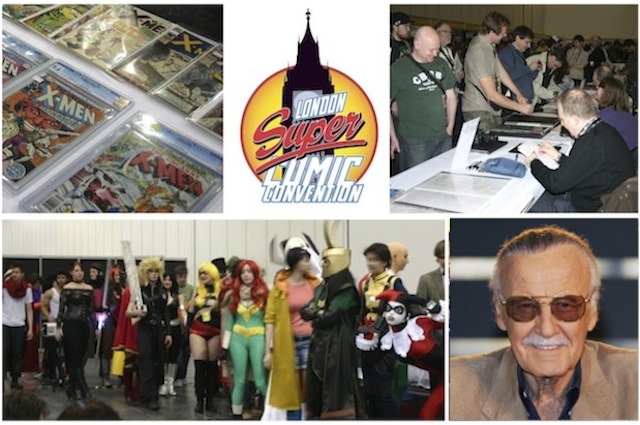 Strolling into London's ExCeL convention centre, it was clear that the inaugural London Super Comic Convention – or LSCC – was going to be busy.
At ten minutes past the 10am opening time there was already a queue of hundreds snaking to the doors of the centre. Wandering past all the punters – sporadically interspersed with Rogues, Wolverines, Batmen and more – it became crystal clear just how much Britain does love superheroes.
The hangar-style arena housing the convention was filled with shop booths, artists tables and displays, and a large stage area for panels and events. A rather intricate queuing system existed for those wanting to get a scribble from the convention's main attraction: Stan 'The Man' Lee at his only UK appearance for comics fans in four decades.
Signing
It was obvious from the area allocated for signings that meet-and-greet with some of the greatest US and UK comics producers was the name of the game at this show. Unlike other UK cons there was no anime, obvious movie sponsorship deals or games zone to draw in customers – just the pure power of comics and their creators.
Even the event programme produced by Markosia was designed with the signings in mind. Laid out in pseudo-comic style, it featured prints of sketches by the attending artists with little boxes for signatures.
Aside from Stan Lee – we'll get to him later – there were many talented guests at their tables who offered their signatures and/or sketches to those that waited patiently.
Other dedicated signing sessions were coordinated for some of the biggest names: Killing Joke and Animal Man artist Brian Bolland, New Teen Titans and Crisis on Infinite Earths artist George Perez, Uncanny X-Men and Generation Hope writer Kieron Gillen, and Transformers' writing powerhouse Simon Furman, among many more.
We know from the buzz at the tables that we weren't the only people excited by this rare safari among creators. For us, meeting DC's Knight and Squire author Paul Cornell and watching artist Peter Nguyen sketch were particular highlights from the LSCC tables.
Shopping
Several aisles of stalls were dedicated to new talent, small-press, independent publishers and artists. There was certainly no shortage of quirky comics, unusual titles, pin-up posters and cutesy stickers.
Although some of the big stores had stalls, like Forbidden Planet, there were very few long boxes of bargain trade paperbacks and graphic novels to be found – and certainly no two for £2 manga stashes!
What was present, and in vast quantities, were Golden, Silver and Bronze Age back issues in Certified Guaranty Company (CGC) boxes, and walls of preserved first issues for the serious collector. Prices ranged from £3 to £10,000.
Of course, there was no shortage of more affordable novelty t-shirts, wall posters and animation stills too.
Panels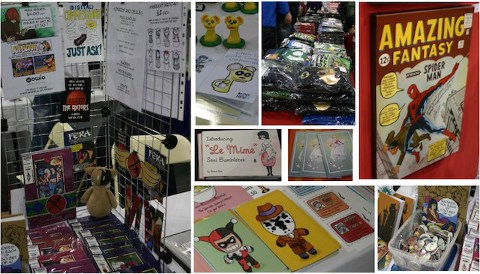 The panels on offer seemed to fall into three categories: making comics, a focus on current publishers, and the ubiquitous Stan Lee.
Discussions of comics creation focused heavily on scripting, drawing and publishing comics. They featured a writers' panel exploring scripting for comics, an interactive debate on digital publishing, an advice session on promotion and networking, and a Q&A exploring how to break into comics.
The feeling these panels created was one of hope and guidance for aspiring comic talent, and the questions from audience members reflected that. The whole convention was very encouraging towards new writers and artists, with a portfolio review service by IDW and the presence of UK comics publishers like Markosia.
There were also panels focusing on the 35th birthday of 2000AD and a look ahead at IDW's upcoming publications. While not every panel was full, they were certainly lively and held attention.
A session with creators working on DC Comics' New 52 relaunch was manned by Resurrection Man's Andy Lanning, Justice League International and World's Finest's Kevin Maguire, and former DC exclusive artist Jamal Igle.
That panel was very frank, and gave some insight into working behind the scenes on one of the industry's biggest orchestrated upheavals.
Talk eventually turned to recent Batwing and Catwoman controversies, but response from the audience was mostly positive. It seems that the relaunch is still very much a work-in-progress – as seen with the upcoming cancellations and new titles in the second wave of New 52.
It was fantastic to watch creators talking to the public in such an open, amiable way. Among praise for Scott Snyder's Batman series, talk inevitably turned to the crossovers and this summer's most controversial comic event: Before Watchmen.
When asked about the likelihood of a third wave of New 52 in six months' time, it was suggested that there probably would be as part of DC's ongoing strategy. It was also suggested that an ongoing Watchmen series wouldn't be completely off the cards should the Before Watchmen event be a success.
Finally panellists were asked if they had been invited to take part in Before Watchmen. Each panel member said that they wouldn't have for various reasons, but they wished the best to those who were.
Cosplay
The LSCC website requested months ago that it wanted its patrons to dress up as their favourite characters, but the announcement of the cosplay competition and the prize incentive cemented costume as a big part of this convention.
The cosplay competition took place on the Saturday evening and the winner received two tickets to the next Marvel movie's UK premier – and we can all assemble an idea of what that is.
Cosplayers were milling around the convention all day – we were there as Ms. Marvel and an incognito Rick Jones – and there were a lot of press and costuming enthusiasts eager to take pictures and talk about how the outfits were made.
The competition itself was a little disorganised, but a lot of fun once it got going. Highlights included a perfectly in character Logan, a Galactus complete with tiny Silver Surfer and "Ultimate Nullify me" sign stuck to his back, and a rather bendy Harley Quinn.
In the end, a charismatic Victor Von Doom, if you can use that word to describe the Latverian dictator, took the prize after a convincingly characterful performance!
Stan 'The Man' Lee
It was easy to see what was the real draw to this conference for most visitors from the piles of Stan Lee VIP badges sitting on tables at arrival.
The Marvel Comics All-father was mainly signing autographs for those able to splash the cash on VIP tickets, but also took the time to take part in a semi-biographic panel about his life in the comics business and to visit the Panini UK stall.
From watching the way Stan captivated the audience for almost an hour with his anecdotes, it wasn't hard to appreciate just how infectiously easy-going he was and how much he still loves comics. He closed Saturday's panel by challenging the audience to get him knighted!
A super convention
London Super Comic Convention provided some long-awaited opportunities to mingle with much of today's talent in US and UK comics. It was inspiring and supportive in showing aspiring artists and writers just what is achievable with commitment, and brought a hugely positive message about comics to new and old fans alike.
It was a wonderful event, and hopefully there will be another next year. ExCeLsior!
Jennie and CJ are a couple of huge comics fans. Jennie's cosplay blog is over at Fancy Dresscapades.
Follow Den Of Geek on Twitter right here. And be our Facebook chum here.