News
Logan: James Mangold & Dafne Keen Open to X-23 Spinoff Movie with Western Motif
Hugh Jackman might be done as Logan, but James Mangold and Dafne Keen talk with us about X-23 and the possibility of another Western motif.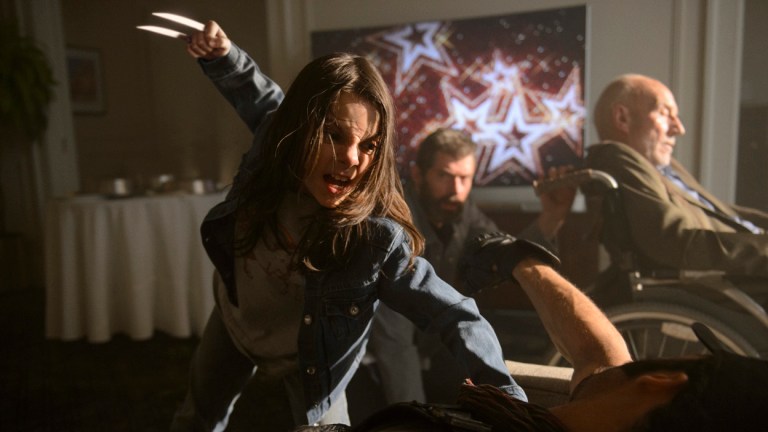 This article contains Logan spoilers.
James Mangold's Logan was a bittersweet experience for many moviegoers. On the one hand, it was a strong farewell to Hugh Jackman's interpretation of the Wolverine, a character he's been playing for the better part of two decades. On the other, it also means no more Wolverine, period. Well kind of. Because what likely surprised many folks was just how good Logan's pint-sized heir, Laura Kinney/X-23 (Dafne Keen), was in the film. Only 11-years-old during production and primarily either mute or speaking in brief bouts of Spanish, she nevertheless was always fiercely vocal in her performance.
Logan also leaves the door open for more X-23 goodness down the road, which is something that we were very curious to talk about with both Mangold and Keen during a pleasant sit-down with the pair last month. The director and his wee leading lady expressed sincere interest in doing an X-23 movie, albeit Ms. Keen (now circling the world weary age of only 12) proved to be often as selective in her use of words as Laura, which only enhanced the charming dynamic between the two.
"Yeah, I'm wide open to that," Mangold says on the subject of an X-23 movie. "I think we could have a great time. The first thing is, always, you need a script, you must have a good script." He then adds while turning to Dafne, "You game for it, you open?"
She smiles with an affirmative nod, "Yeah."
Of course, while there is no script, one imagines that there are some storytelling ideas already bouncing around Mangold's head. After all, he made a superhero Western with Logan and made a kind of clawed samurai film with 2013's The Wolverine. However, Mangold seemed to signal he'd toy around with the idea of continuing the Western motif for X-23's future adventures.
"I don't think you have to keep changing genre," Mangold says. "I think the key is—I mean I don't have an answer because I don't have a story yet, but I think you give good examples in both The Wolverine and Logan in finding genre, but samurai films and Westerns are honestly very similar. They have different props, with swords versus guns, but the sense of honor, the sense of economy in the stories are similar. I think the biggest lesson I've learned is just don't make a superhero movie [that plays like a] 'superhero movie.'"
Still, I ask if he has ideas for what an X-23 movie would be like. The director without missing a beat leans forward and smiles, "I always have ideas."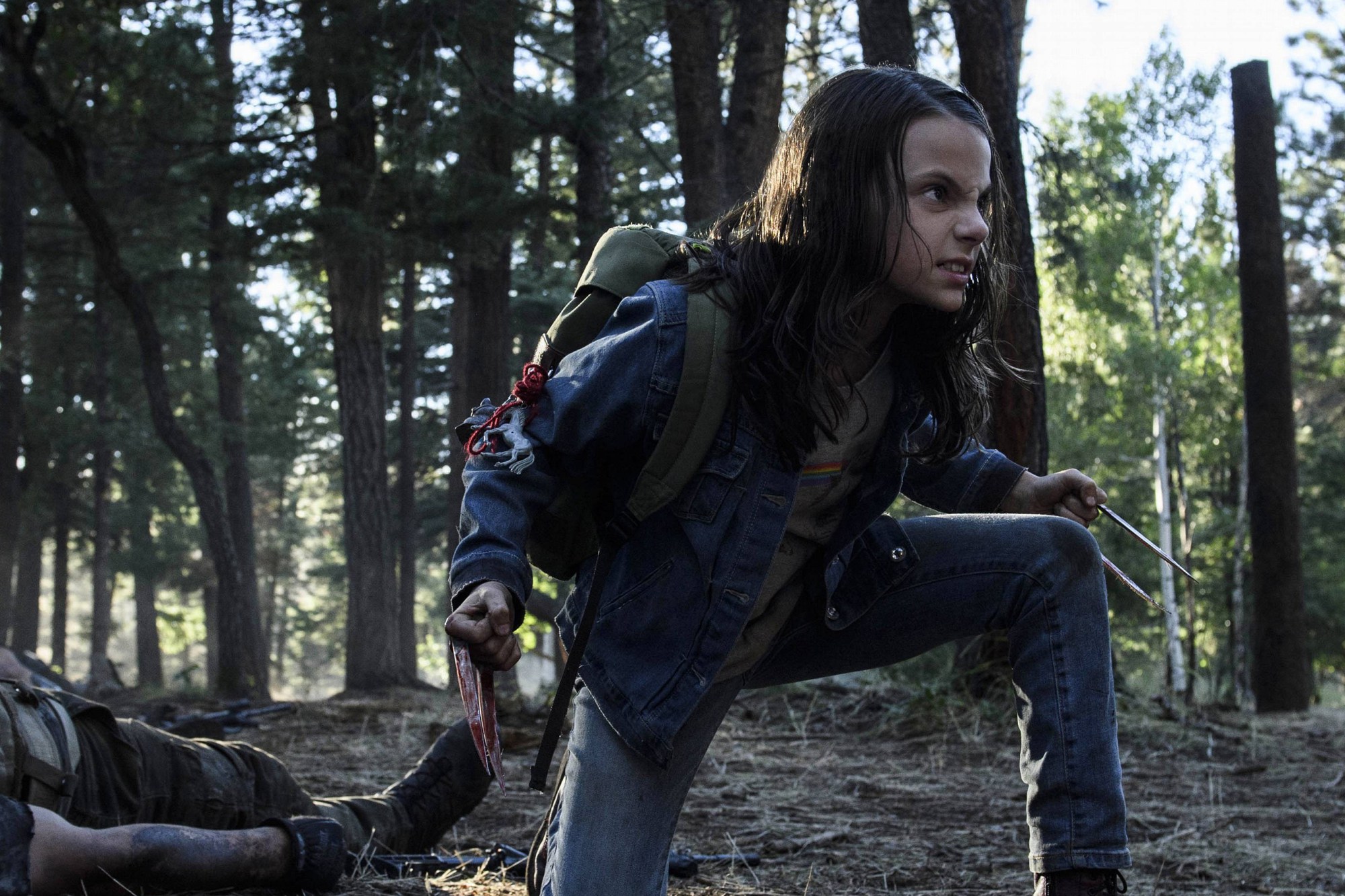 During the interview, however, we were able to discuss the many striking decisions the filmmakers made that led to him and Keen sitting at that table. As we detailed here, Mangold consciously made some potent choices to turn X-23 not only into a child (she's a teenager in the comics) but also a young half-Mexican girl searching for a better life beyond the U.S. Previously, Mangold had told me he was aware of the political powder keg this touched upon, but now in a follow-up, he commented on the thought process that led up to that.
"I think [writer] Scott Frank and I, when we were writing, we landed on—first we moved the script to the Texas border," Mangold recalls. "At first when we were playing the script, Laura would speak from the beginning, and then we realized, 'Oh, that's just going to be too cute. There's only this snappy banter from the beginning.' And then even when we had her kind of quiet, we felt like, 'We need it to go somewhere.' So then suddenly Scott was like, 'Why don't we just make her half-Mexican, a Hispanic kid, so even when she starts to talk, you're still going to have two people who can't completely understand each other all the time.
"In a sense, I think that's what makes the relationship so charming and at the same time it doesn't seem so cute. You [don't] just go into suddenly standard sassy, precocious child dialogue."
But when Keen is finally able to unload, it is quite a powerful shock. The young actress, who hails from Spain and comes from an acting family, was able to visibly channel X-23's anger with nary a word. And when she finally does speak, it is in an explosion of fiery, cascading Spanish—she even gets to hit Hugh Jackman fairly hard in the face while doing it.
When bringing up the scene, she appears modest about it, but her director agrees that she hit Jackman "pretty hard." Repeatedly.
"I think that was a startling day for a lot of the crew, because I think Daf arrived on-set, she was doing her scenes, and everyone thought she was really cool and doing great, and then suddenly that scene, I remember turning to Trevor [Loomis], he was our focus puller, and suddenly our script supervisor Sheila [Waldron] was like, 'Oh my God.' And everyone—because not everyone in the crew had been through the whole reading process with Daf and knew just how ready she was to leap into talking and letting him have it. She's saying some pretty nasty things in Spanish."
At this point, Dafne interjects that her favorite lines from the sequence apparently got lost on the editing room floor.
"You cut them out or something," she says with a hint of disappointment. Her director is surprised, asking, "Did we cut out the worst words?" Dafne nods affirmatively again, "Yeah."
Of course, the most moving moment for Laura is one of the few times she speaks English. While overcoming incredible personal sorrow, she pauses to recite Alan Ladd's final lines of dialogue from Shane. It's a movie that Mangold and I had discussed at length about influencing Logan. So of course, I felt compelled to ask Dafne if her director had encouraged her to watch the film in preparation for Logan. Curiously, she revealed that she and her family sought out both Shane and Mangold's Walk the Line while she was auditioning for the film.
"I remember in the casting that I decided to watch Shane one morning," Keen says with a slight and formal English affectation to her cadence. She then volunteers to the surprise of her director, "And we watched Walk the Line in the car going to the airport." Apparently, he was unaware she had viewed his 2005 biopic on Johnny Cash.
When we both asked what she thought of each film, she said with equal politeness, "I liked them. They were fun."
Mangold erupts in laughter, "Very diplomatic of you."
Logan is in theaters now.