News
Legion Season Finale Ending Explained by Noah Hawley
The Legion season finale saw things fall into place and creator Noah Hawley explains what THAT ending means going into Season 2.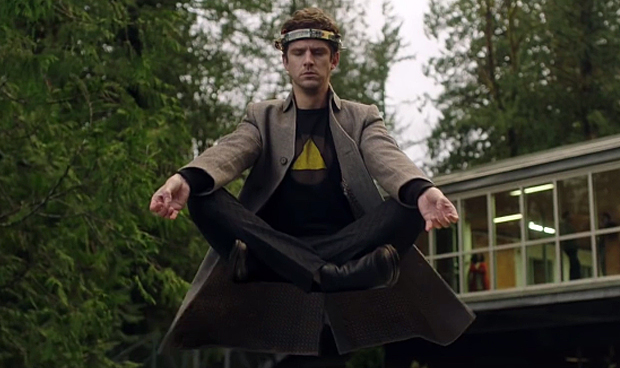 Warning: Spoilers for the Legion Season 1 finale, "Chapter 8."
Legion just concluded a poignant, pathos-packed (albeit circuitous) inaugural season, setting the pieces of its proverbial chess board for Season 2. While the series, inspired by Marvel Comics' X-Men lore, spent most of the season focusing on the reality-warped internal turmoil of Dan Stevens's David Haller, aka Legion, the finale, "Chapter 8," has – figuratively and literally – unshackled his unfathomably powerful mutant telepathic mind. However, the act has unleashed his vengeance-seeking nemesis. Creator Noah Hawley explains the implications for Legion Season 2.
Speaking in a media conference call (via TV Line), Hawley dishes on the creative reasoning behind the events that transpired in "Chapter 8." The episode saw the Pandora's Box that is David Haller's mutant mind get pried opened as Cary (Bill Irwin) and Melanie (Jean Smart) successfully extracted the incorporeal essence of the evil mutant telepath Amahl Farouk, aka the Shadow King from David's mind after tenuously keeping it at bay with a technological halo.
However, in the chaos, Melanie's husband Oliver (Jemaine Clement) – just freed from decades of exile in the astral plane – had his body taken over by the malevolent mutant, making a subsequent escape. Yet, while the enemy who hid in David's mind almost his entire life in several forms is now free in the real world, David still "won," having purged Farouk. – That was, until a Marvel movie-like post-credit sequence saw David scanned and sucked into a mysterious flying orb!
As Hawley explains of this souring of David's victory:
"We wanted to keep the pressure on. 'Out of the frying pan and into the fire' is a pretty good approach to storytelling." Adding that he wants to follow a "proud tradition" of Marvel movies' post-credits scenes and "give people the feeling of watching the credits, to let them absorb the complete story they just watched, and then tease them as to what Chapter 2 is going to be."
Considering the monumental occurrences in the finale, the post-credits teaser incident may have come across and wantonly random. However, the primary theme of the season has centered on the idea that David's immense powers make him, as Melanie puts it, a "world breaker." Thus, it's natural that more mysterious enemies will show up – in this case with futuristic mystery orbs – to address the apocalyptic implications his continued existence yields. Yet, the coming Season 2 conflict between David and the Oliver-inhabiting Shadow King could manifest in a mythically binary good vs. evil dynamic. As Hawley further explains:
"There's going to be something very complicated about going to war with yourself, really… we've now created a villain for David that is worthy of building a whole story around."  
Pertinently, the episode started with a sympathetic portrait of a seemingly inconsequential antagonist in Hamish Linklater's clandestine Division 3 government interrogator, who was severely burned earlier in the season after attempting an "enhanced" information extraction from David. Yet, the Legion-like way in which this was shown was designed to explain how one of David's enemies will become a key ally in the coming Season 2 fight against a greater threat. Commenting on the Interrogator-centric opening, Hawley states:
"I thought it'd be very interesting to start this episode from his point of view, so he's not just a horribly burned villain walking on screen. He's a person who has lost something, and is struggling to hold onto his humanity. Now, he has a much more sympathetic energy to him… in his movie, David is the villain."
Indeed, the inevitable, "world-breaking" mutant mega-battle in Legion Season 2 will leave everyone else – be it secret government organizations or mysterious parties armed with futuristic people-abducting orbs – panicking in the periphery and sides will need to be chosen. It is in this oblique, but nevertheless artful way that the Season 1 finale sets the Season 2 stage effectively.
Legion Season 2 is expected to premiere on FX sometime in early 2018, likely mirroring the February 2017 series debut.