News
Kill the Minotaur: Universal to Adapt Comic from Robert Kirkman's Skybound
Universal will team with Robert Kirkman's Skybound Entertainment to adapt comic book series Kill the Minotaur as a film.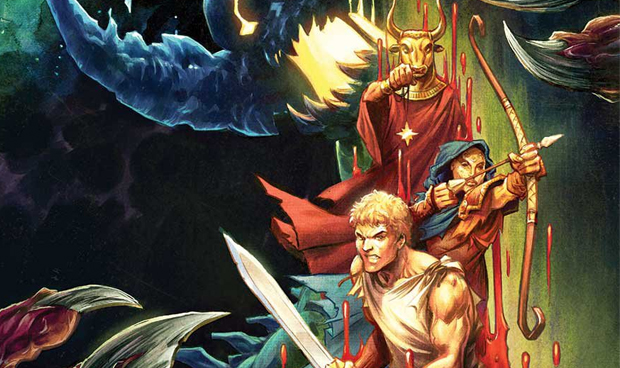 While The Walking Dead creator Robert Kirkman's Skybound Entertainment only just debuted the Greek mythology-inspired comic book title Kill the Minotaur this past June, Hollywood is already knocking on that door. The comic company will soon team with Universal Pictures for a film adaptation, one that already sounds like it has epic ambitions attached.
Plans are underway for Skybound/Image Comics title Kill the Minotaur to come to life as a feature film, reports THR. The story adapts the ancient Greek myth of Athenian hero Theseus and his fateful encounter with the Minotaur – a savage creature with the head of a bull and body of a man – in the center of the labyrinth in which it lives. The events take place after Athens lost its war with Crete, leaving people under the tyrannical and sadistic whims of King Minos (from whom the creature's name is derived), who had the labyrinth constructed as a demented delivery device of sacrificial citizens to the creature.
Kill the Minotaur comic creators Christian Cantamessa and Chris Pasetto will be retained to write the screenplay. While Cantamessa mostly resided in the world of video games, notably with work on titles such as Red Dead Redemption, Middle Earth: Shadow of Mordor and Manhunt, he did write and co-direct the (Skybound-produced) 2015 sci-fi film Air, which, by no coincidence, was headlined by The Walking Dead TV series star Norman Reedus. Passetto partnered with Cantamessa on that film, a well as the 2009 short How I Survived the Zombie Apocalypse. As the duo express in a statement:
"When we created the comic we wanted to put our own spin on a classic Greek myth, incorporating strong relatable characters and spectacular scenes so it would read like a blockbuster movie. It's a dream come true that we can now make this story come alive on the big screen."
The project, which utilizes Skybound's first-look deal with Universal, will see the comic company's primary partners Robert Kirkman and David Alpert, along with co-presidents of TV and film Bryan Furst and Sean Furst, onboard as producers.
A film adaptation of Kill the Minotaur sounds loaded with intriguing possibilities, potentially reigniting the comic-book-adapted Greek myth movie excitement that was generated back in 2006 with director Zack Snyder's 300, which adapted – with gritty comic-book-y panache, crimson-covered ultraviolence and shiny abs – Frank Miller's famous graphic novel dramatizing the Battle of Thermopylae.
We'll be sure to update you on any significant developments.
Read and download the full Den of Geek Special Edition magazine here!