News
Kevin Smith Promises New Batman vs. Superman Costume Is Unlike Any Before
Kevin Smith has seen Ben Affleck dressed as Batman, and he is convinced that only Zack Snyder could have made such a unique sight possible.
Kevin Smith, always one to get excited for anything Batman OR Ben Affleck related, got to MC the importance of both this weekend when he led a global fan Q&A with Zack Snyder and Amy Adams. Unfortunately, the only major announcement (other than the supposed death toll of Metropolis in Man of Steel) was a passing reference to Lex Luthor officially being in the movie.
However, on Smith's podcast Hollywood Babble-On, he did have quite a bit to say about something not mentioned during the event: He has seen the new Batman costume and he's seen a picture of Ben Affleck wearing it. This is what he had to say about the magic moment:
 

"I saw the Batman costume. More than that I saw a picture of [Affleck] in the costume. Now, I don't want to give anything away 'cause that is up to them and stuff, but I am going to say this: I instantly bear hugged [Snyder]. You have not seen this costume in a movie on film before, and for a comic book fan it was mind bending! I was like, 'Get out of here, only you have enough power to pull this off.' Because everyone always like does this Matrix/X-Men black armor…It was fantastic. I'm already a flag waver for this movie, but the costume—it blew my mind! I think everyone is just gonna' be like 'Holy Shit!' It's its own thing, man. It's like we haven't been down this path at all. I was so elated….Even the hardest core 'Fuck all this' person will be like, 'Alright, I'm ready.'"
There you you go, Bat-fans. Personally, it sounds like that it will be the first onscreen Batman costume to prominently feature gray. On pure speculation, I still would never expect to see any tint of blue on the thing, but we all know that Zack Snyder LOVES The Dark Knight Returns. Could this be our future movie Batman?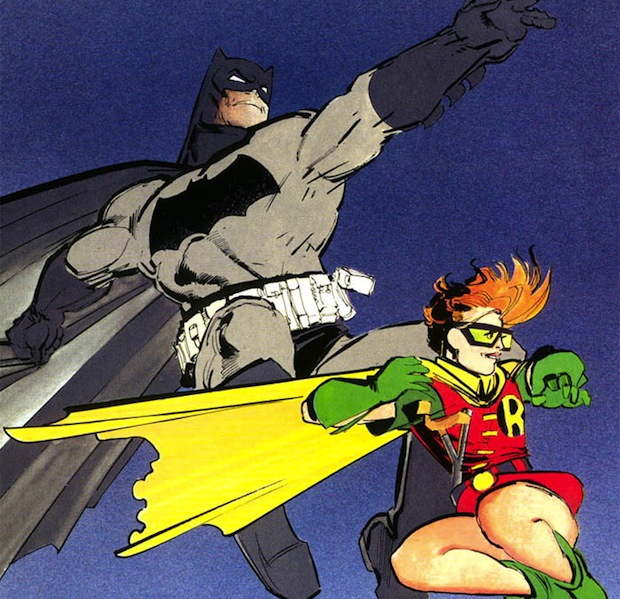 Batman vs. Superman arrives in summer 2015.
Like us on Facebook and follow us on Twitter for all news updates related to the world of geek. And Google+, if that's your thing!