News
Justice League Relaunch Lineup Revealed
The Justice League returns in June with a new creative team and a new lineup.
There's a lot of cool stuff happening at DC right now that it's getting tough to keep track. It's hard to believe that we're coming up on two years since the publisher relaunched its line with the Rebirth initiative, and harder to believe just how far DC has come since then. It has been something like ten years since I last found myself anxiously awaiting DC's creative team announcements and monthly solicitations, but that's exactly what's happening now. 
DC recently unveiled the month-long weekly event Justice League: No Justice by Scott Snyder, James Tynion IV, Joshua Williamson, and Francis Manapul. That has been touted as the start of a new era for the League, and the first details of how that's going to work are now here. 
For starters, this is a very cool lineup. Superman, Batman, Flash, John Stewart, Aquaman, Hawkgirl, Martian Manhunter, and Cyborg. Other than the addition of Cyborg, that's the classic Justice League animated series team. Martian Manhunter hasn't been around nearly enough over the last two years, and it's good to see he'll start taking a more active role in the DCU. 
Snyder will write a brand new series, beginning with a new Justice League #1, with art by Jim Cheung and Jorge Jiménez. The pair will draw alternate issues. The one and only problem I've had with DC since Rebirth began is the devotion to double shipping most titles, and I was hoping that would stop with this round of relaunches. Then again, it's tough to complain with a creative team like this.
Cheung is quite a get for DC, as he's primarily been associated with Marvel throughout his career. His most recent work has been on the (excellent) stealth Fantastic Four relaunch, Marvel Two-In-One.
Here's the cover and official synopsis for Justice League #1 (by Snyder and Cheung):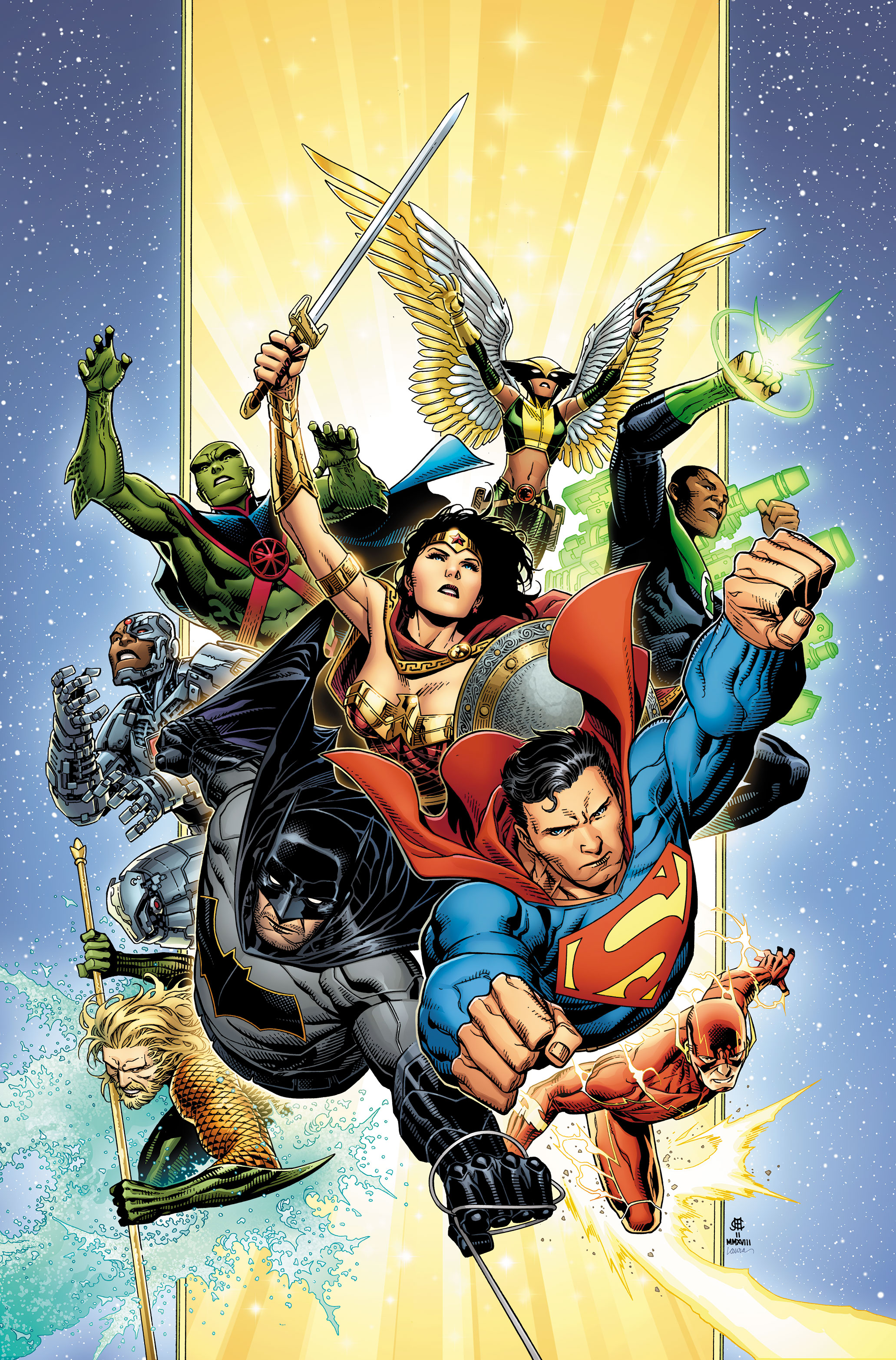 The Justice League is launched into a mystery that will draw out their most terrible foes…in ways our heroes couldn't possibly imagine! In this debut issue, Martian Manhunter struggles to protect the team from an incoming threat that will shatter the world as they know it, while a familiar face strikes out on a dark path…
And for Justice League #2 (by Snyder and Jiménez):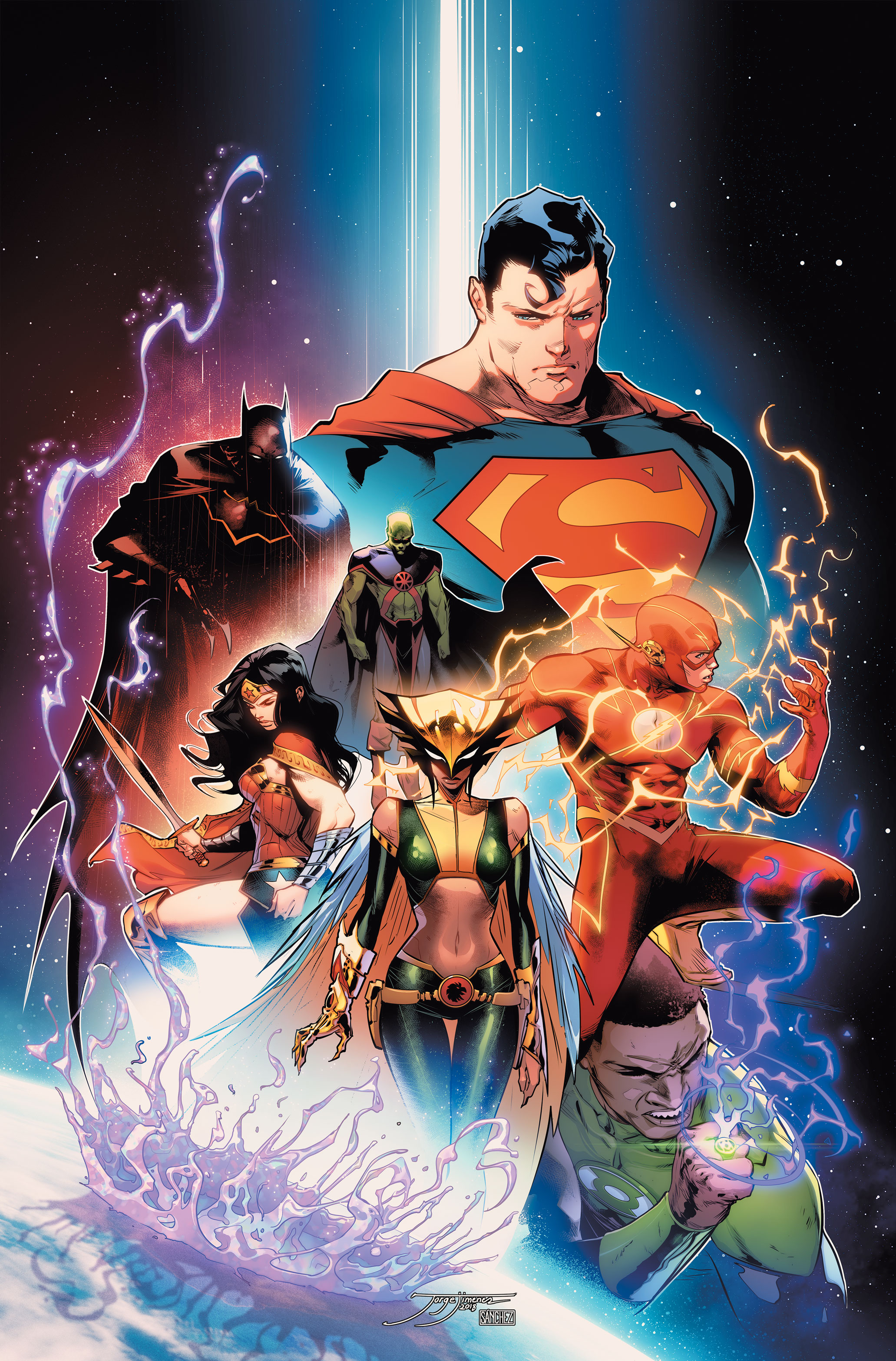 The League is faced with an impossible decision…and now they must face the consequences! While Martian Manhunter and Batman attempt to recruit an old ally back into the fold, The Flash and Hawkgirl are blindsided by new challenges that could rewrite their mythologies!
"Working on Justice League is probably the most exciting opportunity I've ever had in my career," says Jorge Jiménez. "I feel more than ever that this is my moment! I have in my hands a script written by the incredible Scott Snyder starring most important DC characters–Superman, Wonder Woman, and Batman! Even better, I have the hyper-mega-talented Jim Cheung beside me! I can't ask for more!"
"Justice League has been the golden ring for me since I came to DC," says Snyder. "The story I have planned is something I've been building towards through Dark Nights: Metal and I can't wait to tell it in the biggest way possible. And to have mega star Jim Cheung as one partner, and rising superstar Jorge Jiménez as my other partner, I'm just thrilled to get to work!"
"One last thing for my friends, family, and fans," concludes Jiménez. "Quiero aprovechar para decir que el colorista Alejandro Sanchez es tan importante como el que más en este equipo LIGA DE LA JUSTICIA. ¡Tenemos entre manos a los mejores personajes del mundo del cómic! y prometo que daremos nuestro máximo esfuerzo para que luzcan lo más frescos, dinámicos y atractivos que podamos!"
Justice League #1 arrives on June 6, followed by the second issue on June 20.