News
Justice League Movie Villain Revealed in New Batman v Superman Trailer?
The a new international Batman v Superman: Dawn of Justice trailer hints at the villain of the Justice League movie.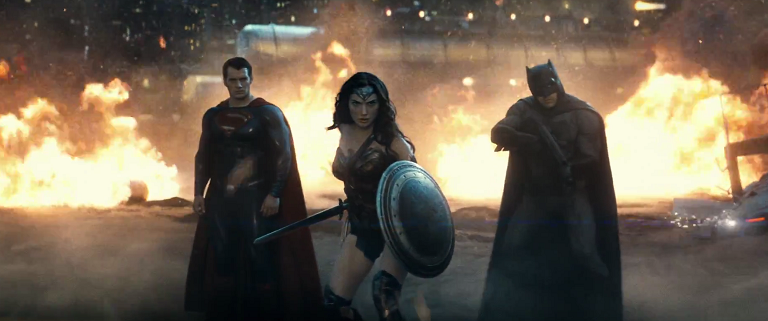 This article contains potential spoilers for Batman v Superman: Dawn of Justice and the Justice League movie.
In some ways, this isn't really a surprise, but brace yourselves anyway. Virtually all signs are now pointing to Darkseid as the villain of the Justice League movie. Well, one of them, at least. Justice League Part One is about to get underway for its Nov. 17, 2017 release, with Justice League Part Two to follow on June 14, 2019.
But a new international trailer for Batman v Superman: Dawn of Justice, which is already rich in new footage, has a glimpse of one of Darkseid's favorite symbols.
Check it out:
Did you catch it? It looks like a new angle on the rapidly becoming infamous "Batman in the desert" dream sequence, one in which Darkseid's Omega Effect symbol is plainly visible in the sand, and what appears to be one of the fire pits of Apokolips taking shape on the right.
The image was first revealed by Empire magazine in January. Here's a still, courtesy of them.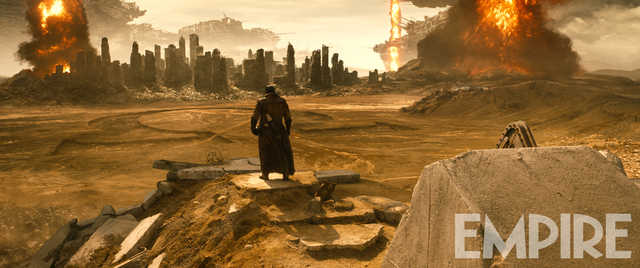 Couple that with what appeared to be Parademons from the most recent trailer, and, well… it's looking more and more likely that Jack Kirby's most famous DC Comics creation (and one of the greatest comic book villains of all time) is going to make his big screen debut.
Here's a look at the Parademons from that trailer, by the way…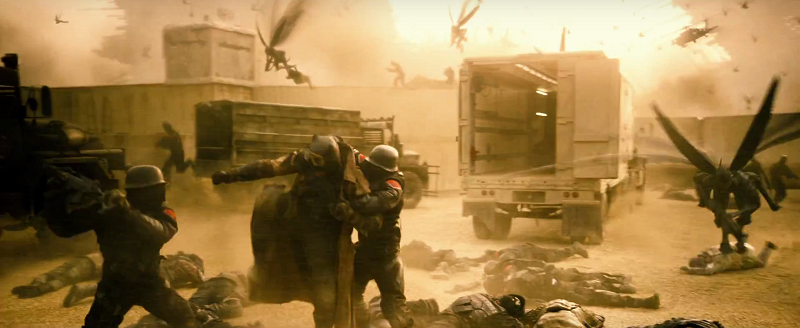 For reference, here's what they look like when drawn by Jim Lee in the New 52 Justice League re-launch which featured Darkseid as the team's first big threat, and which was clearly meant to inform their film efforts…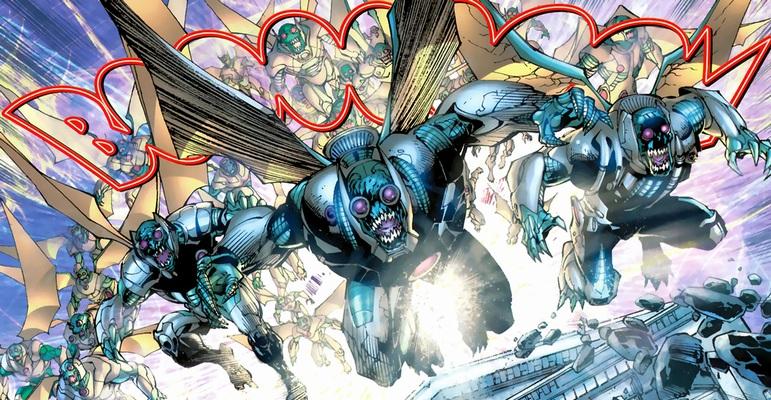 I'm going to leave one final, very small possibility open, though. It has seemed pretty clear that Batman's whole desert vision involving Parademons and Darkseid's Omega Effect symbol, and those weird Superman soldiers, are part of a nightmare sequence or a hallucination on Bruce's part.
So here's my big question: who could be planting such specific visions in Batman's head? Could Brainiac be one of the behind the scenes forces manipulating the whole Batman v Superman spat? Perhaps this is all part of a long game similar to what Marvel has done with Thanos, and we won't actually see the League take on Darkseid until Justice League Part Two. That would be quite a long game for a studio in a hurry to catch up with its chief competitor in the superhero business, and Warner Bros. has wanted Darkseid to fill the big bad role for some time, and he was the villain of Will Beall's long discarded draft of the movie.
And then there are those Doomsday questions to address. Zack Snyder had previously discussed the possibility of Doomsday and his "mythology" showing up in Justice League, as well. He told Empire about why he spoke again about why he's in Batman v Superman. "To go up against heroes like Batman and Superman, we wanted to introduce one of the DC Universe's most iconic and powerful villains… He is essentially an unstoppable force. He poses a real threat to the world within the film".
We'll find out when Batman v Superman: Dawn of Justice opens on March 25. Or maybe when Justice League Part One opens on Nov. 17, 2017. Unless they make us wait until the next one after that.
A version of this article ran in January of 2016. It has been updated with the trailer.