News
Justice League Dark Returning
DC unveiled some big Justice League plans at WonderCon, and they include plenty of John Constantine and...Darkseid?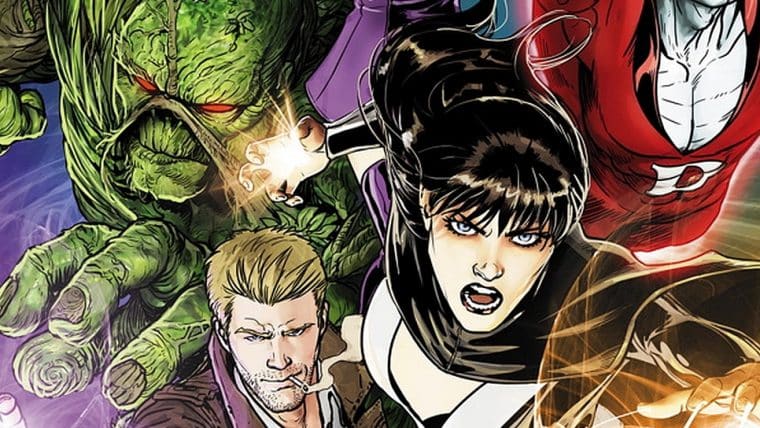 The DC Comics panel that kicked off Saturday (March 24) at WonderCon in Anaheim, California dazzled fans with a few genuinely surprising announcements, which DC — currently on a hot streak — seems to have cornered the market on at this particular con.
Publishers Dan DiDio and Jim Lee brought out writer Scott Snyder to unveil the large-scale plans for Justice League, which will start unfolding in the months ahead after the finale of Dark Nights: Metal hits the streets next week. The biggest revelation was that following the four-issue May miniseries Justice League: No Justice, DC will roll out a brand new iteration of Justice League Dark.
Writer James Tynion IV (Detective Comics) and artist Alvaro Martinez will steer the series, which will introduce a new team led by Wonder Woman, and featuring Constantine, Zatanna, Detective Chimp, Swamp Thing, and Man-Bat. Some of those folks — like Constantine, Zatanna, and Swamp Thing — are veterans from the New 52 reboot of the concept, while Man-Bat, Detective Chimp, and of course Diana are the newer members of DC's gang of powerful magic users.
The other title spinning off from the Justice League: No Justice arc will be Justice League: Odyssey, a spacebound adventure that Snyder jokingly said he wanted to call Justice League: WTF (he was overruled on that). The reason? Because none other than DC uber-villain Darkseid will be joining the team for this one, which also includes Green Lantern Jessica Cruz, Cyborg, Starfire and Azrael.
Calling Darkseid the team's "Hannibal Lecter," Snyder explained, "They are dealing with an epic plot that has to do with his father, the Source Wall, and whole new areas that have opened up in space," adding that the team flies around in an old Brainiac head "with flames painted on it."
Justice League Odyssey will be written by Joshua Williamson, with art by Stjepan Sejic. Both Odyssey and Justice League Dark are scheduled to launch in June.
Williamson and Tynion are both co-writing No Justice with Snyder, with art by Francis Manapul. The team will face off against the Legion of Doom and will be based out of the Hall of Justice instead of the orbiting Watchtower. Inside the Hall will be portals that lead to the bases of the Dark and Odyssey teams.
Snyder said that the new Justice League book will launch "a whole new mission," as well as a "whole new thesis and ideology" for the legendary DC superhero team.