News
Judge Dredd Mega City One Series: Karl Urban Updates
Judge Dredd: Mega-City One is in the pre-production pipeline, and comics scribe Rob Williams has a pilot written.
Rebellion Developments, the game publisher who has owned the rights to Judge Dredd and the larger 2000 AD comic book universe since 2000, announced in August of 2017 that it is partnering with IM Global Television to produce a television series called Judge Dredd: Mega City One, and news from San Diego Comic-Con told us that comics writer Rob Williams has a pilot script at the ready with a full two years of plot broken out as well.
Rebellion creative director and CEO Jason Kingsley will executive producer the show with Brian Jenkins. "It's been really exciting to be working with Rob on the pilot," Jenkins said in a statement via THR. "We have a really talented team here at Rebellion Productions and I'm really proud of them. Jason and I have been busy looking at locations and laying out season one as we gear up, to move forward into pre-production."
Judge Dredd: Mega City One News
Karl Urban provided an update on his status with Mega City One in an interview with TrekMovie at Upstate New York's recent Trekconderoga 2018. While speculation about the series is centered on the idea of Urban reprising his role as the mythology's traditional central character, Judge Dredd, the deal is far from done at this point. As he reveals:
"I'm not attached to it, although I did have a preliminary round of conversations with them. I am interested in doing it. There are a lot of great stories to tell there. It is up to them. I don't know really where they are in the stages of development. If I get the opportunity, great, otherwise some else will do it, and we can all see some more Judge Dredd. I did read the comics when I was a kid, as I teenager I read Judge Dredd a lot."
Of course, Urban isn't exactly holding his cards close to his chest when it comes to his enthusiasm about once again donning the helmet, seeing as he's been quite vocal about the idea for years, be it for a Dredd sequel movie or the television project that would evolve into Mega City One. However, he has some caveats, explaining:
"Their idea for Mega-City One is was basically to build the show around more rookie judges and young, new judges and Dredd would come in and out and I said that I'll do it, but it has to be done in a meaningful way. I can't just come on and grunt and pull faces, there has to be a story there for him. There has to be a kind of little arc and a story we are trying to tell. So, we will see what they do."
While Mega City One clearly has designs that don't necessarily require Judge Dredd (or, for that matter, Urban's version,) a prospective recurring run would be a spectacular thing for the series to tout. Urban, in the meantime, is about to shoot his starring role on Amazon's TV series adaptation of Garth Ennis's The Boys, as the status of Star Trek 4 – in which he would prospectively reprise his role as Dr. McCoy – remains stuck at space dock.
Judge Dredd: Mega City One Story
Mega City One is described as a dramatic series focused on a team of street judges, law enforcement officers who act in a dystopian future as judge, jury, and executioner of criminals. The series is set in a grim 22nd century where the eastern seaboard of the United States has morphed into one giant sprawling metropolis called Mega City—the last refuge for law and order on an otherwise smoldering cinder. The series is also promised to deal with modern problems in its futuristic setting, including domestic terrorism and the tensions between the super-rich and disenfranchised.
Kingsley said in a statement, "I've read the pilot script by Rob and the team, and got that same thrill I did when I first discovered Judge Dredd. As we drive this project forward I'm always surprised by how much effort goes on behind-the-scenes to bring something like Mega-City One to the screen. I'm very pleased with how the whole project is coming together and looking forward to more exciting announcements in the coming months."
Judge Dredd: Mega City One Concept Art
IGN has revealed concept art for Judge Dredd: Mega City One, and it looks appropriately noirish. They also show that the overpopulation of Mega City One will make Blade Runner look like a cozy paradise since the first image of the "Democracy March" shows even the suspension bridges in the sky are overcrowded. You can also see in the background that the people pollution has even drowned out the Statue of Liberty.
The second image, meanwhile, revels in the city's grimey underbelly, complete with an apparent lowlife's arrival in the city's dark and high-contrasted shadows.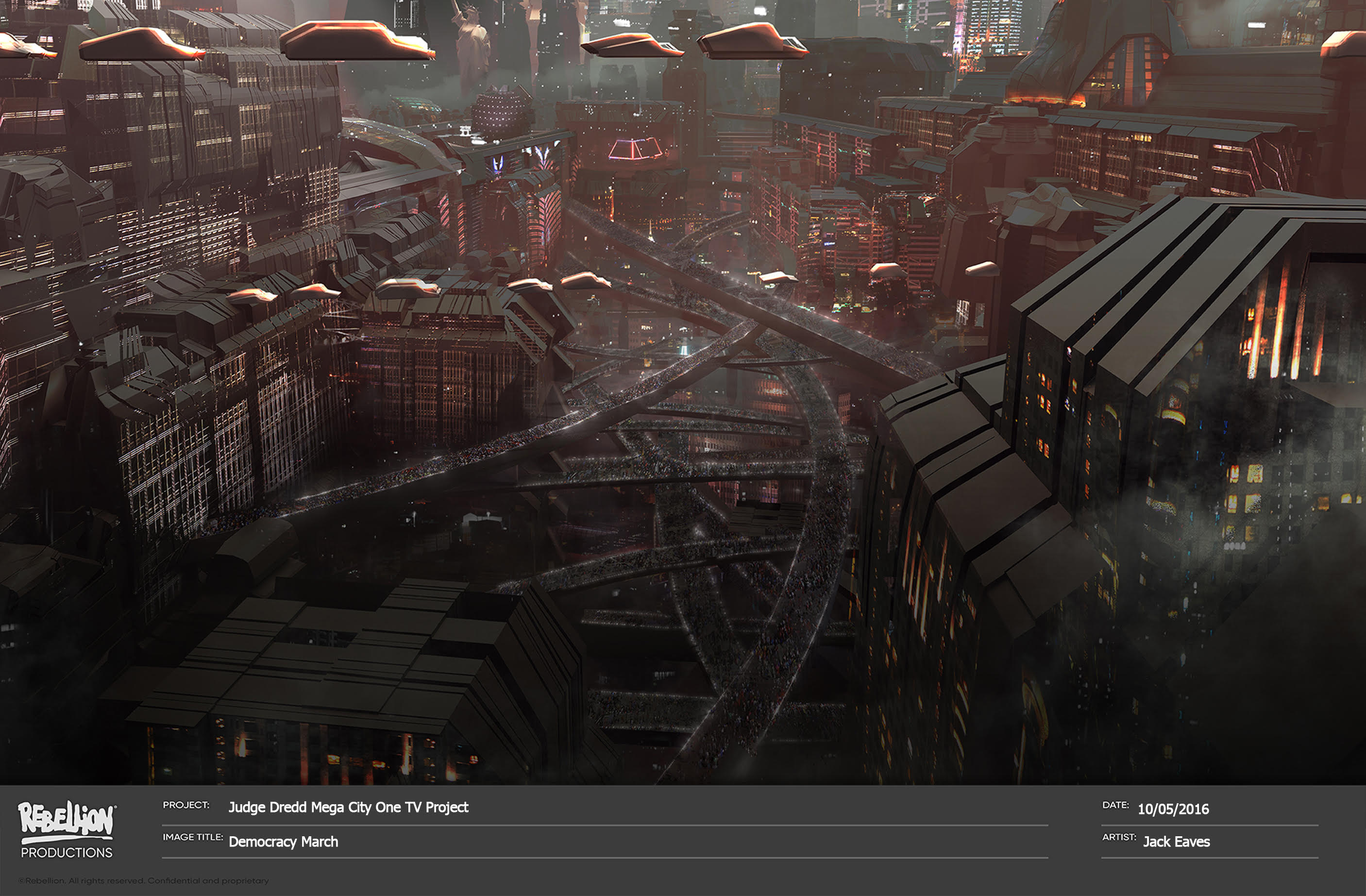 Judge Dredd: Mega City One Cast
Karl Urban recently appeared at Star Trek's Las Vegas convention to chat about a whole bunch of things, which inevitably ended up including his possible links to Judge Dredd: Mega City One, the planned TV continuation of the 2012 cult classic movie featuring the 2000 AD antihero. 
Urban revealed that "I am in discussions with them about that. I told them that if they write the material and give Dredd something to do and give him a function, I will be there. I would love to."
Though Pete Travis' Dredd performed poorly in cinemas, it gained further popularity on its home release, and fans of both the film and John Wagner and Carlos Ezquerra's character have been championing a return to Mega City One ever since.
More as this develops.
Judge Dredd: Mega City One Trailer
A video was released to explain how this may be the most exciting—and lasting—attempt to put Dredd in live-action yet.
Judge Dredd was previously portrayed onscreen by Sylvester Stallone in an ill-fated 1995 action movie and again by Urban in the 2012 cult classic. The character and his universe were created by John Wagner, Carlos Ezquerra, and Pat Mills in 1977's 2000 AD #2.
Judge Dredd: Mega City One Release Date
No release date has been set for Judge Dredd: Mega City One. Our guess is that it's still a ways away as the show is currently in early development.