News
Jack Kirby's 2001: A Space Odyssey Art Gallery Coming
Just in time for the 50th anniversary of the movie, Jack Kirby's 2001: A Space Odyssey art gets the art gallery treatment.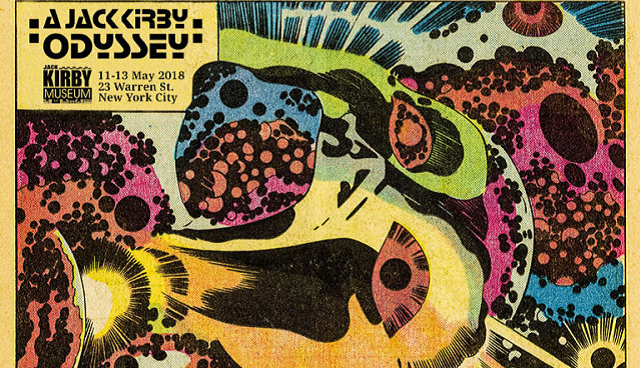 So you think that once Jack Kirby got into superheroes that was all he did for the rest of his career? Think again!
After Jack Kirby returned to Marvel in the late 1970s (after creating an entire cosmic mythology for DC Comics with the New Gods and the attendant Fourth World books), the King of Comics did pretty out-there runs on both Captain America and Black Panther, but he also did some of the best work of his career on two science fiction titles, The Eternals (currently under consideration for the big screen treatment by Marvel Studios) and 2001: A Space Odyssey.
Yes, 2001: A Space Odyssey, the legendary science fiction movie currently celebrating its 50th anniversary. Marvel was in the midst of a licensed comic bonanza, and while still two years away from the runaway success of Star Wars, they gave Jack Kirby the monumental task of adapting Stanley Kubrick and Arthur C. Clarke's sci-fi masterpiece as a treasury edition sized comic. Kirby then continued the story with a 2001: A Space Odyssey ongoing series, which ran for 10 issues and explored prehistoric and futuristic timelines. It's really wild and features some of Kirby's most mind-expanding, experimental work.
The Jack Kirby Museum and Research Center, known for putting on pop-up galleries and events around the country, will showcase the art of Kirby's 2001 comics this weekend, May 11 through 13, in New York City, at One Art Space, a gallery located at 23 Warren Street.
Here's the official word from the Museum:
Just in time to celebrate the 50th anniversary of Kubrick's cinematic masterpiece, the Jack Kirby Museum will present an oversized reproduction Kirby's adaptation of the movie, compilations of the photocopies of Kirby's pencil art for his subsequent stories, which have never been reprinted, as well as dramatic, multimedia performances of three of these stories.
"Jack Kirby's 2001: A Space Odyssey comics were pure Kosmic Kirby at the top of his craft, expanding on the 2001 story in ways not even masters like Kubrick or Clarke could have imagined," Kirby Museum Acting Director, Rand Hoppe, offered in a statement. "We can't wait for fans to have their minds blown by the stories AND the visuals."
"The comics on display for A Jack Kirby Odyssey were painstakingly reproduced from the photocopies of Kirby's pencil art," adds Kirby Museum President, Tom Kraft. "The oversized comics at our Kirby 100 birthday celebration at One Art Space were big hits. We expect people will love seeing Kirby's cosmic pencil art at large size, too."
Here are the hours of operation:
Friday, May 11th: Noon – 7pm Saturday, May 12th: Noon – 8pm Sunday, May 13th: Noon – 6pm
Here's the schedule of events…
Friday:
5pm – Opening Celebration
Saturday:
1pm – The Jack'd Kirby podcast live!
5pm – Kubrick and Kirby: Mind-Breakers. Hoppe and Romberger in Conversation
7pm – Fake Church with Geoff Grimwood. Improv Comedy!
Sunday:
2pm – Norton's Odyssey – audio-visual dramatic reading of issues # 5 & 6
4pm – The New Seed! – audio-visual dramatic reading of issue #7
5pm – Closing Celebration
The Kirby Museum's A Jack Kirby Odyssey will only run from May 11 – 13. One Art Space is located at 23 Warren Street in Manhattan, NY.
Disclosure: I'm a Kirby Museum trustee, and if you come by the gallery and I'm hanging around, please say hello!