News
Is Green Lantern Coming to Arrow Season 4?
The hints have been there since the end of last season. So will Oliver Queen meet Green Lantern on Arrow season 4?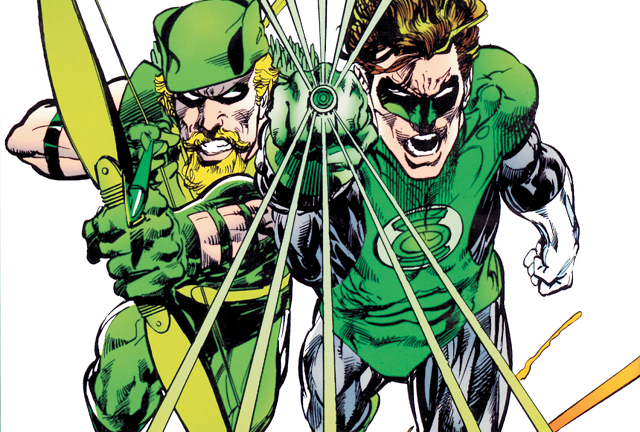 There were plenty of roundabout references to Green Lantern during Arrow season 3 and The Flash season 1. We've heard the name Coast City mentioned several times, and Hal Jordan's employer Ferris Air kept popping up. But as we saw in the season finale, Oliver Queen is actually headed to Green Lantern's hometown of Coast City, at least for the Arrow season 4 flashback sequences, and possibly for more.
But this piece of production art dropped by Marc Guggenheim is perhaps the most explicit referenc to Green Lantern that anyone has given out so far.
— Marc Guggenheim (@mguggenheim)
August 31, 2015
Now, it's a safe bet that the postcard itself is legit production art. The adorably tourist-y slogan that sounds an awful lot like the Green Lantern oath seems like an afterthought, probably added by Guggenheim himself to get fans' blood flowing.
And just for a little additional eyebrow raising fun, at this year's SDCC, when speaking with a group of journalists (which included yours truly), Stephen Amell confirmed that "we do spend time in Coast City." When he was asked if Oliver would meet any new friends while in Coast City this year. "He'll meet an old friend," Amell said cryptically, before changing the subject. Could this be a reference to Hal Jordan appearing in the flashback sequences?
Considering that the new Green Lantern movie isn't due until 2020, and that it's going to focus on a team of Lanterns (the title, after all, is Green Lantern Corps), then that might mean that Hal Jordan is fair game for the small screen. Enough time has elapsed since the failed 2011 movie and since we're so far off from the reboot, Hal Jordan could be safely rehabilitated on TV.
What's more, Oliver Queen and Hal Jordan have a long history together. Green Arrow co-starred in the ongoing Green Lantern title in the early '70s, written by Denny O'Neil with incredible art by Neal Adams. The legendary creative team took the unlikely pair on a road trip across America to confront more down to earth menaces like poverty, drug abuse, and racism. Maybe this year's flashback sequences will be a road trip with a non-costumed Oliver and Hal taking on similar menaces. There's no reason that the ring even needs to make an appearance in order for this to work.
Or maybe this is just me getting wound up over nothing. We'll know soon enough!
Arrow season 4 premieres on October 7th. You can read everything we know about it right here.