News
Iron Fist Star Finn Jones Responds to Harsh Criticism
Netflix's Iron Fist is currently battling a bevy of bad reviews and star Finn Jones has a response.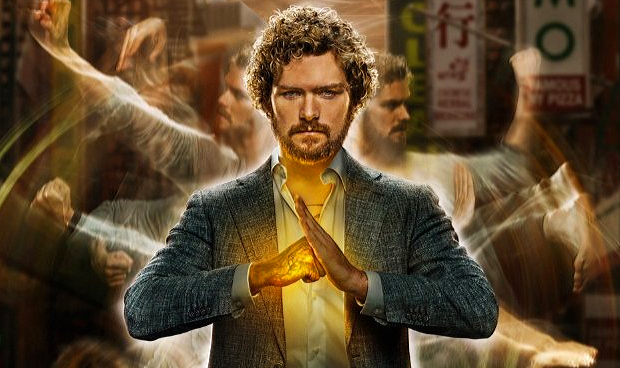 Netflix Marvel series Iron Fist arrives this week under attack from a proverbial gang of ninjas that's taken form as a wide spectrum of rough reviews. While that phalanx of feedback was only based on six episodes released to critics out of its thirteen total, it nevertheless signals dampened momentum for the anticipated Marvel Cinematic Universe small screen street level series. However, in his response to the critics, star Finn Jones attempts to reframe the approach that viewers should have going into the show's Friday premiere.
Speaking to Metro.co.uk, Jones offers an interesting response to Iron Fist detractors. Jones, who fills the title role of a long-lost heir-turned master of mystical martial arts, addresses its structural criticism (as reflected in our own review) and the tangential narrative that the show – rooted in Eastern-themed mystical martial arts – made a whitewashed casting choice in selecting him. Resembling last year's backlash in response to Tilda Swinton's Doctor Strange role as the Ancient One (traditionally an elderly Chinese man), the whitewashing narrative is central to the excoriating Iron Fist appraisals of several outlets. However, Jones believes that critics have missed the point of the comic book material, explaining:
"Well, I think there's multiple factors. What I will say is these shows are not made for critics, they are first and foremost made for the fans."
Incidentally, Iron Fist is finding itself with sparse support amongst critics, many of whom do fall into the "fan" classification. The general consensus of the criticism (avoiding details or spoilers) is that the series suffers from ponderous pacing issues; something that's compounded by its purported inability to flesh out the backstory and motivations of Jones's character Danny Rand/Iron Fist. In that respect, Jones – possibly addressing the whitewashing issue – believes that the series is best viewed when divorced of political and cultural trifles. As Jones continues:
"I also think some of the reviews we saw were seeing the show through a very specific lens, and I think when the fans of the Marvel Netflix world and fans of the comic books view the show through the lens of just wanting to enjoy a superhero show, then they will really enjoy what they see."
Of course, to echo sentiments expressed in our review, Netflix's Marvel television shows are specially structured for the binge experience and do tend to take tonal detours as they arrive around the midpoint, recently exemplified by the shocking, series-altering mid-series developments of last fall's Luke Cage. Indeed, the bulk of the action and drama in Iron Fist Season 1 may very well reside in the back half, which could put the first half into a better light, warts notwithstanding.
One would think this is the case, since the show offers the final heroic puzzle piece for this summer's hyped crossover event in which Jones's Iron Fist joins fellow Netflix Marvel television stars such as Daredevil, Jessica Jones and Luke Cage on The Defenders. While stuck in an untenable position of preemptively defending the embattled series in which he is the promoted centerpiece, Jones – perhaps towing "the line" – claims that the series has great things to offer, stating:
"I think it's a fantastic show which is really fun and I think it stands up there with the other Defenders' shows without a doubt."
Iron Fist will arrive hoping to ultimately prove its aggregate worth when the entirety of Season 1 makes its debut on Netflix on Friday, March 17.