News
Injustice vs. He-Man and the Masters of the Universe Crossover Coming
Superman may have ruled the world in Injustice: Gods Among Us, but now he's up against He-Man and the Masters of the Universe.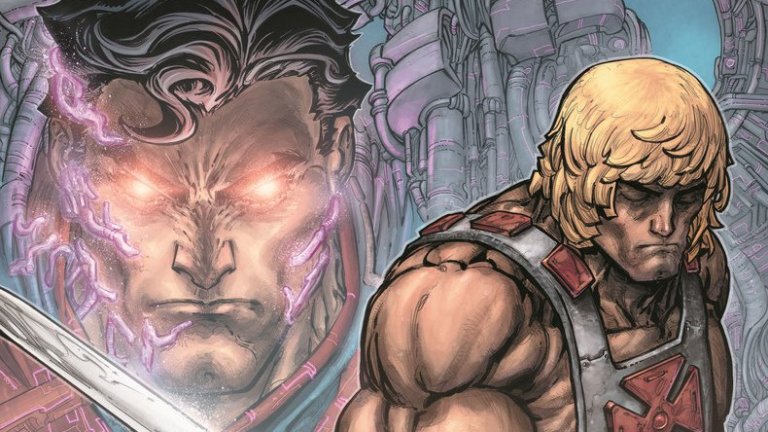 The NetherRealm Studios fighting game series Injustice: Gods Among Us has certainly played around with crossovers. Mortal Kombat characters have shown up in its two games and the latest installment features both Hellboy and the Teenage Mutant Ninja Turtles. Sadly, while the Injustice comic is seen as being way better than it has any right to be, they have ignored all those guest fighters in its narrative. So yeah, I'm afraid we haven't seen any Scorpion cameos or subplots.
While the game itself seems to be done with downloadable content, or at least on hiatus, Injustice isn't done with the crossovers. Tim Seeley and Freddie E. Williams II will be releasing a six-issue comic miniseries this July called Injustice vs. He-Man and the Masters of the Universe. Can't say I saw that one coming.
Here's the blurb on what it's all about:
Believing He-man and the Masters of the Universe defeated, a robotic impostor has seized control of Eternia-but not for long! After freeing his kingdom from this strongman's rule, Prince Adam learns not everyone is pleased to see the pretender deposed-but Adam knows the value of freedom. So when heroes from another dimension ask his aid in deposing a super-hero turned dictator, he agrees. Teaming up with Batman against the Superman of the Injustice Universe, He-man and his new allies face dangerous and familiar enemies in a battle where no world is safe!
This is far from the first time DC and Masters of the Universe have clashed. Back during He-Man's height of popularity in the '80s, he fought with Superman in an issue of DC Comics Presents, which is memorable for the simple fact that Skeletor kicked Superman's ass singlehandedly. A series of action figure sets came out many years later (including Bizarro vs. Faker) and then DC's Masters of the Universe reboot took on the New 52 version of the Justice League. Said story featured Skeletor working for Dark Orko, which is as ridiculous as it sounds.
Oh, and Skeletor's reaction to hearing that John Constantine lived on that Earth was, "I thought he was a myth!" Loved that bit.
This take has a little more meat on it just for the fact that Superman vs. He-Man is the whole point. It isn't a scuffle that ends with the two realizing they're on the same side. He-Man's up against a Superman who is in serious need of a punch to the face. I'm looking forward to it.
Injustice vs. He-Man and the Masters of the Universe #1 will be available on July 18.
Gavin Jasper wants a scene of He-Man and Black Canary joining together to sing "What's Up?" Follow Gavin on Twitter!