News
Inhumans Stars Feel Vindicated by Reaction to Medusa Hair Effects
We chat with Inhumans stars Serinda Swan and Anson Mount about the joyful relief felt after screening footage of Medusa's hair.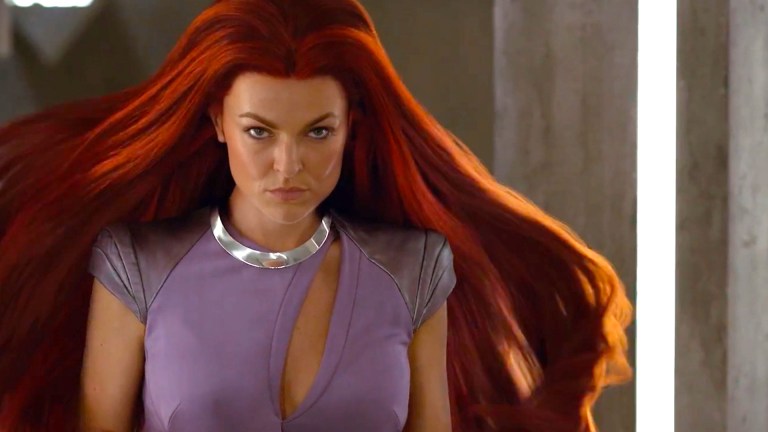 In a world filled with social media critics who are quick to shower praise or utter condemnation at the drop of a hat, releasing a new project—especially one based on something as intensely popular as a Marvel property—can be a bit intimidating. Will it be faithful or sacrilege, creative or tacky? It is hard to "win" in this environment, especially when folks are basing their opinions on teasers and fleeting moments of special effects. This is something Inhumans star Serinda Swan is more than aware of when we sit down to chat the day after the Inhumans San Diego Comic-Con panel.
The panel the night before went over well—and even had some fun at the expense of the online trolls who went digitally nuclear when the first Inhumans teaser dropped in May, revealing Swan as Medusa, an Inhuman queen famous for her magic-like hair that constantly moves with a life of its own. Due to the special effects being unfinished, the teaser included a wig that left diehard fans less than thrilled, and pop culture sharks out for blood in the water.
Yet the SDCC panel began with Swan and Jeph Loeb, executive vice president of Marvel Television, mocking the derision at the redheaded wig that Swan now wears in the ABC series. Perhaps they knew they could, because only moments later they unveiled over 10 minutes of footage, plus an extended Inhumans trailer that featured Medusa's hair in full spertine glory, proving it does have a fluid quality when it swims through the air like it were water, and defends the Inhuman queen from creepy attention.
The audience erupted.
Thus when I sat down with Swan and Anson Mount who plays the silent but regal Inhuman king, Black Bolt, I had to ask if there was any vindication the night before after all the online complaints.
"What are you talking about?" Swan laughs. "With my hair?! Everyone loved it right off the bat." She then appears to take delight in the character's new reception post-SDCC.
She says, "Yeah, it was really incredible to have Marvel back us up in that way. And this is the thing, Marvel does the most incredible CGI, they just do it…. I think the CGI of the hair is one of the first times they ever had to do it in history at this capacity, so it was just waiting and trusting. And yeah, when the critics first came out and talked about my wig head, it's hard because I'm really invested in her and I love her. And I know this whole other side we can't talk about yet, and so to have everybody come onboard last night and just see all the videos and the pictures, and just the swell of support? It meant the world to me."
Anson Mount who is no stranger to fervent fan communities after appearing on AMC's Hell on Wheels, could relate to experiencing the intensity of a scrutinizing spotlight within mere seconds.
"When the first trailer came out, I think I had my performance criticized in one review of the trailer of which I was onscreen for maybe six seconds," Mount shrugs with a smirk. "I mean what do they see? But it's just in the digital age when anybody can be in the 'news media,' which I say with air quotes, people are so eager to be a critic or to leave impressions about something—they're willing to roll the dice. And that's not journalism." Mount also credits Digital Media, who has been working for months on all the special effects in Inhumans, including Medusa's hair, which has only just begun to wrap its way onto fans' screens.
Swan reflects on this, as well as the thrill of seeing fans finally embrace her interpretation of the superheroine.
"She's been around since 1965," Swan considers. "She started with like the Fantastic Four; she's been with the X-Men; she's one of the most diverse Marvel characters across the whole universe. So how do I bring her in this tiny slice with new technology in Hawaii, in a way that people haven't seen before, and make them feel like I represented someone they have loved properly? It's terrifying. So when I read those things sometimes, I'm like, 'Oh my God! I'm so sorry, I promise we're trying!' So yeah, last night I went home with the biggest smile on my face and just felt like a million bucks. It was great."
Both actors also hope their versions of these characters will offer something fresh in the increasingly saturated superhero market. Whereas most superheroes are about normal people granted extraordinary abilities, particularly at Marvel, the Inhumans are literally based around royalty and the kind of strange psychology that breeds… even in beings with superpowers.
Says Mount, "I think from the very beginning of drama, we're interested in the gods, and from the Renaissance, we're interested in the royals, because they deal with something that most of us don't have to deal with, which is situations where politics is thicker than blood. There's something about it that we watch thinking, 'Would I be able to survive in this? What would I do? What kind of family member or royal would I be?'"
Fans will get to ponder just that when Inhumans premieres first in IMAX theaters on Sept. 1 and then on ABC on Sept. 29.
Read and download the full Den of Geek SDCC Special Edition magazine here!