News
Inhumans: Iwan Rheon Tired of Comparing Maximus & Game of Thrones' Ramsay
Iwan Rheon played one of TV's great villains on Game of Thrones, but his pragmatic politician in Marvel's Inhumans is something else.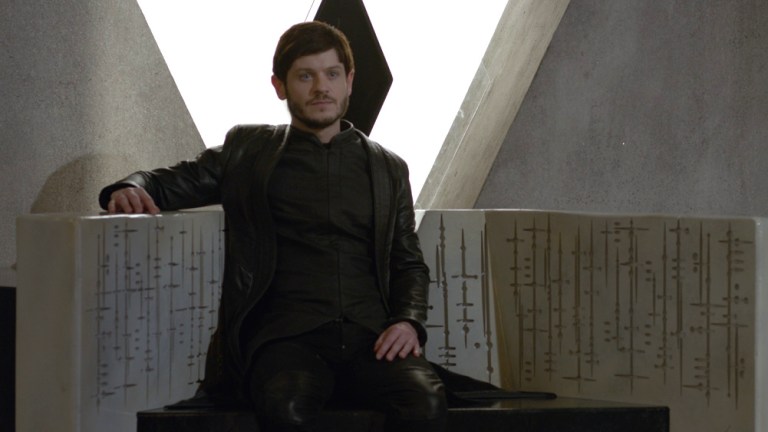 Iwan Rheon played one of the most memorably nasty villains in television history on Game of Thrones, a bastard-born psychopath named Ramsay who rose up to lead his father's house—after sending papa to the sweet hereafter—and who did just generally gruesome things that remain too unspeakable for polite company. Thus when he got cast as the antagonist in Marvel's Inhumans, another television series that mixes feudalism and fantasy, some eyebrows were raised. Yet when we spoke with Rheon at San Diego Comic-Con over the weekend, he wanted to not only stress yet again that Maximus is nothing like Ramsay, but that people need to generally move on from this false equivalency.
Indeed, there is something to be said about the mere fact that on Inhumans, Rheon's Maximus is a concerned brother of the inhuman royal family—an intensely powerful clan of beings who've quietly been living on the moon for generations. And a difference of opinion from the series' central hero, does not a sociopath or serial killer make.
"It's so different that hopefully when the series airs and people actually get to see him, they'll stop going, 'Um he's just playing another [bad guy], it's exactly the same,'" Rheon muses with the faintest touch of exasperation. "It's starting to get annoying for me now."
read more: Game of Thrones Season 8 Predictions and Theories
In that vein, Rheon contrasts how different ABC's Inhumans is from the world of HBO's Game of Thrones.
"Ramsay's like evil, he wants to cause pain," Rheon says. "He hasn't thought about what he's doing next, he's just a psychopath… he'll just do anything in order to get further. He doesn't really have a plan. He's like, 'Alright, I'll kill him' and he kills his father, because he's got a threat. He doesn't have any emotion. Maximus is very thoughtful and he's a politician. He isn't evil and he wouldn't hurt people; he doesn't have that in them. He's a revolutionary who wants to change the way things are. Ramsay just wants to hurt things."
In fact, Rheon imagines that on balance, if viewers came in cold to Inhumans and watched things from Maximus' point-of-view, as opposed to that of his kingly brother, Black Bolt (Anson Mount), they might come away siding with the younger brother. After all, he is the only inhuman who after being exposed to terrigenesis gas lost the ability to keep superpowers, making him a bit of a pariah among the other godlike royals.
"Had he had another life or been another person, he'd be in the mines of the lower caste system that the society lives in," Rheon explains. "So the fact that he was the king's brother meant he got to stay in the royal family and avoided that. So he's kind of a man of the people, really. He understands the lower class, and he feels it is an archaic system that needs to be changed, especially with the eminent threat of humanity discovering these inhumans on the moon. And he has a very, very different opinion of how to deal with that, which is where you get the conflict with his brother Black Bolt… Maximus thinks he would do a much better job as king and possibly he could, and the ideals he has on paper, you'd probably support him if it was in this political climate. He's a very charismatic leader."
So perhaps there is still a touch of a game of thrones being played, after all?
The first two episodes of Inhumans debut at IMAX cinemas on Sept. 1. The whole series will begin its run on ABC on Sept. 29.