News
Inferior Five Reboot on the Way
Two little known concepts are getting a new coat of paint from DC Comics.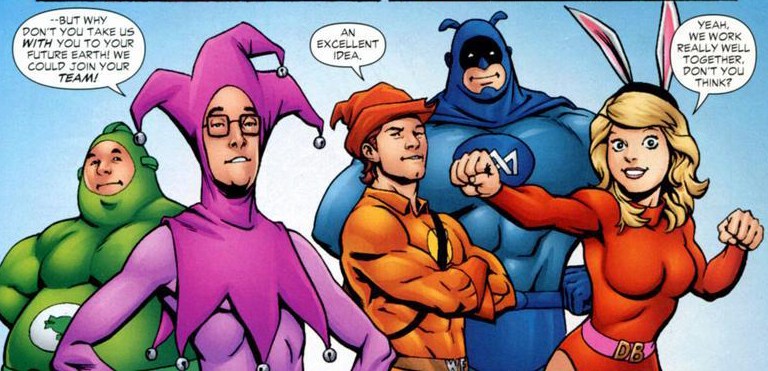 At the Sunday Conversation with Dan Didio at New York Comic Con, Didio and one of his guest panelists the legendary Keith Giffen announced a new twelve issue maxi-series starring a brand new version of the Inferior Five.
"Before you start applauding," Giffen told the gathered DC fans. "It's not that Inferior Five. It's sort of a crossover of Stranger Things and Twin Peaks."
When referring to the original Inferior Five, Giffen was talking about a classic team of parody heroes introduced by DC in Showcase #66 (1966) and created by E. Nelson Bridwell and Joe Orlando. The Inferior Five were silly versions of super heroes that mixed parody with slapstick humor. The team graduated to its own series which lasted for ten issues before being resurrected years later in a reprint title that lasted a whopping two issues.
This new Inferior Five shares only the name with the original series. Jeff Lemire will provide dialogue for the title while Giffen will be writing and drawing.  When asked to describe the book, Giffen said, "It's basically about five kids in a small town. It's post Invasion!, so it's 1988. It's people relocated from the war and destruction, and people move into the town and don't realize that's there's a scientific location underneath."
Giffen was referring to DC's 1988 crossover Invasion!, a series that saw a cadre of alien races invade the Earth only to be repelled by DC's pantheon of heroes. According to Giffen, Dan Didio was supposed to co-write the new Inferior Five, but backed out because, as DC's head honcho put it,, "Lemire just had better ideas than me."
In addition, each issue of Inferior Five will feature a five page back up written by Lemire starring Peacemaker. Peacemaker is a soldier turned vigilante that was published by Charlton Comics in the 1960s and purchased by DC in the '80s in the same deal that brought Blue Beetle and the Question to DC. Lemire will be writing and drawing the Peacekeeper feature.
So Inferior Five, Peacemaker, Giffen, and Lemire. It seems DC will be digging into its back catalogue which keeps the comic shelves interesting and fresh. Inferior Five will debut in June 2018.
Read the full Den of Geek NYCC Special Edition Magazine right here!