News
IDW announces Star Trek Doctor Who crossover
Franchise comics publisher IDW is bringing fans the first ever meeting of Star Trek and Doctor Who this May. CJ beams over to the TARDIS to find out more...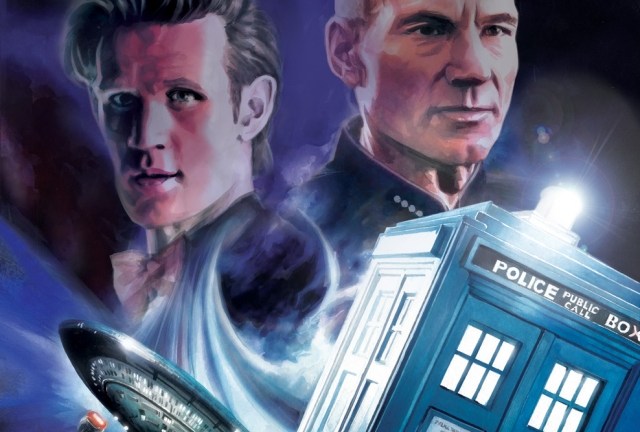 Brace for impact because it's finally happening. Two of the biggest names in US and UK science fiction will be bumping into each other for the first time in an eight-issue miniseries from publisher IDW arriving in May. Titled Star Trek: The Next Generation/Doctor Who: Assimilation2, each issue will run to 32 pages for $3.99. That's usually just short of three quid in the Queen's coinage.
We don't need to tell you that the two franchises meeting is a long time coming. BBC Worldwide Consumer Products and CBS Consumer Products are clearly hoping fans of both shows will be customers, and have teamed with IDW to launch the joint series.
Oddly, although the Who in question is Matt Smith's Eleventh Doctor the Enterprise featured in the comic will be captained by Patrick Stewart's Picard. Battle of the posh accents then. The choice of eras seems to have been partly informed by the villains – the Cybermen and their lumbering automated compatriots the Borg.
Star Trek: The Next Generation/Doc… the mouthful is being penned by Star Trek: Infestation writers Scott and David Tipton with variant covers from Star Trek ongoing series artist Joe Corroney.
Series co-writer Tony Lee and interior artist J.K. Woodward will be attending and signing at the London Super Comic Convention later this month as part of IDW's first UK convention appearance. The US publisher will be reviewing budding writer and artist portfolio submissions.
This isn't the only time Star Trek crews have encountered other famous space travellers in the comics medium. A crossover with DC's Legion of Super-Heroes and James T. Kirk's legendary crew is wrapping up in the next month. In the 90s, Kirk also briefly met Marvel's X-Men. Past crossovers involving the Trek universe have seemed a bit forced, so perhaps a fellow sci-fi series like Doctor Who will make for a much better fit.
Find out which actors have played roles in both Trek and Who in our article here.
Follow Den Of Geek on Twitter right here. And be our Facebook chum here.