News
Heroes in Crisis: Preview of Dark, New DC Event Comic
Tom King, Clay Mann, and Mitch Gerads head up the next big DC crossover comic, Heroes in Crisis.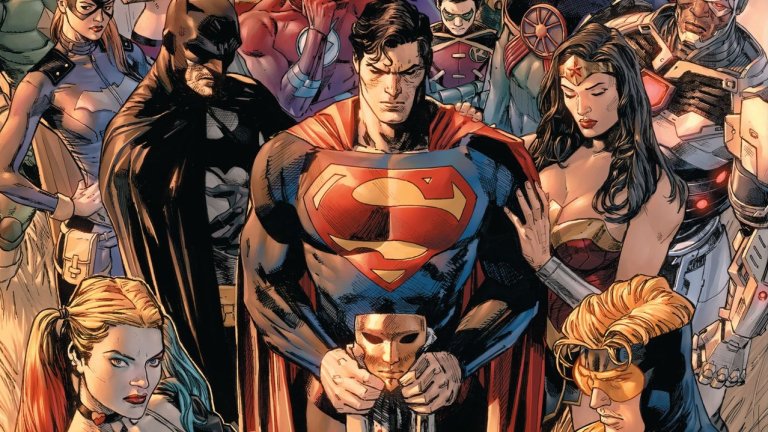 Tom King's Heroes in Crisisis the next big event comic from DC and it's a very dark one. The story follows a handful of heroes who have checked into Sanctuary, a mental health treatment center for superheroes suffering from PTSD. The center is located in rural Nebraska, with Kryptonian technology and AI based on Wonder Woman built using Batman's money. It's a place where heroes suffering from trauma relating to their work can go for talk and exposure therapy so that they can get back to helping people.
The story begins with a mass shooting at Sanctuary because it's 2018. Several superheroes are murdered and it's up to the survivors to figure out the cause of the senseless violence. Speaking at a Heroes in Crisis event at SDCC, King explained that the real inspiration behind Heroes in Crisis was the nervous breakdown he suffered in 2016 after the death of his grandmother, who raised him. 
"I was broken, I didn't realize how brittle I was," said King of spending the last two years in therapy in order to cope with his PTSD due to his time with the CIA in Afghanistan and his mental health. "I don't feel like I created Sanctuary, I feel like I discovered it."
You can check out some preview pages from Heroes in Crisis above. 
Booster Gold and Harley Quinn are two of the featured characters. Harley's presence in Sanctuary isn't readily explained, but Booster's is likely due to the mental trauma from his adventure in an alternate timeline that he created as a "wedding gift" to Batman. Booster saved Thomas and Martha Wayne and inadvertently created a horrifying nightmare where Dick Grayson was an armed-to-the-teeth Batman and everybody was being killed by the Joker.
Clay Mann, who most recently drew the double date issues of Batman with King, titled "Superfriends," will be telling most of the main story. Mitch Gerads, King's art partner on the utterly incredible Mister Miracle, will be popping in for brief examinations of the psyche of superhero patients of Sanctuary.
And because this book is titled "Crisis," it's extremely likely that a Flash will die, according to King. Fortunately, there is an abundance of Flashes in the current DC Universe.
For more on Heroes in Crisis, including a betting market on which Flash is likely to perish (Avery Ho is currently trading at .60), or any other news from San Diego Comic Con, stick with Den of Geek!
Read the Den of Geek SDCC 2018 Special Edition Magazine Here!