News
Hellboy Comes out of Retirement This May
Hellboy is back on Earth for one (or two) more fights in BPRD: The Devil You Know this May.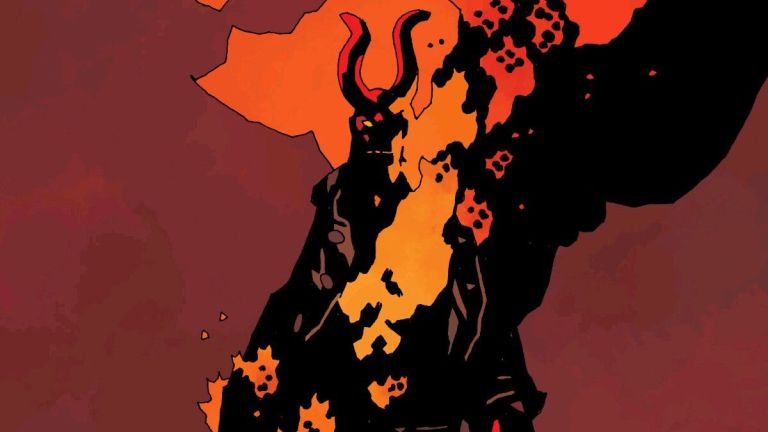 Much like death is a joke in the world of comics, so is a leisurely retirement in the darkest depths of the medium's hell. The bells ring once more for Hellboy to return to Earth and finish what he started. That's at least what cruel Hellboy creator Mike Mignola has decided for his beloved character. 
As revealed by EW, Hellboy is set to return to Earth in the pages of BPRD: The Devil You Know #6, out on May 9. Why is this significant? Because the character was seemingly retired in 2016's Hellboy in Hell #10, the high profile "final" issue of the Hellboy saga, which has spanned 25 years and countless stories.
The last we saw of Big Red, he was sitting on a couch in a little corner of the underworld after having vanquished Satan and his demonic forces for good. Hellboy, as it turned out, was Hell's worst nightmare. 
Two years later, Hellboy's bringing his charming personality back to Earth to help the overwhelmed members of the BPRD fight their greatest enemy ever: the devil Varvara, who seeks to turn the planet into a demonic hellscape.
"The truth is, I knew he was coming back," Mignola told EW. "It's something I've been keeping a lid on for a long time. As long as we've been talking about wrapping up the BPRD series, we've talked about how we needed to get the band back together and get back to the classic characters."
Mignola explained that Hellboy's return from Hell was always foretold in the comics. In 2010's BPRD: King of Fear, firestarter Liz Sherman has a vision of things to come, an apocalypse which Hellboy is a part of. Seeing as Varvara is trying to bring about said apocalypse on Earth, it seems that Liz's vision is coming true. 
Per a preview of the upcoming issue that you should check out over at EW, the BPRD team finds Hellboy in the most likely (at least for this series) of places: a coffin in the middle of the Rocky Mountains.
"We put it in there that somewhere in the future Hellboy would be back," Mignola said. "But nobody picked up on it, which is great because we wanted a tease where people would just wonder, 'does that mean something?' As we wrap this up, we wanted to make sure that anything we teased, we're paying off. Especially these funny little teases that seemed not to mean anything at the time — well, maybe they did mean something! Between Scott Allie and I, we've been orchestrating this thing for a long time."
According to Mignola, Hellboy has one or two more things left to do in our realm before he can have his much needed (and well-deserved) rest. He didn't go into detail as to what those things might be, but we can assume that one of them is defeating Varvara.
"I did end Hellboy in Hell on that nice quiet 'oh now you're in retirement' note … except for that other thing he has to do. I feel bad about it, and I hope he had a good time on that couch where I left him. I hope he enjoyed the rest, but there's a few things you still need to do, and it's gonna be shitty. I read too much Michael Moorcock in high school, that's what it is. I have that 'doomed hero' thing. He's still got to take a beating." 
It's going to be a pretty big year for Hellboy in the lead up to the reboot of his film franchise in 2019, which stars David Harbour as the lovable demon. The movie, which is simply titled Hellboy, is out on Jan. 11, 2019. Until then, we're also getting a series of chronological omnibuses collecting all of Hellboy's adventures, both on Earth and his hometown beneath the planet's surface.