News
Guardians of the Galaxy Season 2 Will Introduce Captain Marvel and Others
Is the Guardians of The Galaxy animated series hinting at the future of the Marvel Cinematic Universe?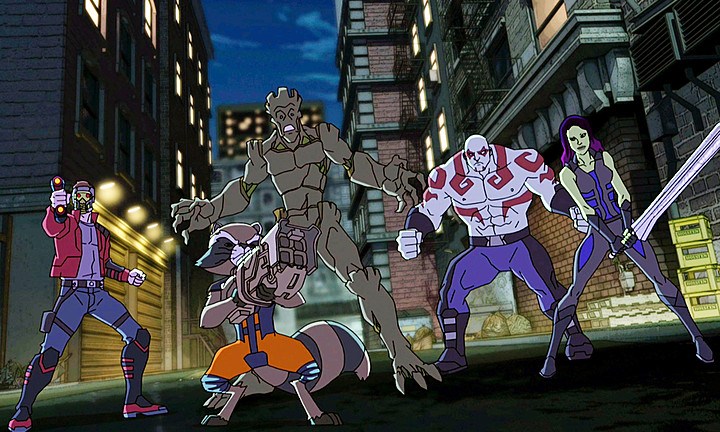 Get ready to get hooked on a feeling once again when Guardians of the Galaxy season 2 kicks off on Disney XD in early 2017. The big news out of Marvel's New York Comic Con animation panel is that Captain Marvel (Carol Danvers) and Adam Warlock will be joining Peter Quill, Gamora, Drax, Rocket Raccoon, and Groot aboard the Milano for the Guardians of the Galaxy season 2.
Marvel's Stephen Wacker (Vice President Current Series & Development) promised that this new season will "open the door to Marvel cosmic." Wacker and Lane premiered a brand new second season episode of Guardians that featured the Avengers and the Guardians of the Galaxy going up against the High Evolutionary, and promised The Avengers will play a large role in the early episodes of the second season. 
In the episode, an earthbound Captain America, Iron Man, Hulk, Ant Man, Star-Lord, Drax, and Gamora have to find a way to rescue Captain Marvel, Groot, and Rocket from the clutches of the High Evolutionary. What is really interesting about these animated revelations is what the events of Disney XD can potentially hint for the Marvel Cinematic Universe.
In the past, Marvel has tried to achieve a synergy between animation and live action by introducing characters or concepts on animated TV years before these same concepts come to film. So could this mean Adam Warlock will soon be appearing in a future Marvel movie? Remember, Marvel Animation debuted the Guardians of the Galaxy on Avengers: Earth's Mightiest Heroes a few years before the film hit. Could this same type of generation bridging corporate synergy be on display here with Warlock?
Also, it has recently been suggested that the Guardians will play some kind of role in Avengers: Infinity War. Perhaps Disney wants to get this Avengers/Guardians team up dynamic into the minds of the kiddies a few years before it plays out on film. Whatever the case, seeing an animated Adam Warlock for any reason will be a cosmic size treat for old and new fans of Marvel. Animated Infinity Gauntlet? Sounds good to us.