News
Guardians Of The Galaxy: deleted scenes revealed
There were two scenes deleted from the ending of Guardians Of The Galaxy, director James Gunn reveals...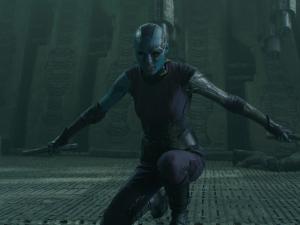 NB: The following contains spoilers for Guardians Of The Galaxy's ending.
Something of a departure for Marvel, Guardians Of The Galaxy rode to box office victory on a wave of catchy music, comedy and sheer swagger. That swagger was thanks in no small part to James Gunn, who brought his boyish style of filmmaking to Marvel's space opera comic.
As you may remember, Guardians ended on a high, with a series of shots cut to Marvin Gaye and Tammi Terrell's "Ain't No Mountain High Enough." For a number of reasons, a couple of scenes were removed from this sequence. According to James Gunn's recent interview with Slash Film, the scenes would have taken us back to Earth to check in on Grandpa Quill (you guessed it, Peter Quill's grandpa, played by Gregg Henry) and then back into space to catch up with Karen Gillan's Nebula.
"Grandpa Quill we cut because he was in old age make up and we were a little afraid people wouldn't recognize that it was him from the beginning of the movie," Gunn said. "And also, it was a pretty sad moment. It was Grandpa Quill and he has this photograph of Meredith and Peter as a little boy and he looks up at the stars and we go up to the stars and it was really sweet. It means that he must have seen Quill getting abducted at the end of that day and is still waiting for him to return but it was freaking sad so we took it out."
The other deleted scene would have reintroduced Nebula after her climactic fight with Gamora. Gunn explained, "Nebula's I really liked a lot because she's lost her arm and she's just pissed off and she's just walking through this field all pissed off with a busted Ravager vehicle behind her."
The scenes were removed in order to give more time to the film's heroes; a shot focusing on Benicio Del Toro's The Collector was also part of the montage, but it became the post-credits stinger (you know, the one with Howard the Duck in it).
It's a pity there wasn't room for the Nebula scene, since one of our lingering thoughts as we left the theatre was of how abruptly she exited the film. Interestingly, Gunn lightly implies in his Slash Film interview that Nebula and The Collector will turn up again in a future Guardians movie – and not necessarily as villains: "Nebula and Collector we decided, at a certain point, they're kind of bad guys in the first movie."
Does this mean that the pair won't be bad guys in the second movie? We're probably reading too much into this.
At any rate, Guardians Of The Galaxy arrives on DVD and Blu-ray on December 9th – just don't expect the deleted scenes mentioned above to appear on the disc.