News
Guardians: Final Trailer for Russian Superhero Movie Brings Comedic Chaos
The final trailer for Guardians showcases Russia's answer to Marvel movie epics with wanton Russian destruction.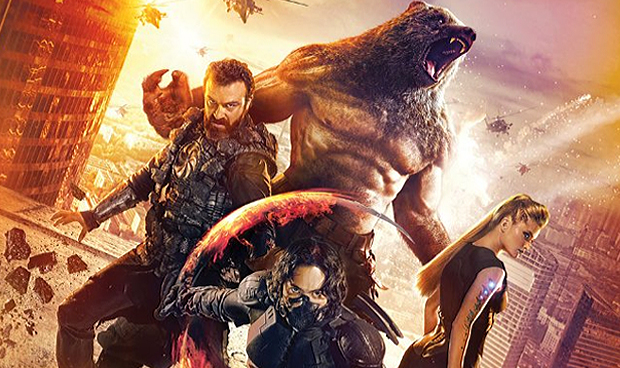 This past summer, the Russian film industry's attempt to hack the Marvel Cinematic Universe formula for mega-movie events manifested with an off-the-wall trailer for a film natively known as Zashchitniki, sporting the safely-generic English title, Guardians. Indeed, the clip – an insanely ostentatious exhibition in CGI action and zany characters – provided some fun Internet moments for Western movie fans. Now, a clip that's being billed as the final trailer is here.
In the way of plot, the latest, apparently final Guardians trailer isn't particularly revelatory. Unlike the previous trailer, it is subtitled, rather than dubbed. If anything, it serves to highlight some new moments of levity (ex: an obligatory awkward elevator scene). Yet, we already know that film centers on a team of Soviet-era super-powered agents who, in a Winter Soldier-type manner, are reactivated upon the arrival of a devastating threat that has overwhelmed the Russian military. While their powers are conventional to the comic book movie genre, it is noteworthy that they are joined by a bear armed with a minigun. – So, they got that going for them.
Guardians, despite its notoriety as a genre-copying spectacle, could become a notable platform for its director Sarik Andreasyan. A young man by director standards at 32, he already fielded the 2014 U.S. film release American Heist, starring Hayden Christensen, Adrien Brody, Jordana Brewster and rapper Akon. Also noteworthy is that the new Guardians clip gives us a glimpse of its content rating, falling within the Russian standard of "12+." Contextually, Marvel's movies – including The Avengers films that this movie emulates – tend to fall in the PG-13 category.
Guardians hits theaters in Russia on February 23, with no U.S. release date as of yet. Check out the chaos-concocting final trailer below!
Our original article below as it appeared on August 24, 2016:
In the United States, the term, "Russian Movie" is probably best juxtaposed with bizarre dashcam videos posted on the Internet. However, the massive continental convergence formerly covered by the Iron Curtain does contain its share of fans clamoring for the same comic book superhero cash-making movies as American audiences. Thus, it was only a matter of time until Mother Russia gave birth to her own set of raucous, world-wrecking romps to fight some unidentifiable threat. Now, Guardians (natively titled Zashchitniki,) looks to fill that void.
Upon an immediate glance, the trailer for Guardians (sporting a translated title that's Marvel-evocative in its own right,) showcases extremely familiar elements seemingly lifted directly out of the Marvel Cinematic Universe ensemble filmmaking playbook of Joss Whedon (and not so much the Russo Brothers,) that made 2012's $1.5 billion global hit The Avengers and 2015's $1.4 billion global hit sequel Avengers: Age of Ultron an auspicious franchise formula.
Glaringly dubbed in English, the Guardians trailer does – for what it's worth – manage to successfully replicate the Whedon-esque "amusement park attraction with a plot" paradigm with some exciting comic-book-y onscreen action. Sure, to American audiences, it looks like someone made a movie out of dollar store knockoff Marvel movie toys, but the carnage and wackiness does, in the very least, look solid.
The film centers on a secret Soviet-era super-team who have been abruptly reactivated when the arrival of a destructive threat to Russia from a group of mysterious, heavily-armed militants with missile-firing spider-robots proves too much for the Russian army to handle. The heroic superhero ensemble appears to be a formidable collection of comic-style killers with characters (whose names I am opting to fabricate,) The Winter Whiplash, Mask-less Bane Guy, Soviet Sue Storm, Beardy Giant Fist Man and, the most prominent of them all… Bear in Cargo Pants!
In the director's chair for Guardians is Russian filmmaker Sarik Andreasyan. Interestingly enough, Andreasyan actually has an American film on his resume in the 2014 indie effort American Heist, starring former Star Wars actor Hayden Christensen, Oscar winner Adrien Brody and Jordana Brewster. With that notch on his belt, it is quite clear that Russian expectations for his slickly-produced Guardians are relatively high. This is especially true as the most recently-released Russian weekend box-office numbers (August 11-14) have Suicide Squad on top for the second consecutive week with $4.08 million having grossed $19.88 million total in the country.
Guardians will be doing its best to kick off Russia's home-grown efforts in the monolithic, money-printing comic book superhero film genre when it hits Russian theaters on February 23, 2017. There's no word yet on when the film might find its way to the West. Check out the trailer below!