News
Green Arrow Deals With Deathstroke Fallout
Oliver Queen sifts through the wreckage Slade Wilson left in Rhapastan in Green Arrow #39.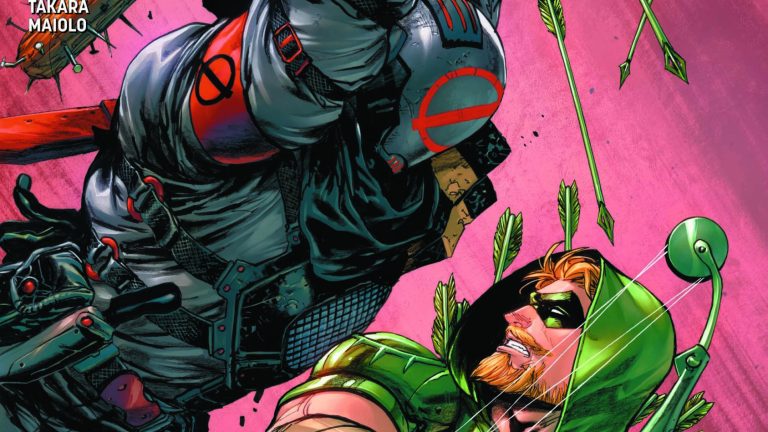 Casual interconnectivity is a dying art in modern comics. It feels like modern books refer back to themselves all the time, but you almost never see Superman on his way to fight, like, Mongul, flying past Gotham as Batman's trying to solve a murder anymore. 
That's why it made me irrationally happy to see Oliver Queen trying, in these exclusive preview pages of Green Arrow#39, to clean up a mess created by Deathstroke in Deathstroke Annual#2. The latter comic is only two years old, but the combination of it happening pre-Rebirth and all the fun stuff that's been happening in the world since then makes it feel utterly ancient, so it's really nice to see it popping up again.
In that issue, Slade destabilized an entire country mostly for the hell of it, and walked away. That destabilization led to a civil war, and a bunch of Queen Industries relief money coming in. Here, Oliver, after a hellish year of plots within plots within plots in Star City, decides to go on a bit of a walkabout to fix other cities for a change. Here's what DC has to say about the issue:
GREEN ARROW #39 Written by COLLIN KELLY and JACKSON LANZING Art by MARCIO TAKARA Cover by TYLER KIRKHAM Variant cover by MIKE GRELL

"THE CHILDREN OF VAHKAR" part one! Following a hellish year in Seattle, Oliver Queen heads to the war-torn city of Vahkar to use his considerable resources to help its starving citizens. But Oliver soon finds himself in over his head when he discovers that Vakhar is being run by a mysterious new warlord known as NOTHING…and all the town's children have gone missing. Oliver Queen can't save the children of Vakhar…but can Green Arrow?
Colin Kelly and Jackson Lanzig are solid writers, but this is exceptional art from Marcio Takara. Takara has mostly been a go-to fill in guy for both Marvel (All-New Wolverine) and DC (Batgirl and the Birds of Prey) but this is a the best I've ever seen from him. It's a little bit Sean Murphy, a little bit Olivier Coipel, and the motion and perspective is fantastic for an archery comic.