News
Gotham's Cameron Monaghan on Jerome Possibly Becoming the Joker
Cameron Monaghan discusses the long-hinted idea of his maniacal Gotham character Jerome becoming the Joker.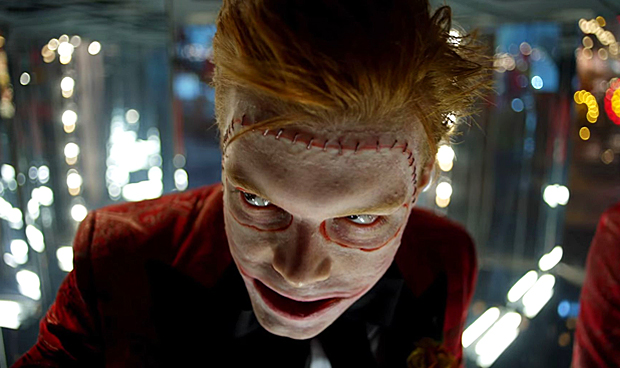 Warning: Spoilers for Gotham Season 3 winter finale, "Mad City: The Gentle Art of Making Enemies."
Fox's Gotham continues to be an unapologetically comic-book-apocryphal showcase for Batman characters and tropes, minus the properly grown Batman himself. However, the presence of Cameron Monaghan's psychotic, cackling killer Jerome Valeska – often referred to as a "Proto Joker" – has become an oddly ambiguous piece of the Batman mythological puzzle the show seems intent on quickly constructing. With the show constantly hinting, but never confirming Jerome's Joker status, Monaghan himself chimes in on the clownish quandary.
In an interview with TV Guide, Cameron Monaghan breaks down the chaotic occurrences on the show's winter finale, notably Jerome's abduction of young Bruce Wayne (David Mazouz), pointing out that, despite their somewhat analogous origins (Bruce's parents were murdered, Jerome murdered his parents), the ordeal illustrated the underlying fateful philosophical differences between the would-be Batman Bruce and presumed Joker Jerome; a conflict between justice and nihilism. While Monaghan obviously can't offer confirmation on Jerome's Joker status, he does comment on the possibility, stating:
"Maybe! Gotham is sort of its own canon. It's its own story in many ways, while still giving insight into the stories we know and love. Nothing is set in stone for this universe. We don't even know for sure if there is a Joker in this universe or if everyone is kind of a Joker and anyone can step into it. We're not sure. It's kind of seeing seeds of a lot of different ideas and possibilities."
Jerome's initial Joker hype was seemingly squelched in Season 2 when he was shockingly betrayed and killed by the evil Theo Galavan. From there, the series maintained the meme that Jerome's highly-publicized homicidal sprees inspired a maniacal movement that the audience was to take as inspiring whoever becomes the actual Joker. Of course, Jerome's Season 3 resurrection left that idea in question with him back, sporting a crudely-stapled, droopy grimace after an insane acolyte removed his face (a notable reference to Joker's arc in DC's Batman: Faces of Death New-52-era comic storyline). While Jerome's madcap carnival of killing was stopped, he remains alive and active in the Gotham canon. Thus, the Joker speculation remains as resurrected as Jerome himself. As Monaghan teases:
"We don't know if there is a Joker in this universe or if he'll look traditionally like how we've known to perceive him. I know that initially that might be a stepping stone for fans because we're so set in our ideas and perceptions of who this character is. That gives us a really strange and unique opportunity with this story to subvert expectation and to not be constrained by everything that came before, but instead take this 76 years of history and turn it into something different."
Thus, while we don't know for sure if Gotham will ever give us the fully-realized version of the Batman mythology's Clown Prince of Crime, Monaghan seems to indicate that the character's manifestation will continue in its oblique manner. Indeed, while the puzzling approach might rub some audiences, notably Batman purists, the wrong way, Monaghan's performances as (the unofficial Joker) Jerome have been powerful, allowing the young actor and co-star of Showtime comedy Shameless to embrace a breakout role. Moreover, Monaghan is definitely on board with the idea of Jerome making a fateful fall into some chemicals to become the iconic villain, stating:
"Yes, I would like to see Jerome become the Joker. Of course, I would. As a performer and an actor, that would give me such great opportunities to be able to perform. At the same time, maybe they'll go a different way. I don't know for sure but I'm excited to see where it leads because I've been a fan of everything they've been doing involving the Joker mythos on the show. It's been a lot of fun and I can't wait to see what's next."
Gotham just took off for a winter hiatus, set to resume Season 3 when it returns on Fox on April 24.